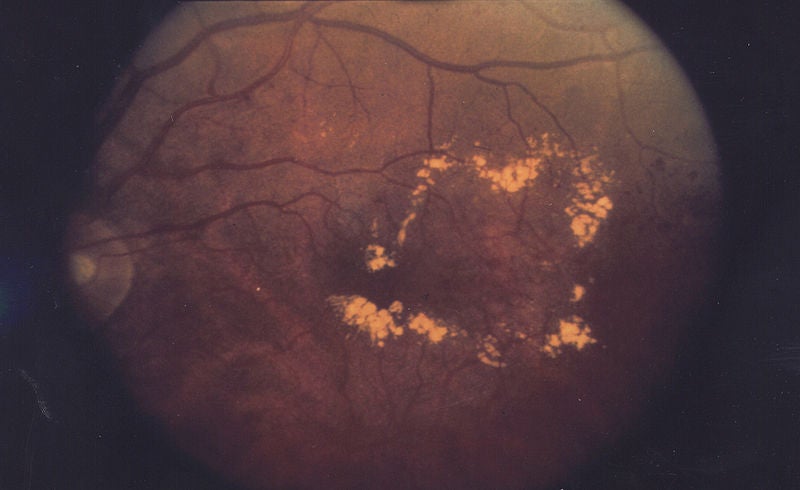 The US Food and Drug Administration (FDA) has approved Genentech's Lucentis, a treatment for diabetic macular edema (DME).
The drug, which is injected once a month, is intended to be used along with diabetic blood sugar control in order to treat the sight-threatening eye disease that occurs in patients suffering from diabetes.
DME is caused by fluid leaking into the macula, the centre part of the retina, causing it to swell. The swelling disrupts vision, causing it to blur. The condition is the leading cause of new blindness in adults aged 20 to 74 years, and is thought to affect approximately 26 million people in the US.
The approval comes after the drug displayed its safety and efficacy in two clinical studies involving 759 patients who were treated and monitored for three years. Participants were randomly assigned to receive monthly injections of Lucentis or no injections for the 24 months of the study. Following the 24 month period, all patients received monthly doses of Lucentis at either 0.3mg or 0.5mg.
The results proved that 34%-45% of patients who received monthly doses of the drug witnessed an improvement to their sight in comparison to 12%-18% of patients who did not receive the injections. No additional benefit was recorded with the increased 0.5mg dose of the drug.
Side effects associated with the treatment include eye pain, increased pressure inside the eye and bleeding of the conjunctiva.
Lucentis has previously received approval for the treatment of wet age-related macular degeneration as well as macular edema following retinal vein occlusion.
Genentech chief medical officer Hal Barron praised the approval, citing its ability to help a new population of people whose eyesight may be affected by diabetes.
"For the first time, Americans with diabetic macular edema will have access to an FDA-approved medicine shown to help many patients rapidly regain substantial amounts of lost vision," added Barron.
---
Image: A scan of an eye affected by diabetic macular edema. Image courtesy of the National Eye Institute.