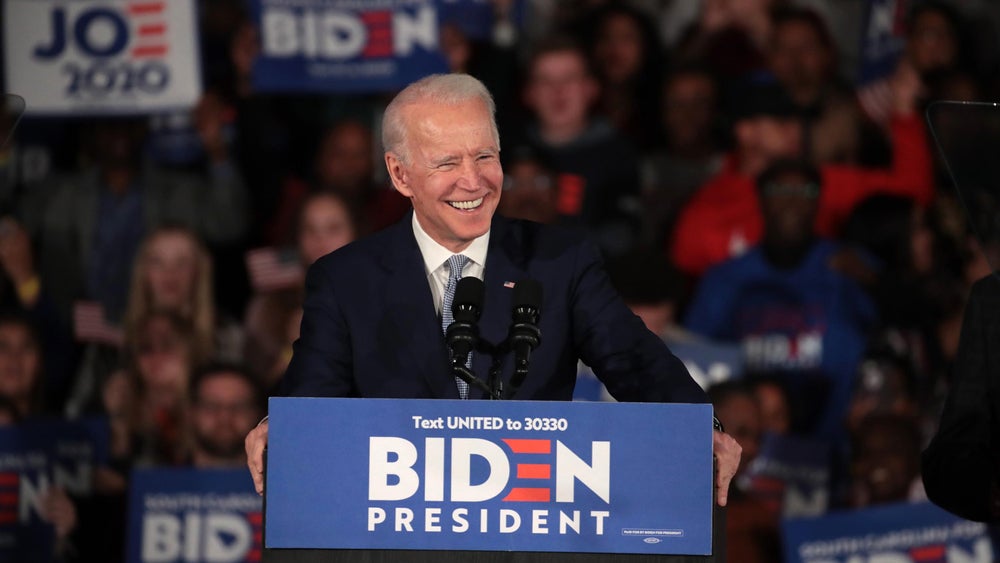 Almost four days after the polls closed late on Tuesday 3 November, Democrat nominee and former vice-president Joe Biden surpassed the required 270 electoral college votes and was declared as the next and 46th President of the US. Now the country enters a transitional period; Biden will be sworn in officially as President at an inauguration ceremony in late January.
In a victory speech on Saturday night in his home state of Delaware, the President-elect stated: "The people of this nation has spoken. They have delivered us a clear victory… I pledge to be a President that seeks not to divide, but unify, who doesn't see red states and blue states, but sees the United States… I sought this office to restore the soul of America, to rebuild the backbone of this nation, to make America respected around the world again and to unite us here at home. It is the honour of my lifetime that so many millions of Americans have voted for that vision and now the work of making that vision is the task of our time."
Biden's victory occurred in the context of the incumbent President Donald Trump refusing to concede, declaring electoral fraud and initiating legal action in many states across the US, particularly those battleground areas that took a few days to declare because of the higher-than-usual number of postal ballots. He has consistently tweeted about illegal votes, particularly linked to those absentee and postal ballots, and claims about electoral observers not being allowed into polling stations' counting rooms.
https://twitter.com/realDonaldTrump/status/1325194709443080192
Trump has refused to concede the election to Biden, as per convention, but that does not prevent the Democratic challenger declaring victory and assuming the presidency in January, especially given that a few of Trump's law suits have already been dismissed by state courts, such as in Georgia and Michigan, according to the Washington Post.
Exploring Biden's healthcare manifesto
Although the economy was the primary issue in this year's US Presidential election, the Covid-19 pandemic and healthcare as a whole came in second and fourth respectively, according to a Kaiser Family Foundation poll.
Biden consistently ledi Trump on these issues in the polls throughout the campaign. He received significantly more donations than Trump from the pharma industry, according to research by the Center for Responsive Politics. This bucks the usual trend of pharma backing Republican candidates for both President and Congress.
The President-elect has been incredibly critical of his rival's Covid-19 response and general healthcare policies, particularly around the Affordable Care Act (ACA), which is colloquially known as Obamacare.
As he was Obama's vice-president, Biden is closely tied with the ACA. In his manifesto, he states that passing the ACA was "a victory 100 years in the making" and commits himself as President to protect and build on the ACA to give Americans more choice and access to Medicare, as well as a cheaper and less complicated healthcare system.
Linked to this, and because of his work on the 'Cancer Moonshot' initiative funded by the 21st Century Cures Act while vice-president to drive access to advances in cancer treatment, Biden is also committed to reducing the high prices of drugs in the US. He pledges to achieve this by repealing laws banning Medicare to negotiate lower drug prices with drug companies, as well as pricing drugs based on international reference pricing.
Biden begins his Covid-19 response
Throughout the election campaign, Biden vehemently criticised Trump for undermining scientists and their independent expertise around the viral disease and how to manage it; the incumbent President has been widely condemned for politicising the pandemic by pushing for a vaccine to be available before the election.
Instead in his manifesto Biden has pledged to not allow politics to play any role in scientific decisions about the safety and efficacy of any Covid-19 vaccine and he would invest in upscaling vaccine manufacturing to ensure every American can get a free vaccine, once approved.
Within two days of being declared the winner of the election, Biden has already sought the expertise of three experts to lead his coronavirus taskforce. According to Stat News, the President-elect has turned to former US surgeon general under the Obama Administration Vivek Murhy, former commissioner of the US Food and Drug Administration (FDA) David Kessler and Yale professor Marcella Nunez-Smith to be the co-chairs of his taskforce. He also announced some other members, including Rick Bright, who was ousted from the Biomedical Advanced Research and Development Authority by Trump earlier this year, and another former FDA official Luciano Borio.
Biden also pledged to call Dr Antony Fauci, top infectious disease expert who has clashed with Trump repeatedly during the pandemic, following his victory. It is yet to be confirmed by Biden's team if he has in fact spoken to Fauci and asked him to serve for another US President.
The pharma industry reacts
As the transition of power begins, what impact will a new administration under Biden have for the pharma industry? How does the sector's confidence in Biden link with his manifesto and his record in the healthcare space?
Industry body the Biotechnology Innovation Organisation (BIO) president and CEO Dr Michelle McMurry-Heath wrote in a statement: "I'd like to congratulate President-elect Joe Biden and his running mate vice-president-elect Kamala Harris on their win. I pledge that BIO will work hard with your administration and the new Congress.
"For many years, President-elect Biden has championed a 'Cancer Moonshot' and I'm happy to report dozens of our companies are already working around the clock on this fight and other diseases, starting with Covid-19. Biotech companies have mounted an unprecedented response to the novel Coronavirus, and have in development more than 800 vaccines or treatments already."
Pharmaceutical Research and Manufacturers of America issued the following statement: ""We are committed to working with the new administration and Congress to win the fight against Covid-19 and battle the most critical ongoing health challenges facing the United States and the world.
"Our nation and the world face an unprecedented public health crisis, and the research-based biopharmaceutical industry is working around the clock to develop therapeutics and vaccines to treat and prevent Covid-19.
"We look forward to working with policymakers and regulators to put Covid-19 behind us, to advance policies that lower patient costs and to sustain and protect a robust innovation ecosystem that makes it possible to develop new medicines."
George Washington University associate professor of media and public affairs Peter Loge comments: "President-elect Biden announced he is already naming a team to turn his Covid-19 plan into policy he can implement on inauguration day. He will push researchers, industry and regulators to work together to develop and distribute a safe and effective vaccine for Covid-19, just as he pushed for the Cancer Moonshot and 21st Century Cures Act when he was vice-president.
"As vice-president, Biden made his priorities clear and expected industry and regulators to meet those priorities. I expect a President Biden will do the same. He will surround himself with, and listen to, smart and committed professionals.
"The pharma industry knows Biden from his time as vice-president and from his many years in the US Senate. Industry knows what it's getting, what to expect, and therefore how they can best act."