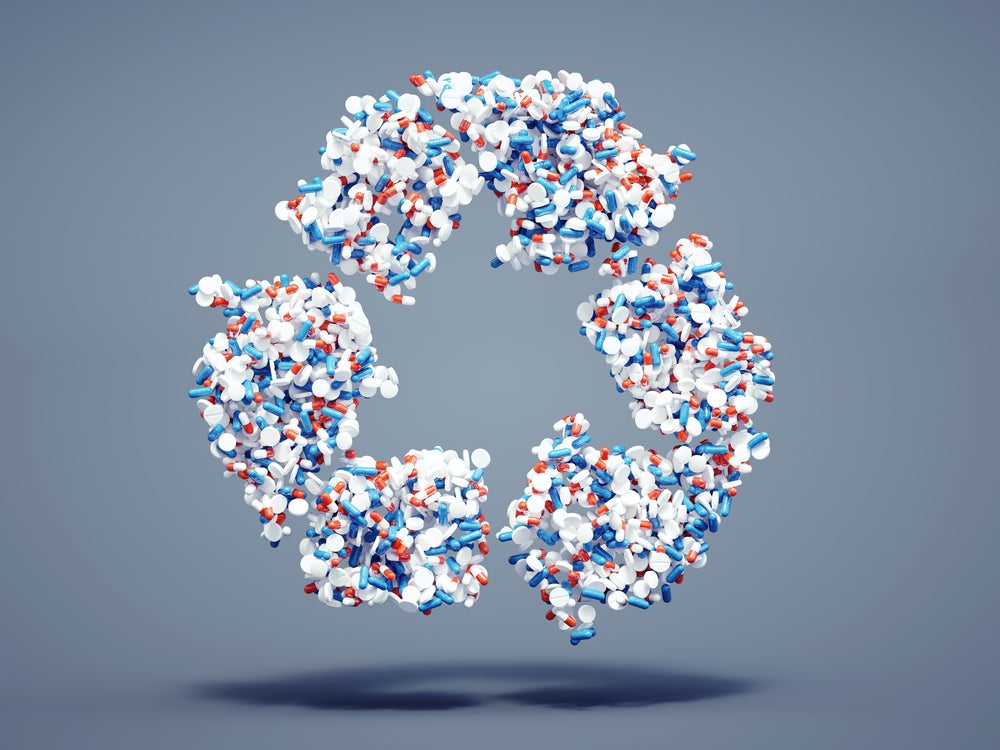 When listing the top polluting industries, it is sectors like transport, mining and agriculture that immediately come to mind. However, "the health sector plays a significant role in the global environmental crisis", states international non-governmental organisation Health Care Without Harm pharmaceuticals and policy officer Jean-Yves Stenuick. 
Stenuick notes that healthcare's climate footprint totals 4.4% of global net emissions – the equivalent of 514 coal-fired power plants – meaning "if the health sector were a country, it would be the fifth largest emitter in the world". 
Although the ways that pharma contributes to the world's climate crisis are multifaceted, according to Stenuick, 71% of those emissions are linked with the supply chain, including the production, transport, disposal of pharmaceuticals, other chemicals and medical devices. 
Non-profit Green Your Lab principal scientist Dr Fanny Yuen explains that healthcare's carbon footprint starts with the drug discovery and development phase primarily because bio labs use almost ten times the energy of an office building. In addition, manufacturing pharma products is more resource intensive, and therefore pollutive, than standard chemical plants. Pharma manufacturing requires more controlled temperature and humidity, is carried out in smaller batch sizes and often requires higher standards of sanitisation, according to Yuen. 
In fact, research published in the Journal of Cleaner Production found that the pharma industry emits 55% more greenhouse gas emissions than the automotive sector. As the study's author explains in a Conversation article, the pharma industry emitted 48.55 tonnes of carbon dioxide equivalent per million dollars, while the automotive sector emitted 31.4 tonnes. 
Pharma and healthcare reacts
Although for many years, the impact of healthcare on the environment was overlooked – "largely because this industry has always been seen as a benevolent one that provides and products and services" – as awareness of the sector's carbon footprint has grown, being eco-friendly has become a "reputation issue". for the pharma and healthcare sector, explains Fieldfisher partner and energy lawyer Hugo Lidbetter. 
As a result of growing internal and public pressure, there has been a growing interest from the healthcare sector to become more sustainable, explains Yuen. 
Although she notes that "almost all major and minor pharmaceutical companies have some sort of sustainability plan", there are some companies and organisations that particularly stand out. 
In October, NHS England committed to being carbon net zero by 2040, making it the first national health system to do. Incoming NHS chief sustainability officer Dr Nick Watts wrote in a statement: "The NHS's ambition is world-leading, and the first national commitment to deliver a net zero health service. It comes at a time when the UK is preparing to host the UN climate change summit next year and demonstrates that every part of our societies need to play their part in reducing pollution and responding to climate change."
NHS England aims to achieve its 2040 goal by finding new ways of delivering care closer to home, reducing waste on consumable products and making sure new hospitals and buildings are built with zero emissions. These are positive step given that, as Yuen notes, traditional hospitals are "the second most energy-intensive commercial building type" and the healthcare sectors uses a wide-range of disposable products to avoid contamination. 
Another example of excellent behaviour is AstraZeneca. Yuen notes that this company is on the Carbon Disclosure Project's A-list for its bold goal of being carbon neutral by 2025 and carbon negative by 2030. "Their efforts and investments to decarbonise every part of their value chain is a model for the industry," concludes Yuen. Other pharma companies on the A-list include Bayer, Johnson & Johnson and Novartis. 
Although companies and organisations publicly announcing their carbon neutrality plans "encourages this to become an industry standard", Yuen states "the number of pharma companies that can be recognised for their sustainability efforts can be counted on your fingers". 
Further to this, there are concerns that these sustainability policies are being adopted almost as a side project because they make a company good, whereas, in the view of Ernst Young (EY) life sciences industry leader Pamela Spence, these commitments should be fully integrated into the fabric of an organisation and its business model to be most effective. 
This begs the question: are pharma's carbon neutral and net zero promises bold enough to start to address the industry's historically high carbon footprint? 
What does 'carbon neutrality' actually mean?
Although pledging to be carbon neutral within the next few decades is an excellent start, there is a risk of it becoming a "generic claim", according to Lidbetter. He continues: "As with any announcement, it is important to look beneath the headlines to see what a body is actually committing itself to." 
Lidbetter explains that in attempts to achieve carbon neutrality companies shouldn't rely exclusively on carbon offsetting where "continued emissions in one geographical area [are] 'offset' by an environment project in another area that avoids the same amounts of emissions". Instead, they should focus on their own activities and particularly their supply chain. Stenuick calls for the pharma industry to be more transparent about their policies and targets across their entire supply chain and operations. 
Yuen adds that it also important to remember that being "'carbon neutral', by definition, is not sufficient to reverse past damage". Instead, "it only maintains the status quo once neutrality is achieved" and this assumes that companies and organisations can actually stay neutral. 
She continues that carbon offsetting will not allow organisations to continue with good practices once they have reached their goals. Instead, they will need to decarbonise by methods such as carbon sequestration. Although Yuen applauds AstraZeneca for its move to implement carbon sequestration and partner with reforestation organisations, she notes the Anglo-Swedish company are the exception to the norm. 
"This is a very small step for the industry and a lot more work needs to be done," Yuen concludes. "Realistically, it will be decades before every pharma company commits to carbon sequestration." 
Need for more pressure from stakeholders
The reason why most of the industry, Yuen explains, do not make bolder commitments is because "carbon neutrality is 'enough' – enough to get regulators off their back, enough to appease their customers, enough to avoid public backlash". Lidbetter echoes this by saying "why be bolder when they do not have to be?"
This suggests there is a need for various stakeholders, such as the public, hospitals and healthcare providers and regulators, to expect more of the industry and push companies to go further. 
Focusing on public healthcare procurers, such as the NHS, Stenuick argues they should set environmental criteria in tender processes "to drive change in the market towards the purchase of social responsible and environmental sound pharmaceuticals". 
This is something that already happens in countries like Norway and Sweden. However, although pharmaceuticals make up at least 11% of England's health and social care footprint, medicines themselves were not mentioned in NHS England's commitment to being carbon net zero by 2040. This could be a missed opportunity for the NHS to apply pressure on the wider industry to do better. 
On the regulatory side, although many countries have clear carbon neutral and eco-friendly targets, both international and national organisations need "to strengthen the regulatory framework" and "ensure rigorous monitoring and eliminate pollution", according to Stenuick.
Yuen agrees that governments need to introduce carrot and stick approach. They need to provide incentives, such as tax credits, as well as punishments that go beyond fines, such those that might prevent them being able to launch their new drugs on the market.  
However, Spence argues that regulation and government policy can only go so far to drive change.  She argues it would be better if the push came from the private sector. Spence states companies themselves should effectively demonstrate to their investors and shareholders how sustainability initiatives deliver financial value for them. 
Only once sustainability becomes linked to a company's economic value in the long-term – and this is accepted by the investors and the market – will pharma companies start to properly embed bold eco-friendly commitments into their core business model. Ultimately, the companies that do this best will, according to Spence, thrive.