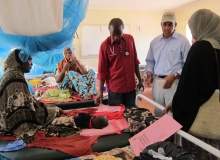 As man-made carbon emissions continue to change our planet's climate, living conditions for the human population are changing with it. Scientists and other expert stakeholders are still struggling to identify the myriad adaptations we will have to take on as a species to account for the new world with which global warming has presented us.
In terms of reducing emissions and mitigating the effects of climate change, clearly the predominant discussion that is taking place (especially at international summits such as the decisive COP21 in Paris at the end of 2015) is between national governments and the energy sector. But an issue as global as climate change requires a more systemic response from across industry and society, and pharmaceutical companies have become increasingly aware of the contributions they can make both to the emissions reduction imperative and to tackling the consequences of climate change that are being felt even now.
There is plenty of work to be done on both counts. The pharma sector's carbon emissions might not match those of energy generation or the heavy manufacturing industries, but there is certainly room for improvement. In the UK, for example, around 20% of the NHS's carbon footprint is related to pharmaceutical products, according to a 2013 report by the NHS Sustainable Development Unit.
The effects of climate change on public health and healthcare systems might be an even more important question, and one in which the pharma industry could play a more important role. Just on an infrastructure level, the increasing severity of weather patterns caused by warming oceans is cause for concern – at the tail end of 2014, the White House issued guidelines to help hospitals and health centres respond to these events, including placing emergency rooms outside of areas susceptible to flooding and working out contingency plans in case of energy or water supply disruption.
Environmental protection: cutting emissions and waste
All things considered, the pharma industry on the whole appears to be performing admirably when it comes to environmental performance. Drug companies have a strong presence in Newsweek's global ranking for corporate sustainability and environmental impact in 2015, with four pharma firms in the top ten (Roche ranked ninth, while Biogen, Shire and Allergan occupied the first, second and third spots respectively).
Many large pharmaceutical companies have plans in place to reduce their carbon emissions, often with specific targets in mind. In the US, a number of drugmakers have joined the 150 or so companies in signing up to the White House's American Business Act on Climate Pledge, which was launched in July 2015 as a means for private sector companies to express support for strong international action on climate change and to demonstrate their commitment to environmental sustainability.
Biogen, Johnson & Johnson, Genentech, Patheon and Novartis were among the 73 additional companies to sign the pledge in November 2015, and their accompanying statements give some insight into the environmental goals that pharma companies are setting for themselves.
Emissions reduction is a common theme among the pharma signatories. Biogen has maintained carbon neutrality since the end of 2014; it was the first biopharmaceutical company to do so and this was clearly the key achievement explaining its top ranking in the Newsweek sustainability list. The company has promised to work with its supply chain to reduce its direct and indirect operational carbon emissions by 80% by 2020 compared to 2006 levels.
"We apply the same science-based approach to environmental sustainability that we do to creating medicines for people with serious diseases."
Other companies have set similar – if slightly less ambitious – emissions reduction targets, with Johnson & Johnson pledging an 80% reduction by 2050, while Novartis has promised to cut emissions in half by 2030 and Genentech has pledged a 30% drop by 2020. Other common environmental goals include reductions in water and energy use, and cutting the amount of waste sent to landfill sites. Novartis also plans to implement an internal carbon price of $100 per tonne of CO2 emitted to "prompt us to think smarter and prioritize our projects and actions for effective greenhouse gas reduction in the future".
"We apply the same science-based approach to environmental sustainability that we do to creating medicines for people with serious diseases," said Genentech in a statement. "It's the everyday strides we make in reducing our impact on the environment – whether it's the type of lighting we've installed in our newest buildings, the innovative technologies we're testing, or how we equip our employees to be green at home – that all contribute to a meaningful impact on the resources we use and the spaces where we work."
There are other complex environmental issues that still need to be dramatically improved – reducing the levels of damaging pharmaceutical ingredients in wastewater runoff is vital even if not directly related to climate change, as exposure to drugs such as anti-inflammatory diclofenac has been linked to large-scale deaths of local wildlife. However, in terms of climate change mitigation, while not all pharma firms conform to the practices of the industry's best environmental performers, there is at least a sizeable base of companies setting a positive, realistic example for others to follow.
Tackling the health impacts of climate change
Beyond the actions being taken in the pharmaceutical industry to limit climate change, rising global temperatures and more dramatic weather patterns pose significant risks to public health, and pharma companies are positioned to be on the front line of the response to these threats.
In particular, the prevalence and geographic range of vector-borne diseases such as malaria, dengue, yellow fever, Lyme disease and leishmaniasis is set to grow (or has already started growing) due to rising temperatures. The increasing tendency for extreme storms creates health risks including cholera outbreaks, which can be caused when hurricanes or floods mix wastewater with potable water sources.
"The links between climate change, vector populations and hence malarial range and incidence may become significant in areas where the temperature is currently the limiting factor, possibly increasing the incidence of a disease that causes 660,000 deaths per year," stated a June 2015 report published by the Lancet/UCL Commission on Health and Climate Change.
"We need to urgently support the mobilisation of the entire health community, public and private stakeholders, starting with life sciences companies, who are responsible for contributing to the advancement of health," said Sanofi CEO Olivier Brandicourt, whose company was the only pharma firm that became an official partner of the COP21 summit in Paris at the end of 2015. "If we act now, we can mitigate the consequences of climate change on the health of the world's population. Health must be part of the climate debate."
A global health opportunity
The Lancet Commission's report, in a conscious effort to focus on a positive angle, describes tackling climate change as possibly "the greatest global health opportunity of the 21st century". This gives an added health incentive (if such were needed) for industries and individuals to reduce their environmental impact in the short term – climate change mitigation and public health improvements are mutually reinforcing.
Governments and pharma companies must also look into improving access to effective treatments for diseases and conditions that are likely to be exacerbated by climate change, especially in parts of the developing world – primarily Southeast Asia and sub-Saharan Africa – that will bear the brunt of global warming's health consequences.
"Current knowledge has only begun to scratch the surface of what the impacts of climate change on health could be."
Sanofi has been working with national malaria control initiatives "to provide affordable medicines and to support local stakeholders in the prevention, diagnosis and treatment of malaria". Life-saving strides have been made in limiting the spread of malaria in some of the world's poorest countries, and multilateral action is required to prevent climate change undoing the progress made in this and many other fields.
Another recent study, by GlaxoSmithKline (GSK), Accenture and Oxford University, highlighted that "current knowledge has only begun to scratch the surface of what the impacts of climate change on health could be. Significant gaps still exist in our understanding of the timing, severity and geographical range of the health impacts of climate change."
This means that more study and more intensive collaboration within the industry and with national and international organisations is key to ensuring that the world is prepared for the health threats to come.
"My ambition is to see GSK and the pharmaceutical industry come together to make a progressive industry response to climate change and health," wrote GSK's chief executive Andrew Witty in the study's foreword. "There is an opportunity for us to work closely with other key stakeholders, to initiate a dialogue around the actions we can collectively take, and to stimulate innovation and research in the area. As good corporate citizens, we all need to ensure that the impact of climate change on health is better understood so that we can form an appropriate response…Many of the things we need to do require transformational change that could take many years, but we absolutely must start this journey today. The potential of what we can achieve by working in partnership is huge."