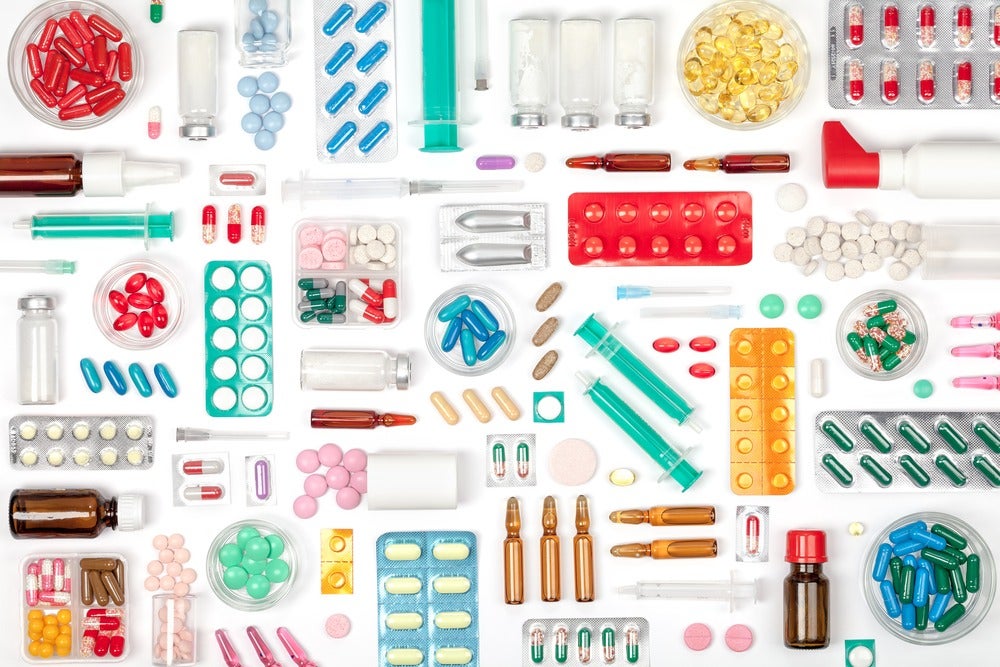 Next year is set to be an even bigger year for drug market exclusivity expiries, with GlobalData estimating that 66 innovator drugs will lose their market exclusivity within the US, resulting in the loss of billions of dollars in sales. 
Figure 1, derived from GlobalData's Pharma Intelligence Center, Regulatory Milestone Tracker (RMT), shows that many bio/pharma companies will suffer more than one drug expiry, leading to a potential combined impact of more than $2bn in yearly US sales by 2025. 
Novartis is set to suffer the greatest number of expiries in 2020 with eight drugs losing their market exclusivity. Novartis will be closely followed by Merck and Co Inc, which has five US expiries in 2020. AstraZeneca Plc and Pfizer Inc will also have multiple losses, with each having four US expiries in 2020. 
Nevertheless, Novartis and the other aforementioned companies are all large ($10bn–200bn) or mega-cap (>$200bn) pharma companies with extensive portfolios that can readily absorb the loss of multiple market exclusivities for their products, and will likewise have a sizeable pipeline with which to replace these losses.  
GlobalData's Pharma Intelligence Center's Regulatory Milestones Tracker allows clients to view patent and drug expiries, helping them make more informed decisions around drug development. Drug expiries for 2020 can be viewed and searched in more detail on the GlobalData Pharma Intelligence Center. 
Novartis, with eight drugs due to lose market exclusivity in 2020, is set to feel the bite, with three of those eight drugs experiencing major losses in their sales: the combined 2018 US sales of $1.595bn of Afinitor/Votubia, Exjade/Jadenu, and Zortress/Certican is forecast to decrease to $315m by 2025. Included amongst Novartis's eight expiries is the blockbuster drug Afinitor/Votubia (everolimus), a small molecule anti-neoplastic agent targeting HER2-negative breast cancer, kidney cancer, and renal cell carcinoma, which in 2018 recorded global sales of $1.6bn. The expiry of Afinitor/Votubia's US market exclusivity is projected to decrease the product's US sales from $925m in 2018 to only $83m in 2025, according to GlobalData's Pharma Intelligence Center's, Drug Sales and Consensus Forecast (DSCF) analyst consensus. 
Novartis will not be alone in seeing previously strong-selling products decrease in US sales: Roche's blockbuster Lucentis (ranibizumab), a biologic therapy that targets ophthalmic degradation such as macular edema, is predicted to halve its 2018 sales by 2025, falling from $1.7bn to $739m. Pfizer's Chantix (varenicline tartrate) for smoking cessation will likewise take a serious hit and is forecast to lose the majority of US sales, dropping from $838m in 2018 to $89m in 2025. 
AstraZeneca's Bydureon (exenatide) for Type 2 diabetes appears to buck this trend of decreasing sales after a loss of exclusivity, showing a forecast 5% increase in its US sales between 2018 and 2025, rising from $475m to $501m. 
This may be in part because Bydureon's pre-expiry sales have been dogged by disappointing losses, reaching only half their predicted peak.
Drug expiry is the estimation of when a drug will lose its market exclusivity rights. These estimations are determined by GlobalData's in-house analysts, based on the constraining patent expiry date and any extensions of exclusivity rights including any awarded designations that the drug may have. These drug expiries are not set in stone and may change as companies try to extend their market exclusivity, especially for their most profitable products. 
Drug expiries can be challenged, leading to extensions of patent life or exclusivity. For instance, in the European Economic Area (EEA), pharma companies can apply for Supplementary Protection Certificates (SPC) to extend a drug's patent protection, which in turn can be extended by Pediatric Investigation Plans (PIP). Term Extensions function similarly in the US. Both SPCs and Term Extensions can last for up to five years and aim to compensate patent holders for marketing time lost while developing the drug and awaiting government approval. Constraining SPCs/Term Extensions can be searched in the Regulatory Milestones Tracker in the GlobalData Pharma Intelligence Center.
For more on SPCs and their manufacturing waivers, see "Medicines for Europe Condemns 'Unacceptable' US Interference in SPC Waiver Discussions," GlobalData PharmSource Bio/Pharma Outsourcing Report of December 2018.