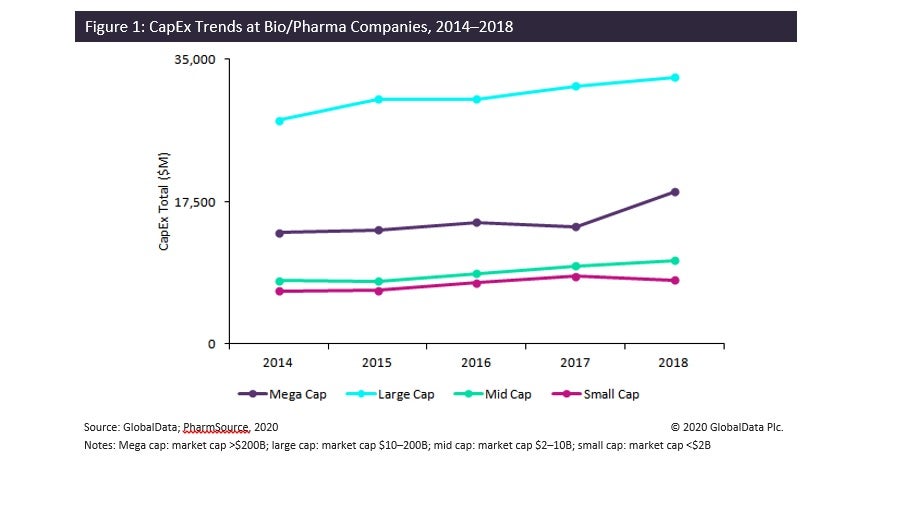 The future of advanced therapies such as cell and gene therapies will depend on whether the industry can overcome manufacturing bottlenecks and capacity shortages. Heavy demand for these therapies could provide an opportunity for contract manufacturers but only if pharma companies choose to outsource manufacture rather than invest in their own manufacturing capabilities through capital expenditure.
In November 2019, Novartis AG (Basel, Switzerland) opened a manufacturing facility for cell and gene therapies at Stein, Switzerland, at a cost of almost $90n. Not many pharma companies will be able to generate this level of investment for their facilities. Novartis is, in fact, one of only five mega cap (market cap >$200bn) pharma companies; however, those five companies accounted for 27% of all pharma industry CapEx in 2018, according to PharmSource's Bio/Pharma CapEx Trends – 2019 Edition Trend Report (December 2019).
As shown in Figure 1, CapEx spending by pharma companies has been rising over time and is directly proportional to market cap: small cap companies account for the lowest accumulated CapEx despite consisting of 1,161 companies, this company count being at least eight times larger than any of the other market cap groups. PharmSource's aforementioned CapEx report elaborates on these trends by company type and characterizes the largest pharma companies' CapEx spending since 2016.
While it is mandatory for many small cap companies to outsource their production due to a lack of internal capacity, large or mega cap companies may choose to both manufacture products in-house and outsource their production for strategic reasons rather than out of necessity (known as dual sourcing). Dual sourcing, where a product is both manufactured in-house and outsourced, has become a key part of the manufacturing strategy for many larger pharma companies as a way to manage supply chain risk and financial risk. For example, the API manufacture of Johnson & Johnson's (New Brunswick, NJ, US) Spravato (esketamine hydrochloride), which was approved in 2019, is dual sourced, manufactured in-house and by SEQENS (Lyon, France). Similarly, the dose for Pfizer's (New York City, NY, US) Vyndamax (tafamidis) and Novartis' Egaten (triclabendazole) is outsourced to large CMOs Catalent Inc (Somerset, NJ, USA) and Aenova Holding GmbH (Starnberg, Germany), respectively. Such agreements with CMOs provide security of supply while eliminating the need to invest in surge capacity that might go underutilized if actual demand is lower than projections.
The mega cap pharma companies Roche (Basel, Switzerland), Pfizer Inc, Johnson & Johnson, Merck & Co Inc (Kenilworth, NJ, US), and Novartis AG had 17 biosimilar and innovator drug approvals in either the US or EU in 2019. As shown in Figure 2, no commercial API manufacture was purely outsourced. API manufacture was dual sourced in the case of Adhansia XR (methylphenidate hydrochloride), Spravato, and Zolgensma (onasemnogene abeparvovec), with outsourcing sites on the same continents as in-house manufacturing facilities. For seven of the 17 approved drugs, of the API sites we could identify, all were in-house. Among the 17 approvals, there is only one whose dose manufacturing is dual sourced. There are 11 drugs whose dose form was manufactured solely in-house and four drugs whose dose was solely outsourced. This shows that the mega cap companies rely more heavily on CMOs to manufacture their products' dose forms rather than API. Eight of the 17 approvals were biologics, one was the gene therapy Zolgensma, and the rest were small molecules. All of the 2019 approvals whose API and dose manufacture is solely outsourced are small molecule drugs.
As PharmSource's Trend Report CMO Scorecard: Outsourcing of NDA Approvals and CMO Performance (March 2019) shows, outsourcing levels are currently low for biologics and by larger market cap companies. In fact, most of the mega cap companies' capital expenditure projects identified in the aforementioned CapEx report involve construction and expansion of manufacturing facilities for API manufacture of biologics, which indicates that these trends will only continue in future. As more biologics are approved, and given that the largest pharma companies have the biggest and most lucrative product portfolios, the trends identified should be of particular concern to CMOs.