Covaxx has hired CRO PPD for a Phase II/III trial of its Covid-19 vaccine candidate UB-612 in Brazil beginning this quarter, CEO Mei Mei Hu said. The Hauppauge, NY-based Covaxx enlisted PPD due to its quality, ability to quickly recruit trials and competency in interfacing with local regulators, Hu said.
Free Case Study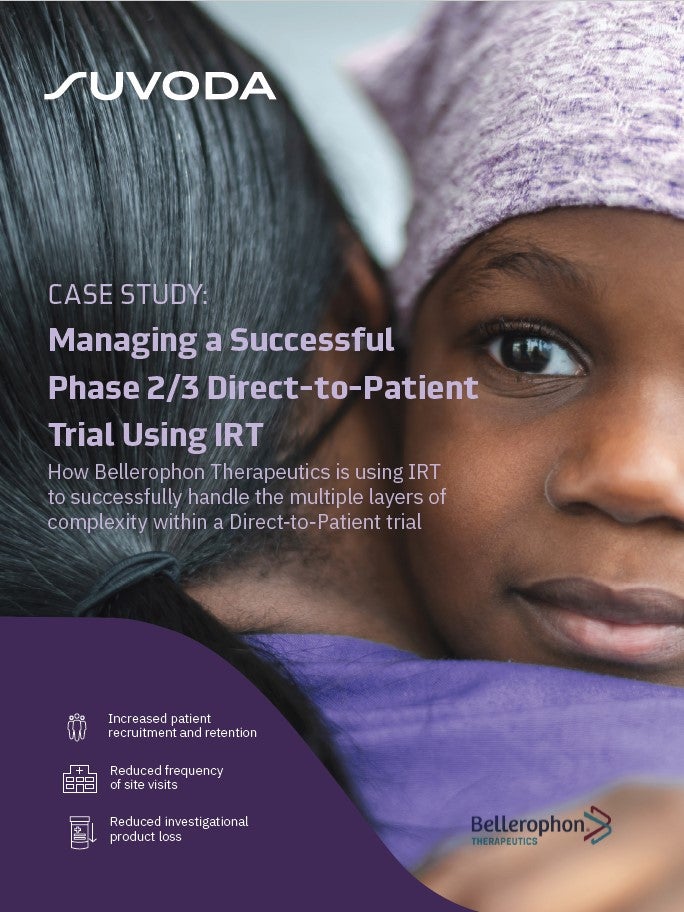 Direct-to-Patient Trials: How IRT Plays an Important Role in Bellerophon's Direct-to-Patient Trials
As the industry strengthens its focus on patient centricity, Direct-to-Patient clinical trials have emerged as a popular trial design that have the potential to increase patient recruitment and retention. IRT plays a crucial role in the success of a Direct-to-Patient trial. Because drug supplies are being managed and shipped from distribution facilities directly to patients' homes, a sponsor must have a high-quality system in place to accurately track the chain of custody, ensure patient-blinding and handle other logistical challenges. What You Will Learn Benefits and challenges associated with the Direct-to-Patient model Bellerophon's top considerations when implementing this trial design How IRT can equip study teams to successfully track chain of custody, ensure patient blinding, and handle logistical challenges
by Suvoda
Covaxx is also collaborating with Dasa, the largest diagnostic medical company in Brazil, for the Phase II/III and for vaccine distribution, Hu added. The Phase II/III (NCT04683224) will enrol more than 10,000 patients and measure disease severity and infection among its primary endpoints, while also looking at viral shedding, Hu said. In addition to the Brazil trial, Covaxx is initiating a 3,500-patient Phase II safety and immunogenicity trial in Taiwan this quarter, funded by a grant from the Taiwanese government, with an undisclosed, locally based CRO, Hu said. Covaxx is also working with India-based Aurobindo to develop and commercialise the vaccine in India, she added.
Results from a Phase I trial of UB-612, which the company plans to release shortly, were positive, finding a 100% seroconversion rate in patients and neutralising titers at or above convalescent plasma levels, Hu said. UB-612 is a multitope peptide-based vaccine activating both B and T-cells in the immune system, according to the company website.
Covaxx plans to merge with its sister company United Neuroscience later this quarter to form a new company, called Vaxinity, which will include both companies' entire vaccine platforms, Hu said. The new company will look to raise an undisclosed amount of capital, she added. All Covid-19 trials are funded through company partnerships and government grants, she explained.
PPD declined a request to comment.
William Newton is a Reporter for Clinical Trials Arena parent company GlobalData's investigative journalism team. A version of this article originally appeared on the Insights module of GlobalData's Pharmaceutical Intelligence Center. To access more articles like this, visit GlobalData.
Free Case Study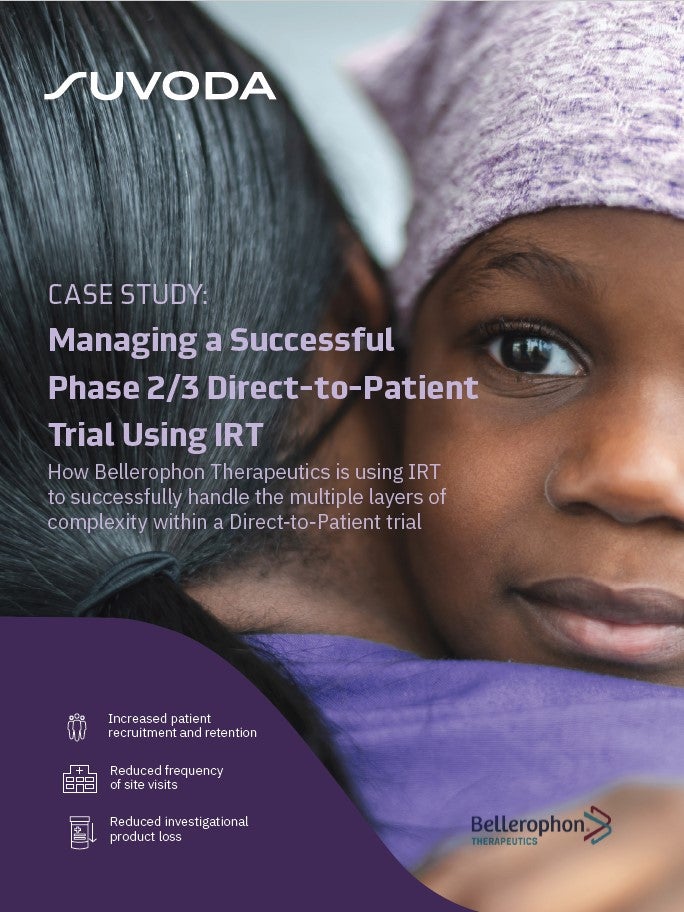 Direct-to-Patient Trials: How IRT Plays an Important Role in Bellerophon's Direct-to-Patient Trials
As the industry strengthens its focus on patient centricity, Direct-to-Patient clinical trials have emerged as a popular trial design that have the potential to increase patient recruitment and retention. IRT plays a crucial role in the success of a Direct-to-Patient trial. Because drug supplies are being managed and shipped from distribution facilities directly to patients' homes, a sponsor must have a high-quality system in place to accurately track the chain of custody, ensure patient-blinding and handle other logistical challenges. What You Will Learn Benefits and challenges associated with the Direct-to-Patient model Bellerophon's top considerations when implementing this trial design How IRT can equip study teams to successfully track chain of custody, ensure patient blinding, and handle logistical challenges
by Suvoda