Last year was a positive year for biopharmaceutical companies, particularly those with Covid-19 vaccines. The top 13 players reported more than 10% revenue growth, with BioNTech (3,834.4%), Moderna (2,199.1%), Pfizer (95.2%) and Regeneron Pharmaceuticals (89.1%) reporting a more than 80% year-on-year (YoY) revenue growth from 2020 to 2021, according to GlobalData's Pharma Intelligence Centre Companies Database.
As a result of huge global sales of mRNA Covid-19 vaccines, the split in profits between Pfizer and BioNTech's Comirnaty contributed towards revenues of $81.3bn and $22.4bn last year, respectively. Moderna's Covid-19 vaccine, Spikevax, also contributed to the company's $18.5bn in revenue for the year. Regeneron's windfall of $16.1bn in revenue for the year was largely due to its Covid-19 monoclonal antibody therapy, REGEN-COV; due to its ineffectiveness against the Omicron variant, however, its success is expected to be short-lived.
According to GlobalData's report, Coronavirus Disease 2019 (Covid-19) Analyst Consensus Sales Analysis and Forecast, H1 2022, Comirnaty is the leading prophylactic Covid-19 vaccine and recorded sales of $41.3bn in 2021. BioNTech has shifted its focus towards oncology, with the company expecting the first results from a Phase II trial of its first-in-class CAR-T drug, BNT211, for multiple solid tumours. Moderna's Spikevax saw sales of $17.7bn last year and, as a pioneer in mRNA therapeutics and vaccines, the company plans to expand its portfolio worldwide to 15 vaccines.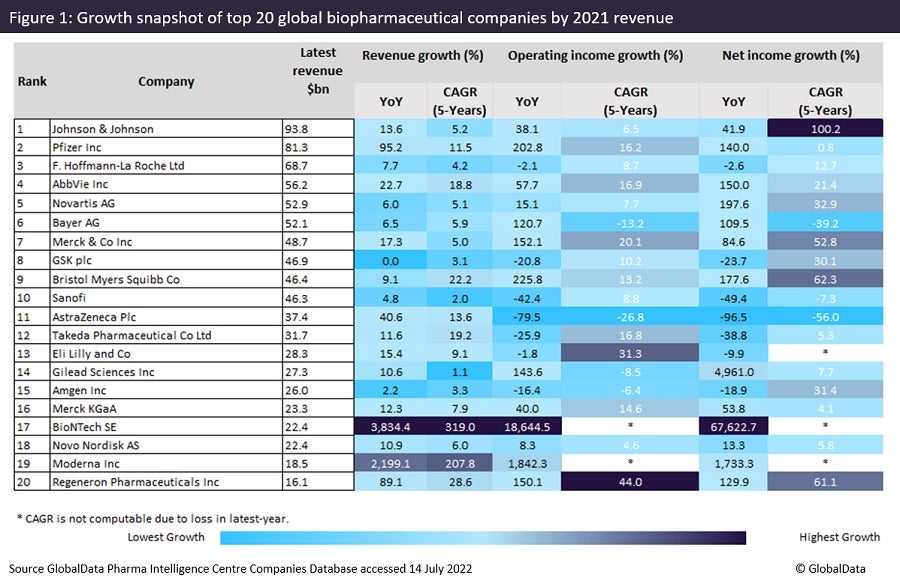 Pfizer reaped $36.8bn from Comirnaty, the highest revenue generated from Covid-19 vaccine sales worldwide. Vaccine sales helped Pfizer finish second in the top 20 list, with a 95.2% YoY revenue growth. According to GlobalData's report, Paxlovid, the company's small-molecule Covid-19 oral therapy, was shown to reduce Covid-19 infections by 32% in adults and is forecast to be the top-selling drug by total sales, generating $81bn between 2021 and 2028.
AbbVie reported a 22.7% YoY growth in revenue during the same period due to its robust pipeline, with Humira topping more than $20bn in sales in 2021, according to GlobalData's Drugs Database. Upcoming biosimilar competition for Humira means AbbVie's focus may turn to Rinvoq, approved in the US for atopic dermatitis, psoriatic arthritis, rheumatoid arthritis and ulcerative colitis, and Skyrizi, approved in the US for psoriatic arthritis and plaque psoriasis. According to GlobalData's Drugs Database, Rinvoq and Skyrizi combined are projected to reach global analyst consensus forecast sales of more than $21bn by 2028.
Bristol Myers Squibb (BMS) documented a 9.1% increase in revenue from 2020 to 2021 from sales of Revlimid, its multiple myeloma therapy, with a global analyst consensus sales forecast of $12.8bn for 2021, according to GlobalData's Drugs Database. However, its blockbuster drug is facing generic drug competition, with generic drug launches this year in the US from Teva Pharmaceuticals and in Europe from Novartis' subsidiaries Sandoz and Stada Arzneimittel. BMS expects to see a YoY decrease in its sales of Revlimid from this year onwards.
Amgen reported only a marginal 2.2% YoY revenue growth to $26.0bn last year. However, the FDA's approval of Lumakras for metastatic non-small cell lung cancer in May last year has a global analyst consensus sales forecast of $336m for this year, according to GlobalData's Drugs Database.
All top 20 biopharmaceutical companies recorded positive compound annual growth rates (CAGRs) in revenue during 2017–21, with BioNTech (319%) and Moderna (208%) leading thanks to their Covid-19 vaccine franchises.
BioNTech (18,644.5%) and Moderna (1,842.3%) had more than 100% YoY operating income growth last year due to Covid-19 vaccine demand. Increased operating costs, however, triggered more than 10% YoY decline in operating profit for AstraZeneca (-79.5%), Sanofi (-42.4%), Takeda Pharmaceutical (-25.9%), GlaxoSmithKline (-20.8%) and Amgen (-16.4%).
BioNTech (67,622.7%), Gilead Sciences (4,961%) and Moderna (1,733.3%) had more than 1,000% YoY net profit growth, fueled by high revenue and decline in expenses. Revenue growth combined with improved operational performance and reduction in expenses led to a more than 50% increase in the net profit CAGR for Johnson & Johnson (100.2%), BMS (62.3%), Regeneron Pharmaceuticals (61.1%) and Merck & Co (52.8%).
The top biopharmaceutical companies that developed effective vaccines for Covid-19 during the pandemic reaped success last year, with possible demand for vaccines and therapeutics for new variants from this year onwards. However, other challenges facing biopharmaceutical companies include growing generic drug competition, which places pressure on drug prices. Furthermore, the recent Inflation Reduction Act passed by the US Senate, which gives Medicare the ability to negotiate drug prices and extends enhancements to the Affordable Care Act, was highlighted by the Pharmaceutical Research and Manufacturers of America (PhRMA), stating this could potentially impact drug innovation for biopharmaceutical companies for the future.