The increasing regulation of biotech and manufacturing deals in the US could prompt foreign companies such as Chinese contract development and manufacturing organisations (CDMOs) to seek alternative targets in Europe or elsewhere. On 15 September, US President Joe Biden signed an executive order that targets foreign investments in US biotech, artificial intelligence (AI), semiconductors and other sensitive technologies. This could have wide-reaching effects on emerging pharmaceutical markets such as China, which are seeking to acquire innovative pharma manufacturing expertise in the US. Biden's executive order defines national security factors for the existing Committee on Foreign Investment in the United States (CFIUS) to consider when evaluating transactions, specifically a deal's effect on critical US supply chains, US technological leadership in biotechnology, cybersecurity risks, or risks to US persons' sensitive data.
Part of the US government, the CFIUS reviews certain transactions involving foreign investment in the US for their national security implications. It has the ability to slow or functionally halt transactions. After a foreign company has filed a notice of its plan to invest in the US, CFIUS initiates a 30-day threat assessment to identify national security concerns. If CFIUS identifies concerns during the initial review period, it follows with a 45-day investigation. If it determines that a transaction presents national security risks, it may enter an agreement with, or impose conditions on, parties to mitigate these risks, or may refer the case to the President for a decision. Mitigation measures could include the forfeiture of sensitive contracts, the appointment of special compliance personnel or proxy boards consisting of US persons, or even the divestiture of assets or operations.
The September order explicitly claims that some countries use foreign investment to obtain access to sensitive data and technologies for purposes that are detrimental to US national security. The CFIUS process has mainly targeted Chinese investors, and according to an article titled 'China outbound M&A report part four' (released 27 April 2022) by the International Financial Law Review, CFIUS concerns loom over US-China deals. The source stated that CFIUS has exponentially increased its reviews of deals that were not submitted in advance to CFIUS for review and approval.
There are already nine Chinese-based companies with 14 US contract manufacturing facilities. These include pharma giant WuXi AppTec (Shanghai, China) and its subsidiaries, as well as Genscript Biotech (Jiangsu, China) and Forecyte Bio (Shanghai, China), all of which have lucrative active pharmaceutical ingredient (API) biologics sites in the US. These capabilities include cell and gene therapies, which China would like to develop to move away from its current focus on high-volume, low-value (often generic) API small molecule manufacture. Forecyte Bio was founded last year and produces adeno-associated viral, adenovirus, lentivirus, oncolytic virus and retrovirus viral vectors, as well as cell products such as CAR-T, TCR-T and CAR-NK. Genscript Biotech has two contract manufacturing facilities capable of producing cell and gene therapies in the US and Japan.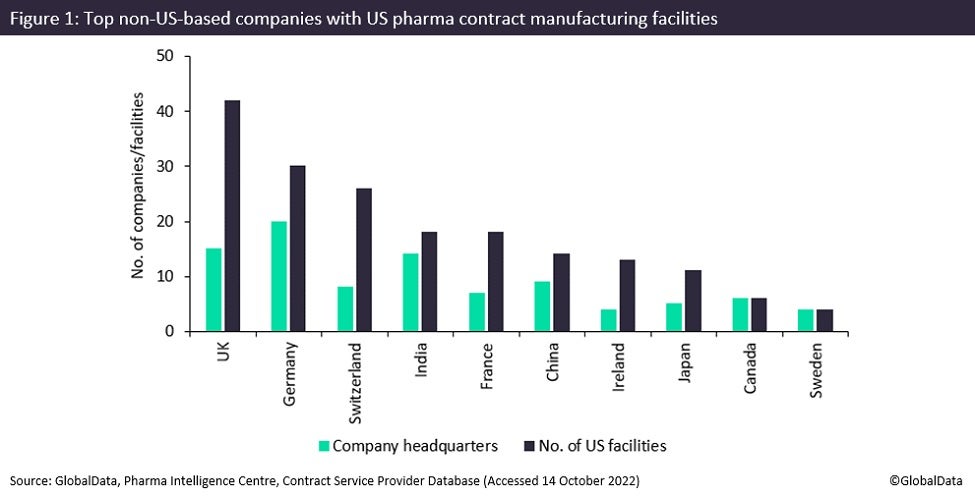 Germany and the UK own the most contract manufacturing facilities in the US, but Chinese companies are trying to rapidly increase their US presence, applying in large numbers to make investments in the country last year.
Chinese investors often face increased scrutiny when attempting to invest in the US. Despite that fact, Chinese investors rapidly increased the quantity of applications they made last year, seeking regulatory clearance for proposed stakes in US companies across all industries within CFIUS's scope. Across all industries, applications increased from 17 in 2020 to 44 last year, according to CFIUS's Annual Report To Congress FY2021, which was published on 2 August this year. The highest number of notices last year were from Chinese investors, accounting for 16.5% (44 notices), followed by Canadian and Japanese investors, accounting for 10.3% and 9.6% respectively (28 and 26 notices) across all sectors. Of these Chinese notices, 32 were for manufacturing. CFIUS rejected two declarations last year; in one of these instances, the parties re-filed as a notice.
Declarations remain largely voluntary, where parties may submit a short-form declaration notifying CFIUS of a covered transaction in order to receive a potential 'safe harbour' letter. (Notices tend to require an extended review by comparison.) Safe harbour is where CFIUS has completed all action with respect to a covered transaction or the President has announced a decision not to exercise his authority with respect to the transaction.
Last month, F-star Therapeutics (Cambridge, UK) disclosed that a CFIUS national security review of its sale to Sino-Biopharma (Hong Kong) had moved into an extended review. F-Star has key locations and subsidiaries based in the US.
Deals have also been cancelled where the buyer and CFIUS have been unable to agree on terms. For instance, in February this year, Snapdragon Chemistry (Waltham, Massachusetts) announced that the previously announced acquisition by Asymchem Laboratories Tianjin (Tianjin, China) would not proceed. Snapdragon and Asymchem were unable to agree to mitigation terms that would satisfy CFIUS.
PharmSource previously covered the impacts of CFIUS in a 2019 article during the US-China trade war entitled 'US-China Trade War Casualties: Biopharma Sees First Wave of CFIUS Vetoes, But No Tariffs on Chinese Pharma Imports', when the US government committee was tasked with vetoing biotechnology investments that could harm national security and started stalling biopharma deals involving Chinese investors.
Pharmsource is part of GlobalData, the parent company of Pharmaceutical Technology.
In recent years, the US has sought to limit its supply chain dependence on Chinese medical supplies. Despite the risks, Chinese companies still view the US as a great investment due to the large pharma market and an absence of the disruption caused by a zero-Covid policy that is at play domestically.