Haemophilia is a rare, X-linked hereditary disorder in which deficiencies in clotting factors—factor VIII (haemophilia A) or IX (haemophilia B)—result in excess bleeding in joints, muscles and soft tissues after internal or external trauma. In the past, the highest unmet need in this indication was reducing the risk of infection from blood plasma-derived therapies. This need was met with the advent of recombinant replacement factors into the haemophilia A and B market. Through discussions with key opinion leaders (KOLs), GlobalData has identified the five most important unmet needs in haemophilia A and B, four of which are clinical and one environmental (Figure 1).
The main high unmet need in haemophilia is the ability to allow patients with this disease to live as normal a life as those without the disease. Over the last few decades, developers have moved rapidly towards this final target by developing gene therapies with improved factor VIII and IX transgenes and suitable gene-transfer vectors. Late-stage pipeline agents that can address this unmet need are BioMarin's Roctavian (valoctocogene roxaparvovec) and Pfizer's SB-525 (giroctocogene fitelparvovec) for haemophilia A, along with uniQure's AMT-061 (etranacogene dezaparvovec) and Pfizer's SPK-9001 (fidanacogene elaparvovec) for haemophilia B.
Secondly, the increased risk of inhibitor formation in previously untreated patients (PUPs) is also an area of high unmet need. Not only are these patients unable to respond to replacement factors, but comprise a segment where therapeutic options are limited. Novel therapies that act upon alternative coagulation pathways can assist in reducing the rate of inhibitor development. Late-stage, pipeline monoclonal antibodies that target the tissue factor pathway inhibitor (TFPI) include Pfizer's marstacimab and Novo Nordisk's concizumab.
A third high unmet need is the lack of approved products for haemophilia B patients with inhibitors. NovoSeven and Sevenfact are the only recombinant bypassing agents currently approved for on-demand treatment in haemophilia B patients with inhibitors. Plasma-derived agents Feiba NF and Byclot are the only products that can be used prophylactically to treat haemophilia B patients with inhibitors. There are currently four pipeline agents in late-stage clinical trials for which GlobalData anticipates marketing authorisation to treat this subpopulation over the next ten years. These include Catalyst Biosciences' marzeptacog alfa (activated), which is reported to have a longer half-life than NovoSeven and thus is expected to erode sales from NovoSeven if approved.
The final clinical unmet need is the availability of treatments with a convenient route of administration. Alongside frequent dosing schedules of two to four times a week being a major inconvenience for patients and their caregivers, frequent intravenous injections in the prophylactic setting also cause complications due to venous access issues. The success of Roche's Hemlibra in the haemophilia A market is largely due to its ability to be administered subcutaneously, as well as its easier dosing schedule of once a month. Hemlibra is the only marketed agent in the haemophilia A space that can be administered subcutaneously. Sanofi's late-stage pipeline agent fitusiran, which can treat all haemophilia populations, promises a dosing schedule of once a month and a subcutaneous route of administration. In addition, four other late-stage agents can be administered subcutaneously.
Finally, the main environmental unmet need is represented by the high cost of prophylactic treatment, which presents a challenge to national health services and insurance providers in the long term. KOLs are not optimistic that this unmet need will be addressed soon, as they predict that the cost of a one-time dose of a gene therapy will equal the cost of regular prophylactic treatment with recombinant replacement factor therapy over a patient's lifetime. In addition, KOLs believe that novel extended half-life replacement therapies do not improve bleeding rates, are not cost-effective and only act as a means for administering less-frequent injections at a higher price. The cost of prophylactic treatment in haemophilia is highly likely to continue increasing.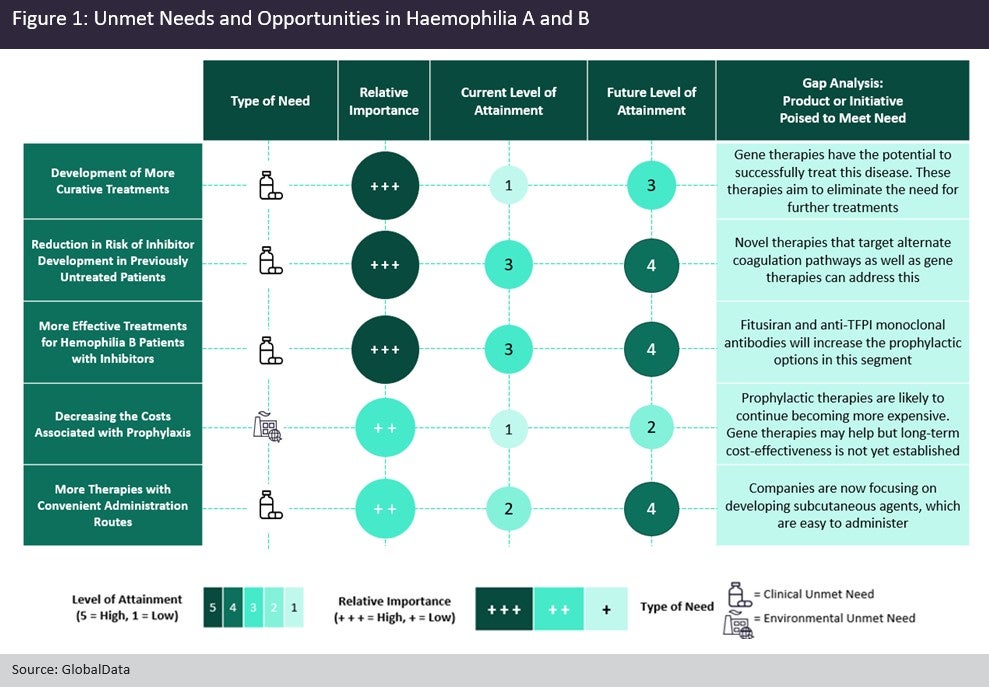 Cell & Gene Therapy Coverage on Pharmaceutical Technology supported by Cytiva.
Editorial content is independently produced and follows the highest standards of journalistic integrity. Topic sponsors are not involved in the creation of editorial content.