Mexico's border with the US and its strong manufacturing industry, which includes a skilled and cost-effective workforce, position the country to take advantage of the growing US appetite for nearshoring, a GlobalData analysis shows. Nearshoring is defined as when a business moves its operations or supply to a nearby country from one that is farther away.
Kearney's US Reshoring Index (April 2021) shows that many US manufacturing executives perceive nearshoring to Mexico or Canada as even more advantageous than reshoring to the US. The index also noted that US manufacturers will specifically strive to reduce dependence on China for manufacturing, another positive sign for nearshoring operations to Mexico. Since 2020, Covid-19 related supply chain disruptions have caused many US companies to take steps to bring some of their manufacturing closer to home.
The US pharma market is the largest worldwide. There is a great incentive for North American countries to trade with each other (and promote nearshoring, given lower overhead costs) since the US-Mexico-Canada Agreement (USMCA), a free trade agreement between Canada, Mexico and the US, came into force in July 2020. At the same time, the US has had trade disputes with a major pharma exporter, China, in recent years. Many of the world's largest pharma companies already operate facilities in Mexico, and nearshoring could increase international investment further.
The Mexican pharma industry grew significantly with the repeal of the 'derecho de planta' law in 2010, part of the country's economic liberalisation under the conservative PAN party. The law required all companies selling pharmaceuticals in Mexico to have a manufacturing facility in the country, according to the Wisconsin Economic Development Corporation. There are now significant opportunities for international pharma companies to sell and manufacture their products in the region, as well as to the neighbouring US.
Healthcare in the US can be restrictively expensive and inaccessible for many Americans, but Mexico provides a viable alternative. The two countries' proximity has led to US citizens engaging in health tourism in Mexico, particularly from the nearby states of Arizona, California and Texas. This is primarily due to affordable medical services (prescription medicines and dentistry), ease of travel and the presence of qualified medical professionals. These factors further bolster growing Mexican revenues for the pharma and healthcare industries.
Pharma giants invest in Mexico
There also has been significant investment in Mexico from other emerging markets. In October 2020, six generic drug makers, mostly Indian—Dr Reddy's Laboratories (Hyderabad, India), Cadila Pharmaceuticals (Gujarat, India), Glenmark Pharmaceuticals (Mumbai, India), Torrent Pharmaceuticals (Ahmedabad, India), Hetero Drugs (Telangana, India), and Ackerman Pharma (State of Mexico, Mexico)—signed a deal with the Mexican state of Hidalgo to set up a large pharmaceutical cluster for production and logistics. The move was facilitated by the Indian Ministry of Commerce and Industry and is expected to help these companies penetrate neighbouring Latin American markets, according to India's Economic Times.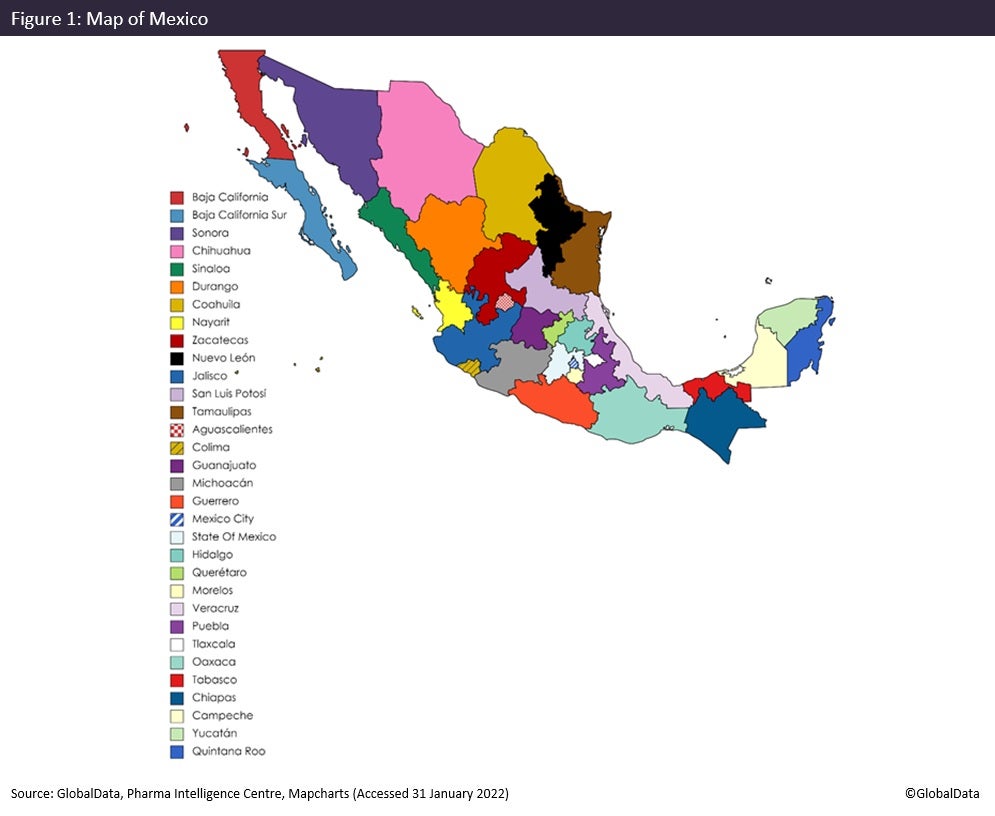 Mexico is a large country with a land area of around two million square kilometres, with tremendously varied terrain and climate: mountains and canyons in the centre, deserts in the north, and rainforests in the south and east regions. The country's industry is helped by a large land border with the US and ports on both the Atlantic and the Pacific. Its most densely populated areas include Mexico City and the neighbouring states of Morelos and State of Mexico (Distrito Federal), which is why many facilities are concentrated in these spots. There is a notable absence of pharma manufacturing in many states, as pharma manufacturing activity is concentrated in only a few regions.
Mexico City, the country's densely populated capital city, has the largest number of pharma manufacturing facilities, accounting for 50% of all FDA and/or European Medicines Agency (EMA) approved sites (56% of sites with any regulatory approval). Most of these sites offer commercial dose manufacturing (56%), with 27% offering active pharmaceutical ingredient (API) chemical production, as well as one site operated by Sanofi (Paris, France) offering API biologics (protein and peptide), commercial dose injectables and commercial packaging. The state of Morelos, located on the south border of Mexico City, has the second largest number of facilities and predominantly contains facilities with API chemical capabilities.
Foreign M&A potential
There is a substantial presence of international pharma companies and contract manufacturing organisations (CMOs) in Mexico. Slightly less than half of the CMOs have international owners, which shows there is already good international investment and a high level of interest in the country. It could stand to benefit further from a nearshoring of pharma sites owned by US companies due to uncertainty stemming from Covid-19 supply chain issues and recent trade conflicts between the US and China. There are already three US-headquartered pharma manufacturers operating in Mexico: pharma companies Abbott Laboratories (Abbott Park, Illinois) and Baxter International Inc (Deerfield, Illinois), and leading CMO Patheon (Durham, North Carolina), a ThermoFisher Scientific (Waltham, Massachusetts) subsidiary. Europe and Canada-based companies also have Mexican pharma manufacturing sites. Pharma giants such as Roche (Basel, Switzerland), Bayer (Leverkusen, Germany), GlaxoSmithKline (Brentford, UK) and Sanofi all own Mexican sites. There is a clear interest in the region from numerous companies at the top of the pharma industry, which showcases Mexico's importance to pharma production. Most facilities owned by these large companies are based in and around Mexico City.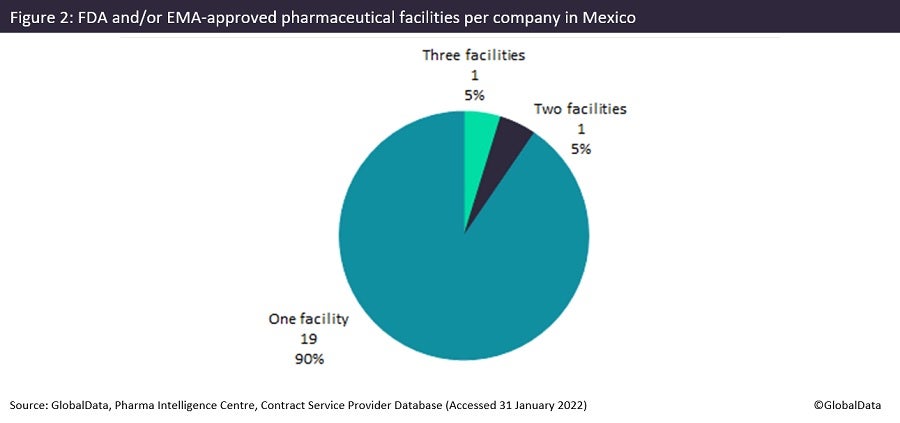 The vast majority of FDA or EMA-approved facilities (90%) in Mexico belong to companies with a single site in the country, which indicates the large merger and acquisition (M&A) potential of the area's pharma industry. Laboratorio de Control ARJ (Campeche, Mexico) owns three facilities: two in Mexico City and one in the port city of Campeche, all of which are involved in Analytical Services. Perrigo (Dublin, Ireland) owns two facilities in Coahuila, a state in Northern Mexico bordering the US, which have commercial dose manufacturing and commercial packaging facilities. Unlike other emerging markets, there are relatively few API chemical facilities in Mexico as a proportion of overall facilities. This is because wages for Indian and Chinese manufacturing employees are lower than the Mexican equivalent, and these countries can produce API for global consumption more economically. Most Mexican facilities provide commercial dose manufacture, with 22 sites offering high-value injectables manufacturing.
Mexico is a much larger supplier to the US than it is to EU markets, with 23 facilities supplying the US and only four with EMA approvals. As Mexico is geographically next to the US, that is to be expected with lower labour costs than the US, open trade agreements and access to a skilled workforce to supply the US pharmaceutical market.
Mexican pharma supply domestically and globally
There are 35 sites in Mexico without EMA or FDA approval, compared with 24 that have such regulatory authority approvals. Most sites in Mexico are involved in domestic drug production. Mexico is one of the biggest pharma markets in Latin America with the second largest population (129 million people) in the region. Of all the facilities with no FDA or EMA-approval that solely supply the domestic market, Laboratorios Pisa (Jalisco, Mexico) owns the majority in Mexico with six facilities, five of which are in Jalisco state. Pisa is a pharmaceutical company that manufactures and distributes medicines and medical devices, mostly injectables.
The majority of Mexico-based CMOs own production sites in Mexico and have shown limited investment in expanding their production site presence globally. Neolpharma (Puerto Rico) is an exception to this, as it owns a site in the US territory of Puerto Rico, a Caribbean island not far from Mexico.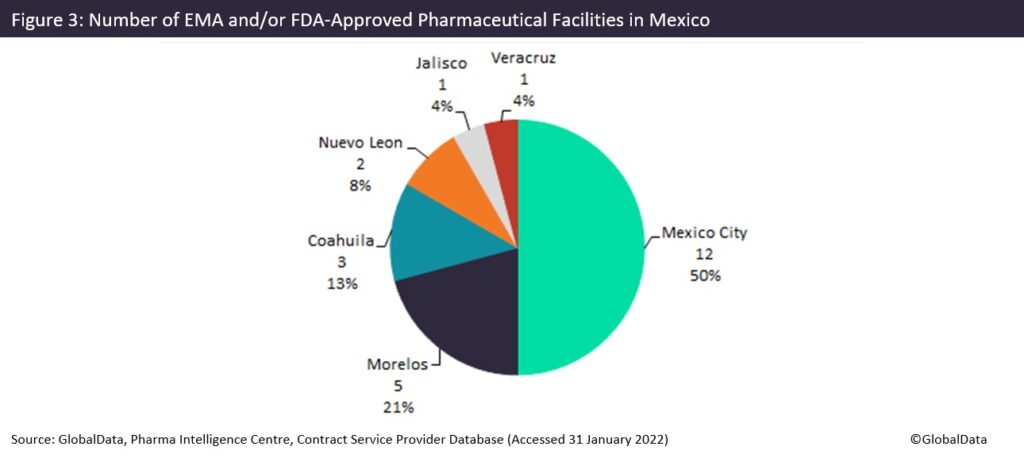 Although the rising number of middle-class people in Mexico will fuel growing domestic pharma production, there will be limits to the fast pharma growth. Mexico is also heavily dependent on US markets, as the US is one of its best trading partners. In the future, Mexico's pharma manufacturing sites could diversify the countries they supply to reduce the risk associated with specific markets and increase sales. Securing additional facility approvals in the future to supply Brazil, the EU, Japan and the growing China markets would help grow Mexican contract manufacturing.