In 2022, the US FDA disappointingly approved almost a third fewer of the most innovative drugs than it did in 2021. The drop in these new molecular entities (NMEs), both small molecules and biologics, resulted in fewer commercial-scale production contracts for the most innovative CMOs.
During 2013–2022, NME approvals were lower only in 2013 and 2016. Faced with such a disappointing approval number last year, manufacturers hope for more NMEs to enter the market in 2023. GlobalData's Catalyst Calendar provides insight into upcoming events that have the potential to influence the overall drug development and approval process. GlobalData's Catalyst Monitor: 2023 Outlook report (published 21 December 2022) compiled published, predictive intelligence based on interviews with key opinion leaders on market-moving events that are expected to occur during 2023.
Since its publication on 21 December 2022, it has predicted the following events correctly:
The FDA approved GlaxoSmithKline's (Brentford, UK) Jesduvroq (daprodustat) on 1 February 2023, for the once-daily treatment of anaemia caused by chronic kidney disease in adults administered dialysis for at least four months. It has been under EMA review since March 2022, and GlobalData predicts EU approval at the end of this year. If it is approved, increased production volumes will be required to supply the European market. It has been approved since 2020 in Japan.
The following table is an updated version of the one appearing in GlobalData's Catalyst Monitor: 2023 Outlook publication: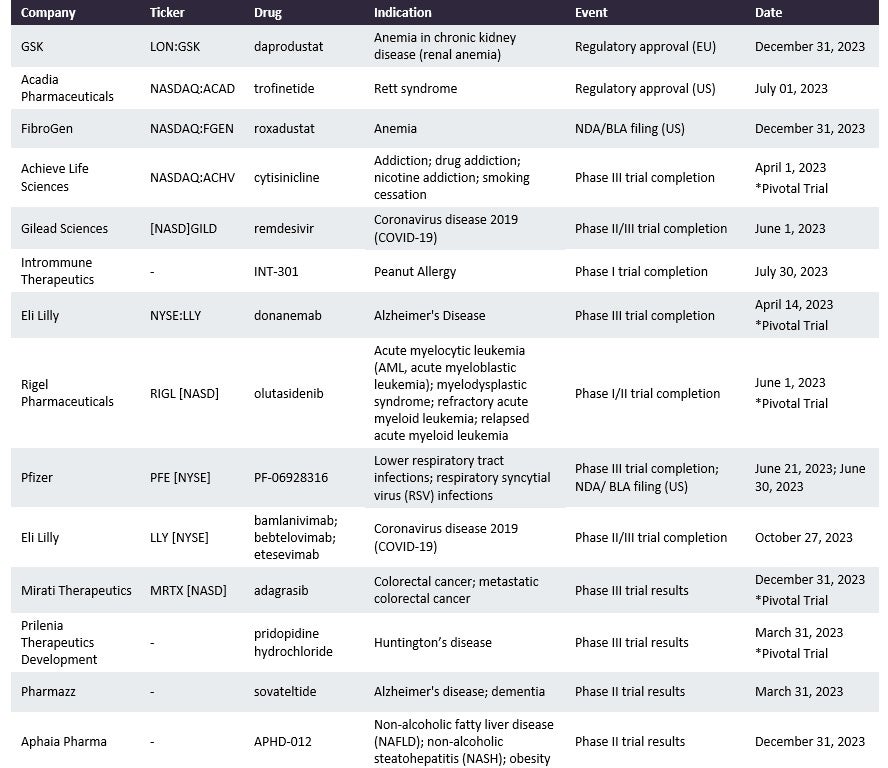 Approvals and new clinical trial initiations will increase manufacturing demand for these drugs and the value and number of CMO contracts.
Gilead Sciences' (Foster City, CA, US) Veklury (remdesivir), among others, has already provided contracts to multiple CMOs, and as a Covid-19 therapy, it has required high production volume in recent years. Veklury's API is manufactured by Cambrex (East Rutherford, NJ, US), Esteve Pharmaceuticals (Barcelona, Spain), and Flamma (Bergamo, Italy). Its dose production has been outsourced to large-dose CMOs such as Fareva (Luxembourg City, Luxembourg), Jubilant HollisterStier (Spokane, WA, US), and Patheon (Waltham, MA, US). The production and use of Veklury will depend on Covid-19 infection rates, which will fluctuate throughout the year. Additional approvals of the drug across a greater range of geographies will increase its demand. Veklury is currently a blockbuster drug, but its revenues are predicted to drop by 2029. There are ongoing Phase II/III trials of Veklury in children.
The FDA approved Rigel Pharmaceuticals'(South San Francisco, CA, US) Rezlidhia (olutasidenib) on 1 December 2022 as a treatment for relapsed and refractory acute myeloid leukaemia. The drug's dose manufacture has been outsourced to Catalent (Somerset, NJ, US). In the EU it is currently in Phase II with a predicted trial completion date of 1 June 2023.