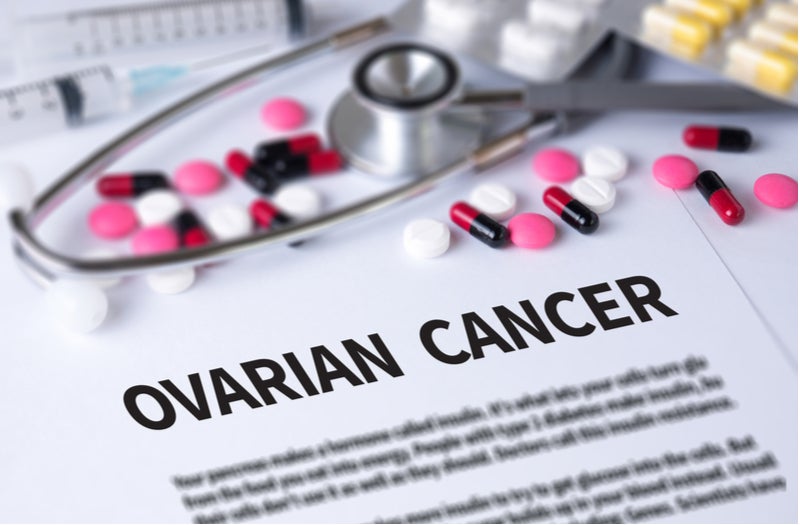 The transformation in ovarian cancer treatment that began with the recent approvals of several targeted therapies is expected to be bolstered by partnerships between pharmaceutical and biotechnology innovators in the field.
As a result of these partnerships, GlobalData forecasts five new drug launches and at least seven label expansion approvals across the seven major markets (7MM: US, France, Germany, Italy, Spain, UK and Japan) in the coming years.
Ovarian cancer treatment
In a market landscape that has been composed of only generic chemotherapies for decades, targeted therapies such as the vascular endothelial growth factor (VEGF) inhibitor, Genentech's Avastin (bevacizumab), and poly ADP-ribose polymerase (PARP) inhibitors — AstraZeneca's Lynparza (olaparib), Tesaro's Zejula (niraparib), and Clovis Oncology's Rubraca (rucaparib) — are paving the way for more targeted therapies and novel agents with new mechanisms of action (MOAs). Some of the late-stage drugs in ovarian cancer include checkpoint inhibitors, an antibody-drug conjugate targeting folate receptor alpha, and an anti-cancer gene therapy.
Agents with novel MOAs such as checkpoint inhibitors, which have been revolutionising the treatment landscape in other types of cancer, have shown shortcomings as monotherapies in the treatment of ovarian cancer. Therefore, major drug developers are investigating their lead agents in combination therapies to gradually progress into the front line of ovarian cancer treatment, to soon replace chemotherapies. Some of these combinations are looking to address a large unmet need, specifically the (platinum-based) chemotherapy-refractory or resistant patient group.
However, ovarian cancer trials with immunotherapies such as Genentech's Tecentriq (atezolizumab), Merck's Keytruda (pembrolizumab), and Bristol-Myers Squibb's Opdivo (nivolumab) have been underwhelming due to poor drug response rates and lack of efficacy.
Still, these agents can likely be salvaged in development through combination therapies with the market-leading drugs Avastin, Lynparza, Zejula, and Rubraca. Due to the mutually beneficial nature of such partnerships, developers of approved targeted therapies can continue to expand their patient coverage in different patient segments and lines of therapy.
The figures below display the current late-stage clinical development pipeline for ovarian cancer.
Figure 2: Ovarian cancer, key phase II/III trials for targeted pipeline agents in the 7MM