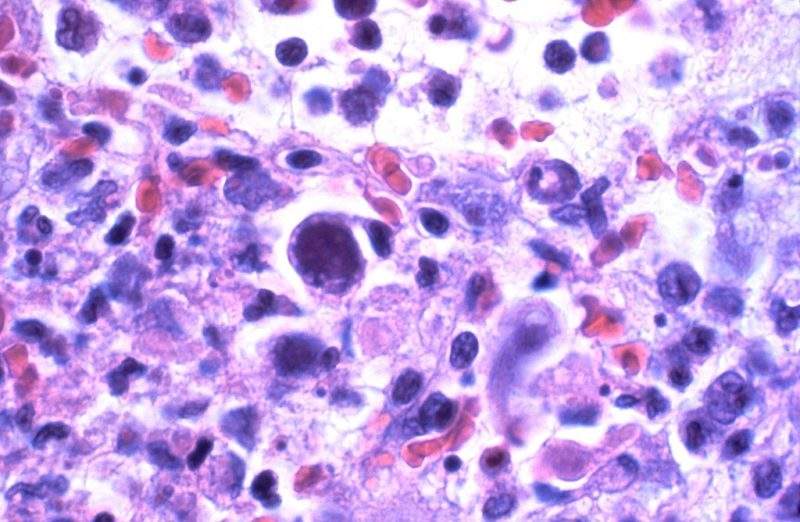 Last month, VBI Vaccines Inc. announced positive top-line results from a randomized Phase I clinical trial of VBI-1501, its experimental cytomegalovirus (CMV) vaccine candidate. In final results of the study, the vaccine successfully elicited CMV-neutralizing antibodies in the fibroblasts of all healthy subjects that received the highest tested doses. VBI-1501 also reached a notable clinical goal by producing neutralizing antibodies in the epithelial cells of around a third of tested subjects. Following FDA review, GlobalData expects VBI to advance its candidate to Phase II for prevention of congenital CMV, a market that GlobalData's primary research identified as a principal unmet need in the CMV therapeutics landscape.
CMV infection is largely asymptomatic in healthy adults. A majority of clinically significant CMV infections occur in individuals with weakened immunity, such as those receiving immunosuppressive therapy for hematopoietic stem cell transplantation (HSCT). However, during pregnancy infants can obtain congenital infections through their mothers, who either have prior CMV infections or, more commonly, seroconvert during pregnancy. GlobalData epidemiologists estimate that congenital CMV-related hospitalizations occur at a rate of 17.8 per 100,000 children under one year old in the US. These infections are a major cause of neurological and developmental disabilities in childhood, but limited options for prevention are currently available.
VBI's vaccine candidate uses a proprietary enveloped virus-like particle (eVLP) platform to closely mimic the structure of CMV, including antigenic proteins, without infectious genetic material. In preclinical animal models, VBI-1501 effectively neutralized CMV in both fibroblasts and epithelial cells, suggesting an advantage over CMV peptide vaccines that are less effective at protecting epithelial cells. The recently completed Phase I study confirms VBI-1501's activity in human subjects and establishes the products' safety at all doses up to 2.0 μg. Most importantly, antibody titers in vaccinated subjects were similar to those observed in individuals with natural immunity from prior exposure to CMV.
VBI has conveyed that VBI-1501 holds blockbuster potential if approved, given the over four million pregnancies in the US each year and overall US CMV seroprevalence rate of 57.5%. However, GlobalData believes that clinical trial recruitment and stringent safety parameters for obstetric therapeutics will be obstacles for congenital CMV vaccine development. Moreover, the CMV vaccine space is littered with past failures and present competitors. In early 2018, a late-stage CMV DNA vaccine from Vical and Astellas, ASP0113, failed its primary and secondary endpoints in a Phase III study on recipients of HSCT.
Moving forward, VBI will need to rely on its experience from commercializing its hepatitis B vaccine, Sci-B-Vac, as it strives to achieve first-to-market status for its CMV vaccine. Hookipa Biotech is looking to enter its bivalent CMV vaccine, HB-101, into Phase II in the near future. Meanwhile, Helocyte currently leads all companies in clinical development with a pair of Phase II products, PepVax and Triplex, to control CMV infections in recipients of allogeneic HSCT.
Related Reports
GlobalData (2018). Cytomegalovirus (CMV): Opportunity Analysis and Forecasts to 2027, to be published
GlobalData (2018). Conference Review: CROI 2018: Early Stage R&D Sets Guideposts for Future CMV Therapies, March 2018, GDHC1661EI
GlobalData (2018). Expert Insight: Shire's Breakthrough Therapy Maribavir Has Potential to Shake Up the Cytomegalovirus Market, January 2018, GDHC1549EI
GlobalData (2018). Expert Insight: With Recent Astellas Phase III Flop, a Cytomegalovirus Vaccine Continues to Elude Drug Developers, January 2018, GDHC1562EI
For more insight and data, visit the GlobalData Report Store – Pharmaceutical Technology is part of GlobalData Plc.