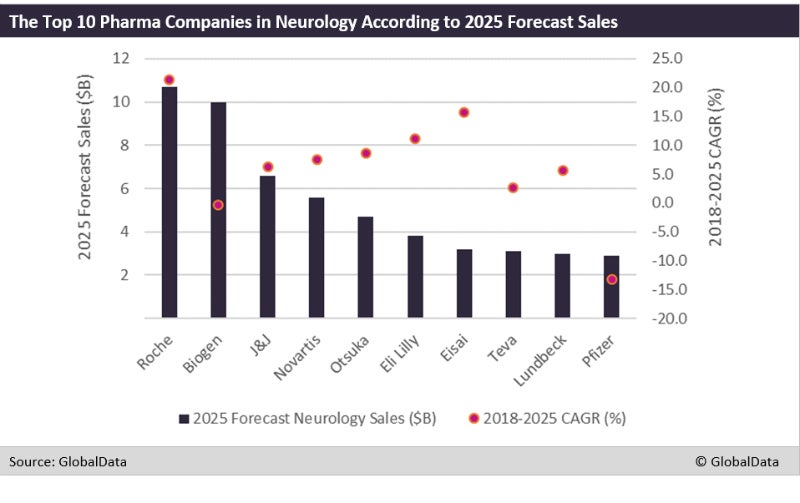 Biogen is currently dominating the neurology market, with Pfizer ranked at a distant second position, but the market will look drastically different in 2025. Roche will gradually expand its foothold in the neurology market with a strong compound annual growth rate (CAGR) of 21.4% over 2018-25, reaching the leading position in terms of sales in 2025, as illustrated in the figure above. In contrast, Biogen's historical leading position will start to slip, leaving it as the second-largest neurology company in 2025. While Pfizer is expected to see the fastest decline in neurology sales, as exemplified by its negative CAGR of 13.3% over 2018-25, resulting in the company waning to tenth position in terms of sales in 2025.
With Roche's $10.7bn and Biogen's $10bn in neurology sales, the two big pharma companies will be close competitors, both in the neurology market overall and within specific indications such as multiple sclerosis and spinal muscular atrophy (SMA). The multiple sclerosis market is the largest and most lucrative market within the neurology space, and SMA is an orphan disease with major unmet needs and an opportunity for premium-priced therapies.
The companies' respective strategies have proven to be wildly different. Roche is a new player in the multiple sclerosis market due to the launch of Ocrevus (ocrelizumab) in 2017. This brand was the first to secure approval in primary progressive multiple sclerosis (PPMS), although it also secured approval in the larger relapse remitting multiple sclerosis (RRMS) segment. Ocrevus was one of the most successful drug launches, given its rapid uptake and how fast it reached blockbuster status. As such, Ocrevus is expected to be Roche's primary sales growth driver for its neurology portfolio and also become the top-selling brand in multiple sclerosis by 2025.
Biogen has its roots in multiple sclerosis, and has remained the market-leading player in that segment since 2006 by providing a wide range of multiple sclerosis drugs and offering patients a more tailored approach to managing the disease. However, all of Biogen's flagship multiple sclerosis brands are now at the end of their lifecycle. Brands like Tecfidera (dimethyl fumarate), Tysabri (natalizumab), Avonex (interferon beta-1a), and Plegridy (peginterferon beta-1a) are all expected to see declining sales going forwards due to patent expirations. The only exceptions to this trend are the recently launched Vumerity (diroximel fumarate) and the pipeline drug opicinumab. However, Vumerity has a similar clinical profile to Tecfidera and could be seen as a 'me too' drug, while opicinumab demonstrated disappointing results in its first Phase IIb study. Overall, this means that sales from Vumerity and opicinumab will not be sufficient to offset the decline from Biogen's mature brands.
Consequently, Biogen has lowered its reliance on multiple sclerosis drugs and focused on other neurodegenerative disorders, such as Alzheimer's disease and SMA, possibly in response to the upcoming patent cliff. Within SMA, Biogen has secured the first-to-market position with the launch of Spinraza (nusinersen), which has now reached blockbuster status. However, Spinraza will face some stiff competition going forward, namely from Roche's risdiplam, which is due for imminent launch. With a similar mechanism of action as Spinraza, the oral route of administration of risdiplam has drawn excitement.
With a potential neurology portfolio consisting of 12 brands and covering nine different neurology diseases, Roche's neurology portfolio will be more diversified than Biogen's in 2025, however, Roche will be extremely reliant on its two neurology blockbusters in 2025, Ocrevus and risdiplam, particularly Ocrevus which according to GlobalData's Drug Sales Database, it is forecast to generate 68% of Roche's neurology sales in 2025. This may be a cause for concern for Roche, as Ocrevus' patents are set to expire toward the end of this decade.