The osteoarthritis (OA) therapeutics market has considerable unmet needs. GlobalData's upcoming report, Osteoarthritis Market Analysis and Forecast to 2031, explores several key unmet needs in this disease space.
The current global OA space is characterised by a high level of unmet medical need, primarily due to the lack of disease-modifying OA drugs (DMOADs) and the need for effective analgesics with fewer adverse events. In addition, as most OA patients are elderly and typically have additional health considerations, there remains a need for therapies that are safe for use in this patient population. Limited understanding of disease pathophysiology has also resulted in an underserved market dominated by genericised therapies that offer limited effectiveness.
Despite this, several late-stage products, including analgesics with novel modes of action (MOAs) and DMOADs, have the potential to address the unmet needs within the OA space to some degree. While these pipeline therapies aim to address the problem, there remains a large opportunity for improvement within the marketplace. In addition to the above clinical needs, there is a current lack of patient adherence to non-pharmacological treatments that has not been fully addressed.
Figure 1 outlines the key unmet needs for OA, their current and future levels of attainment, as well as the products and/or strategies that are positioned to satisfy these needs during the forecast period.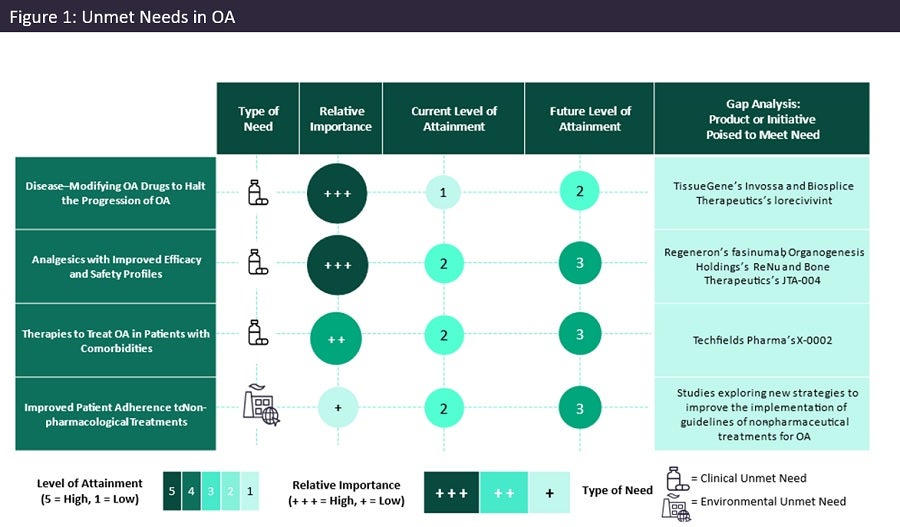 The current pharmacological therapies prescribed to patients with OA focus on symptomatic pain treatment only through the use of non-steroidal anti-inflammatory drugs (NSAIDs), opioids, antidepressants and intraarticular (IA) corticosteroid injections. The underlying cause is not addressed, however. This is the most significant gap in the current market, and several DMOAD therapies are currently in late-stage development to address this, the most advanced of which are TissueGene's Invossa, and Biosplice Therapeutics's lorecivivint.
These therapies have the potential to address this gap in the OA market. Despite this, barriers to reimbursement and adoption due to pricing, as well as the complexity of OA as a whole joint disease, suggest that this unmet need will not be fully met, leaving ample room for the identification and development of new targets. Based on the current pipeline products, key opinion leaders (KOLs) do not expect a revolution in the treatment of OA over the forecast period.
In the absence of an effective DMOAD, the therapeutic goal is to offer pain management to patients suffering from OA, but current analgesics offer inadequate pain relief and are associated with a variety of adverse events. In addition, patients' response to classical pain therapies is not uniform. As such, there is a significant need for analgesics with improved efficacy and safety profiles.
There are several analgesics with new modes of delivery or new mechanisms of action currently in development that aim to address this need, including Regeneron's fasinumab, Organogenesis Holdings' ReNu, Bone Therapeutics' JTA-004, Xalud Therapeutics' XT-150, and Centrexion Therapeutics' CNTX-4975. While trial outcomes are promising, KOLs interviewed remain cautious of their impact on the OA treatment landscape due to the limited data currently available, suggesting the need for more efficacious analgesics for OA remains.
A further crucial unmet need in the OA marketplace is the development of therapies for patients with comorbid conditions. The prevalence of OA increases with age and elderly patients are the major target population for OA drugs. Elderly patients are more difficult to treat because they often have various comorbid conditions, such as cardiovascular and gastrointestinal problems, limiting the use of conventional therapies. As a result, new drugs with improved tolerability in this patient population are much needed.
Techfields Pharma's X-0002, a novel topical NSAID, aims to address this unmet need, as guidelines recommend patients older than 70 years should use topical NSAIDs instead of oral. This is unlikely, however, to address the needs of all elderly patients due to varying comorbid conditions. As such, the development of novel therapies addressing this need remains an immense opportunity for companies to explore.
Finally, non-pharmacological treatment is a first-line management strategy in OA and includes education, weight loss, muscle strengthening and increases in levels of activity. These treatments contribute to relieving symptoms of OA and improving joint function. Early-stage management is therefore crucial in reducing the OA burden. There is, however, a lack of patient compliance, which may be due to varying reasons such as the lack of clear guidance and follow-up by physicians, consensus regarding optimal therapy, and challenges in the form of achieving significant long-term lifestyle changes.
To address this, there are currently several initiatives being undertaken within individual markets that aim to standardise non-pharmacological care and promote more active lifestyles. These include programmes in the UK and the US that focus on community-based activities. But despite these, a need for a unified and strong message addressing OA as a serious disease by health agencies remains.
Overall, GlobalData believes that there are significant unmet needs remaining in the OA marketplace, the most significant of which is the need for novel DMOADs that address the disease's underlying pathophysiology. As such, the current therapy landscape offers a large opportunity for pharmaceutical companies to develop new drugs with novel MOAs and disease-modifying effects capable of addressing the needs of patients.