Repositive is on a mission to accelerate cancer drug development by improving translational success from preclinical research to clinical trials.
We offer unique, tailored preclinical cancer model searches to researchers working in the preclinical oncology space. Our work helps to connect biopharma with contract research organisations (CRO) from around the world to optimise opportunities for drug development success.
We are working to make the CRO landscape more accessible by levelling the playing field between large and small CROs and introducing new and unique technologies to our biopharma customers.

Repositive aims to accelerate drug development by improving translational success from preclinical research to clinical trials.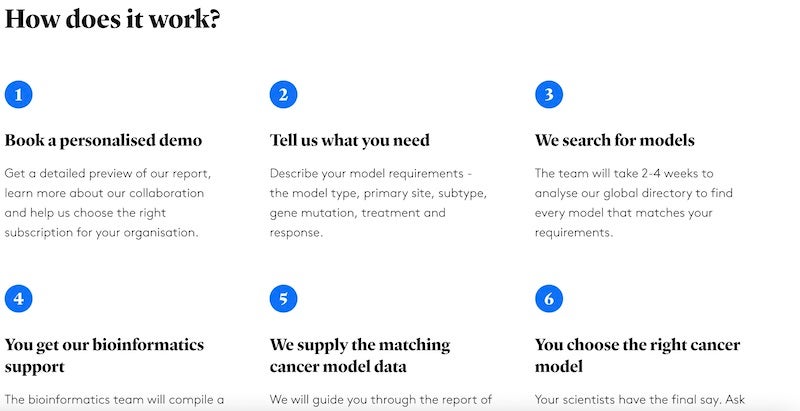 Repositive provides a personalised, human-centric approach to help you find the right cancer models for your studies.
Repositive's Cancer Model Scout (CMS) service gives you access to more than 100 CROs from all over the world.
Our model inventory includes a wide variety of model types, including patient-derived xenografts (PDX), cell-line derived xenografts (CDX), cell lines, syngeneic mouse models and organoids. This enables us to present our customers with a complete spectrum of preclinical cancer model options.
Bespoke preclinical cancer model searches
Repositive provides a personalised, human-centric approach driven by scientific merit to help you find the right cancer models for your studies, giving you direct access to our experienced team of scientists and always delivering a high-quality level of service.
We give you a richer insight into the global CRO landscape by levelling the playing field between big and small CROs. This helps to provide a more comprehensive view of the landscape and allows you to make more informed decisions about the CROs you partner with.
We have spent years developing our CRO network and curating preclinical cancer model data, allowing us to provide our customers with fast access to the most accurate and diverse cancer model data. We can perform searches for even the most complex, hard-to-find models and our network is always growing.
Our business is founded on strong principles and guided by a shared mission and set of values. We are connected by a conviction to help scientists do the science and accelerate the process of drug discovery.
Tailored subscription services for cancer research
Repositive offers a tailored, cost-effective subscription-based package for researchers looking for preclinical cancer models. Our subscription is a combination of:
Our Cancer Model Scout (CMS) report service, a bespoke model search conducted by our expert team across our extended CRO network. The service provides a report that includes molecular data, genomic data and treatment information.
You can request any supporting information, including growth curves and immunohistochemistry, and tell us what information you need to make the right choice for your preclinical study. We also provide a bioinformatics report to ensure you are confident in our data and analysis.
24/7 access to our beta Cancer Models Platform (CMP), a database of more than 8,000 preclinical cancer models from our partnered CROs. You can browse the models and filter them specifically by primary site, cancer subtype, model type, genomic data, treatment type and treatment response.
Once you have purchased a subscription package, we will organise an onboarding call with you to set your team up with access to our beta CMP, to which you will have unlimited access for the duration of your subscription.
We will also introduce you to your designated customer support contact, who can help you get the most out of your subscription and answer any questions you may have.
Whenever you need to find more specific preclinical cancer models, let us know and we can initiate a CMS search for you. We aim to provide search results within two to four weeks, including a CMS report with model suggestions tailored to your scientific requirements and a bioinformatics report explaining the methodology behind our search.
Bespoke cancer model searches with quick results
Repositive's CMS service gives you access to more than 100 CROs worldwide. We conduct model searches on your behalf and compile a list of the best matches, often consisting of dozens of cancer models. You have full control over the final choice, as your scientists can choose the right model and CRO based on scientific merit.
Easily accessible preclinical cancer models
Repositive's CMP is the world's largest directory of cancer models, offering direct and instant access to more than 8,000 models online.
You can search independently for preclinical cancer models and filter by primary site, model type, gene mutation and more.
Modern preclinical oncology technologies
Repositive's bespoke, human-centric approach to model searches is enhanced by the latest technology. We are constantly improving our platform to improve our results and bring them to you more quickly.
We are always looking for the latest technological advances in the world of preclinical oncology. We currently provide a variety of novel technologies, including fruit fly models, zebrafish models and organoids.
All metadata is standardised and harmonised across our models to help you discover, assess, and compare results quickly.
About Repositive
Originally a subsidiary of the charity DNAdigest, Repositive was launched as a standalone company in August 2014 to enable fundraising by investment for a software platform and methodology to facilitate genomic data handling.
We are a team of scientists providing a bespoke, cost-effective preclinical model search service. We connect biopharma with the right contract research organisations to give researchers fast access to an accurate and diverse collection of preclinical cancer models.
Our team of scientists can access the most relevant models, including PDX, CDX, syngeneic and other novel models. We have established relationships with CROs to help you find the most accurate model faster.