SAFC® is recognized worldwide as a trusted leader in providing high-quality specialty chemicals and biologics. The SAFC contract manufacturing services business segment offers to pharmaceutical and biopharmaceutical customers GMP custom key intermediates, APIs and drug products with the rare combination of complex small molecule and biologics expertise, providing comprehensive support of product development and manufacturing programs.
From pre-clinical development to large-scale commercialization, including technologies that are just emerging into the marketplace, SAFC's complete range of technical knowledge, capabilities and experience delivers effective and efficient manufacturing solutions that speed up the development cycle.
Highly potent API manufacturing (HPAPIs)
With over $75 million invested in purpose-built high-containment facilities over the past few years, SAFC leads the market in highly potent API manufacturing. Our capabilities for this specialized production cover the entire range of pipeline operations, from pre-clinical to commercial scale up to 4,000l batches, with the recent opening of a brand new commercial HPAPI facility in Wisconsin. Using SAFC's unique expertise in small molecule, biologics and high-containment we can meet our customers' needs with highly potent bioconjugation, and highly potent fermentation-derived APIs.
Fermentation-derived APIs
Combining its exceptional expertise in small molecule chemistry, biologics and high-potent compound handling, SAFC offers unique large-scale fermentation-based high-potent API contract manufacturing services to help customers bring exciting new drugs to market.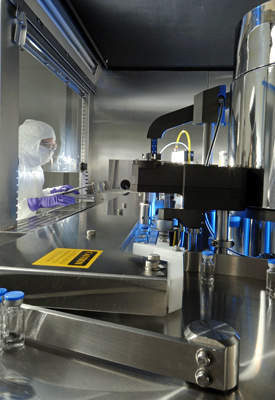 Automated fill/finish suite at the SAFC Pharma facility in Carlsbad, CA – expert in viral vaccines and gene therapy drug products manufacturing.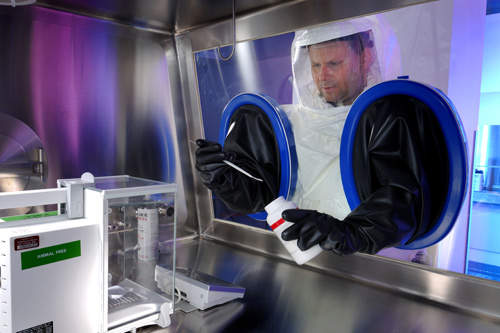 Isolator in SAFC Pharma's high-potency conjugation suite in St Louis, MO.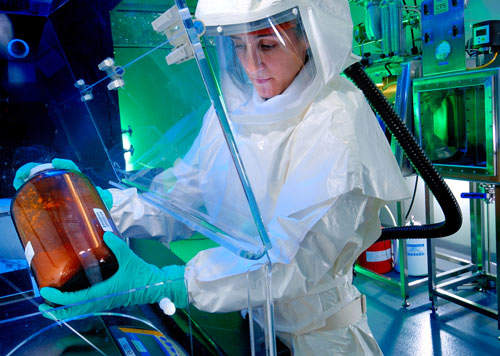 High-potency GMP packaging area at SAFC Pharma's SafeBridge R-certified Madison facility, WI, which handles category IV potent and cytotoxic compounds.
Microbial fermentation is necessary for manufacturing such pharmaceutical and biopharmaceutical actives as small organic molecules, proteins, cell wall components (e.g. lipopolysaccharides, lipid A) and DNAs. Product diversity makes fermentation technology a multi-disciplinary expertise associated with microbiology, organic chemistry, biochemistry and molecular biology. Other levels of complexity are revealed with Biosafety Level 2 Large Scale (BSL2-LS) fermentation utilizing Risk Group 2 (RG2) pathogens, and processing in explosion-proof environments.
Antibody drug conjugation (ADCs or bioconjugates)
SAFC has facilities to support the manufacturing of antibody drug conjugates – a mix of chemistries such as potent / cytotoxic APIs and linkers, and biologics. SAFC's decades of experience in high-potent and linker technology, along with more recent investments in a variety of biotech processes, make SAFC a strong CMO partner to develop this exciting new area of therapeutics.
Viral vectors and vaccines
SAFC is the market leader in the clinical manufacturing of viral products. Using state-of-the art facilities in California, these products are produced for therapeutic applications such as oncology, heart disease and CNS, in addition to next-generation vaccine candidates.
Solid state chemistry and solid form research studies
We offer solid form research studies through our Pharmorphix® brand for every API we manufacture. Our expert scientific team works to investigate, understand and modify the physical properties of the drug substance to ensure patient benefit, rapid development and protection of intellectual property.
R&D services include polymorph investigation, salt selection, physicochemical property optimization, pre-formulation profiling, co-crystal investigations, classical chiral resolution and crystallization studies.
API process development, technology transfer, pilot plant production and commercial manufacturing
Working closely with customers to keep up-to-date with the latest innovations, SAFC continues to invest in the technologies and processes that will best serve upcoming requirements. With experience gained from over 230 DMFs and nine FDA-validated, cGMP manufacturing centers, our large and small molecule portfolio covers niche technologies and a wide capacity range to fully support API advancement, from process development and optimization to technology transfer, pilot plant production and commercial manufacturing.
Financial stability and life sciences experience
Our customers need a partner with the fiscal strength to be around now and in the future. Losing a supply chain partner due to financial instability could be catastrophic. As part of Sigma-Aldrich Corporation and its 50 years of consecutive growth in the life sciences market, SAFC will continue to be available to support today's ideas and tomorrow's commercial products.
Passion for quality
SAFC's nearly 1,800 employees are dedicated to meeting the exact standards necessary for the development and manufacturing of biopharmaceutical and pharmaceutical products. Facilities and manufacturing processes are designed with specific technologies in mind, such as our SafeBridge-certified high-potent containment facilities or Biosafety Level 2 biomanufacturing sites.
The combination of process development, cGMP manufacturing, strong project management, communication, and an overarching passion for quality leads to successful partnerships between SAFC and its clients to bring new therapies and vaccines to market.