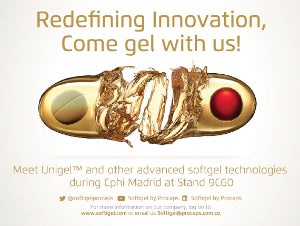 Softigel by Procaps will be attending CPhI Worldwide.
The event will take place in Madrid from 13-15 October.
The company will have a team of experts at stand #9C60 in hall 9, who will be able to discuss mutual opportunities.
Softigel by Procaps develops manufactures and commercialises pharmaceutical, nutritional, veterinary and cosmetics products worldwide.
The company is Latin America's largest softgel encapsulator, with an annual capacity of 11 billion doses, plus more than 500 softgel formulations experience, and facilities approved by the FDA, MHRA and TGA.
Softigel is part of the Procaps Group, a diversified brand in charge of healthcare and related businesses, including softgel capsule manufacturing, advanced new drug delivery technologies, and a pharmaceutical division with a network distribution that reaches 48 countries worldwide.
At CPhI, Softigel seeks new OTC consumer healthcare, generic Rx and pharma customers with collaboration opportunities inside the US, other highly regulated markets or elsewhere globally.
The compan is suited to traditional softgel or advanced drug delivery technologies.
These technologies include Unigel, the only patented technology for fixed dose combinations, Versagels, a new approach to vegetarian soft capsules and Gummygels.
In recent years, the development of highly potent molecules has become more frequent, and around 25% of the components that are being developed are classified...
Cannabis-based products are manufactured, mainly, from oils obtained from a synthetic way as Dronabinol or obtained from plants of genus Cannabis, as Cannabidiol (CBD) oils.
The present is an overview of the state-of-the-art for vegetarian soft capsules in terms of materials (sourcing and demand), applications, processing, products and a general...