Qualicaps®
Global Supplier of Two-Piece Hard Capsules and Equipment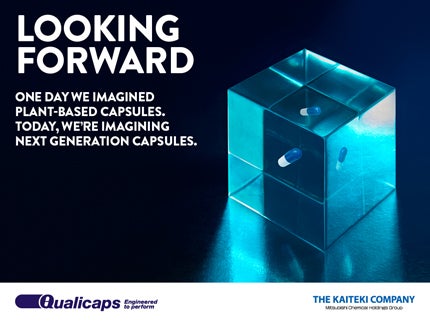 Qualicaps® is a wholly owned subsidiary of Mitsubishi Chemical Holding Corporation, which has nearly 120 years of experience in the manufacture of hard capsules. It has a strong record of pioneering in new forms of drug administration.
In addition to capsules, Qualicaps® offers a product line of capsule sealing and filling equipment, as well as check-weighing, inspection and printing machinery.
Two-piece gelatin, plant-based, and hypromellose drug-delivery capsules
Qualicaps has a strong record of pioneering products, each showing the company's high-standards and innovation.
Quali-G™ is made from 100% bovine bone gelatin and demonstrates excellent mechanical properties. It is available for oral delivery, and delivery by inhalation.
Qualicaps also offers a capsule with a dissolution profile equivalent to gelatin capsules, but with a lower moisture content (4-6%).
Quali-V® is ideal for hygroscopic drugs, and can be filled with various types of formulations such as powders, tablets, semi-solids, pellets, and non-aqueous liquids.
Based on Quali-V®, Quali-V®-I capsules offer key aerosolisation properties. They enable more uniform-dosing, as they are specially formulated for use in dry powder inhalers (DPI).
Some of the advantages of Quali-V®-I include proven puncturing performance, reduced powder adhesion, minimal microbial levels, and a reduced static charge than gelatin.
Global production of hard capsules and equipment
With capsule and equipment production centers located in Japan, Europe, the United States, Brazil, and Canada, Qualicaps has the geographical reach necessary to service multi-national pharmaceutical customers, as well as local and regional ones.
Its expertise was cultivated over many years and geographical boundaries, providing the company insight into both existing and emerging markets, and the demands of cross-country compliance.
Quality control and expertise in the pharmaceutical industry
Qualicaps demonstrates the attribute 'Engineered to Perform' through the triumvirate of:
Process: The company's GMP-compliant manufacturing processes and quality control measures ensure that Qualicaps® capsules meet the stringent requirements of the pharmaceutical industry.
Product: Qualicaps® produces each individual capsule to deliver superior performance, assessed both quantitatively and qualitatively.
People: The Qualicaps® team combines an experienced manufacturing backbone, quality assurance authorities, scientific experts, knowledgeable commercial representatives, and technical production engineers, all of which work towards the success of our customers.
Customer service options for drug delivery capsules
Qualicaps' trained, professional team is available to assist with any issues, including:
Its R&D department reacts to customer requirements and develops new solutions for drug delivery challenges.
The sales and customer service team ensures that capsules are always delivered to match the customer's needs.
Its capsule development experts will help regarding appropriate sizes, colors or regulatory questions.
Its scientific business development team can support customer R&D in capsule dosage delivery form.
The technical service engineers can assist in achieving productivity yields in capsule filling and help to optimize production output.
Next-generation capsules and improving drug delivery
With its rich knowledge, history, capabilities, global presence, and the KAITEKI values ingrained into the company's daily action and long-term thinking. Qualicaps is leading the way for the next-generation capsule.
Qualicaps is proud of its history of innovation. Responding proactively to development challenges in the two-piece capsule industry, the company offers unprecedented value in differentiating products and achieving speed-to-market.
Qualicaps R&D is continously focus on:
Development of functional capsules made with new materials.
Improving drug delivery through new films and chemistry.
Development of next generation capsule products.
Modification of release characteristics.
Qualicaps makes contributions to healthcare by imagining not only the capsule of the future, but also the future itself and work towards it everyday.
A business culture for society, individuals, and the earth
Qualicaps integrates KAITEKI into the business. It means a sustainable condition transcending time and generations, which is comfortable for individuals, society, and the earth.
KAITEKI is a valued philosophy, and is based on the management of three important pillars: economy, technology, and sustainability.
Achieving KAITEKI is realized by contributing to the resolution of social and environmental issues through our products and services, and drives innovation.
About Qualicaps
Qualicaps is a wholly-owned subsidiary of Mitsubishi Chemical Holdings Corporation (MCHC), a Japanese chemicals and healthcare business that aims to achieve a KAITEKI society, based on the philosophy "Good Chemistry for Tomorrow".
Qualicaps is organized within MCHC's Life Science Institute division, which unites the healthcare businesses of MCHC and contributes to health on a worldwide-scale through the manufacture and supply of two-piece capsules and related equipment. Qualicaps offers a portfolio including:
Pharmaceutical-grade capsules
Nutraceutical capsules
Pharmaceutical Processing Equipment
Geared towards quality and functionality, the company is 'Engineered to Perform' and offers not only exceptional performance from its capsules, but also from its team of experts.
Since 1897, the company has been responsible for several milestones in the history of hard capsule development within the pharmaceutical industry, having designed and implemented features so widely accepted and trusted, that they have since become industry standards.
Innovation has always been part of Qualicaps and it is recognised for the design and production of capsules for the pharmaceutical industry.
Press Release
Expansion of Qualicaps® state-of-the-art manufacturing facility in Romania has been successfully completed, including machine start-up, quality validation, and full-scale production for commercial sale.
Read more
Qualicaps® has acquired Brazil's leading two-piece hard capsule manufacturer Genix Industria Farmaceutica, which has operations in the pharmaceutical hub of Goais, as well as commercial activities managed from Sao Paulo.
Read more