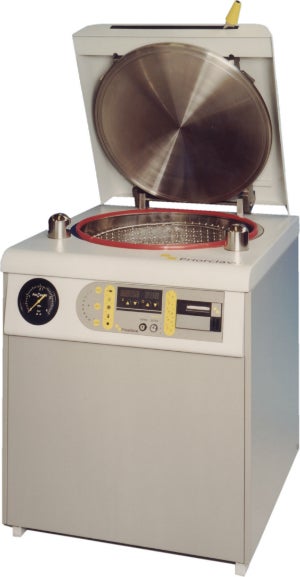 Designed and built by Priorclave in its own British based manufacturing centre the QCS top-loading autoclaves are reliable mid-capacity steam sterilisers available in a choice of chamber sizes, 100l and 150l capacities.
One of the many benefits of these extremely versatile, compact top loading steam sterilisers is the ability to sterilise small and tall objects side-by-side in a single process, they could prove to be the ideal choice for laboratories with limited floor space.
Due to the superior loading capability the QCS EV100 and QCS EV150, floor-standing electrically heated autoclaves will appeal to laboratory managers in diverse industrial sectors such as food, drink, dairy, pharmaceutical, agricultural, education, healthcare, as well as dedicated research establishments for sterilising applications such as media preparation, liquids and diluent, waste, glassware instruments and pieces of apparatus that need superior cleansing.
Priorclave is also able to supply this range of top-loading autoclave in a vacuum option which is ideal for laboratories handling more demanding waste products.
The autoclaves feature the advanced Tactrol®2 microprocessor control system which guides the user through simple step-by-step set up of sterilising parameters as well as keeping a log of temperature, pressure, time and cycle data.
The data is held in an archive file which can be subsequently downloaded onto a USB flash drive for transfer to computer for transmission to Priorclave's Service Centre for technical assistance if required, helping fine-tuning the autoclave to achieve maximum performance and efficiency.
The QCS top loading autoclaves are designed to improve a laboratories sterilising efficiency, features such as delayed start and media warming function as standard for ready to pour media at the start of the day, forced air cooling as standard helping to reduce cycle times and automatic timed free-steaming as standard for improved air removal.
As with the majority of Priorclaves, these top loading autoclaves are equipped with one of the easiest and safest, single handed door opening systems, a design developed by the company many years ago and still as practical today.
The QCS EV100 and QCS EV150 top-loading autoclaves are part of the Priorclave brand which is renowned for its superior build quality and reliability and join a comprehensive range of over 60 standard autoclave models including benchtop autoclaves, front loading autoclaves, double-door autoclaves and power doors.
Those looking for energy efficient laboratory and research grade autoclaves a visit to the Priorclave...