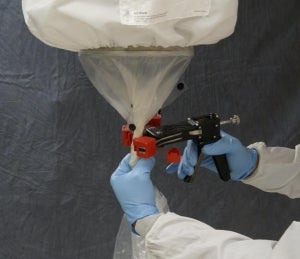 ILC Dover pioneered flexible containment for the pharmaceutical industry and continues to innovate processes for better performance. We invented the original crimping system and now we have created the CrimpLoc System.
The new system is the next generation to provide high containment and a secure closure when using the DoverPac, Continuous Liner, and other ArmorFlex film solutions.
Less hand force and more ergonomic
One tool for all crimp sizes
Uses the same crimps as the existing ILC Dover Crimp System
Lightweight
Key Factors to consider for closure of in process pharmaceutical packaging:
Containment
Quality
Ergonomics/safety
No plastic shards from separation cut
Validation
Operator ease of use
While design characteristics may be identical to rigid stainless-steel isolators, flexible film aseptic isolators offer several advantages for careful consideration.
A pharmaceutical production line must be safely and efficiently managed above all else. If a product becomes contaminated or production is delayed, it can have...