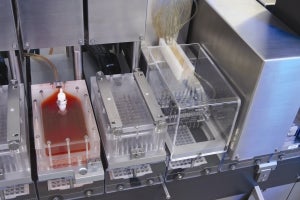 Optima Life Science presents the the Medicon ImmuCoat® line, a modular and scalable system for automated coating of micro-titer plates for the manufacture of ELISA Test Kits. On display are base stations for six to twelve process modules. These can be fitted as required with metering, extraction, and washing modules and also with diverse pressure and control systems. The maximum output is 1,200 plates per hour. The typical formats of 96 or 384 wells are batch-processed.
In addition, there are two fully-acclimatised incubators/ dryers integrated in the display line. The incubators facilitate controlled reproduction of climatic conditions at temperatures of 4°C to 37°C and relative humidity of 40% rH to 90% rH. With a special drying unit, well under 10% rH can be achieved.
The prime benefit of ImmuCoat® lines is flexibility. Capacity changes and function additions such as the integration of a Medicon packaging module can be achieved without involving any further engineering.
Visit OPTIMA Life Science's stand at Medica, November 14-17, 2012 – Hall 3, Stand B64.