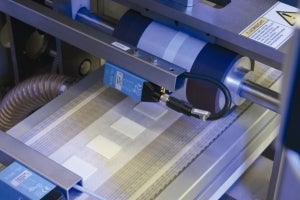 New on the market is the Medicon "MDC 300 – Vario" line from Optima Life Science, which offers functional variability through simply executed changes or additions to the process, and is designed for modern wound products. All function modules are attached to the line frame using a quick-fit system. The machine control automatically recognises the position of the modules and thus allows a "real" plug and play system. Modules are available for example, for roll-on/roll off of materials to be processed as well as transport, cutting, laminating, folding and also inspection systems necessary for the manufacture and packaging of the products. At any time modules with special functions can be developed and added.
With the Vario-Model the operator has the possibility of adapting his machine to new product developments but with the lowest level of effort and expense. This is a huge benefit not only for products in the market introduction stage but also for already established products.
Processes for a new product can at first be developed under optimum conditions and then transferred to a production line (Medicon MDC 300 – advanced), if the line is used as a pilot plant machine. This means that immediately at the product development phase, the best possible tools are already available and a rapid market launch is guaranteed. The machine system is presented in a 3D video.
Moreover, Optima Life Science also presents a four-side seal bag packaging machine (Doyen 4SS) for flat medicinal, pharmaceutical, or diagnostic products such as wound compresses, transdermal plasters, diagnostic products and many others. The machine processes a number of packaging materials in order to create four-side seal bags that can be sterilised. Changes of shape and size can be undertaken in the shortest possible time. The machine can be validated as fulfilling all approval specifications and directives (GMP, CE, OSHA). It additionally has the option to be operated separately or integrated in a production line.
Visit OPTIMA Life Science at CompaMed, November 14-16, 2012: Hall 8a, Stand L20.