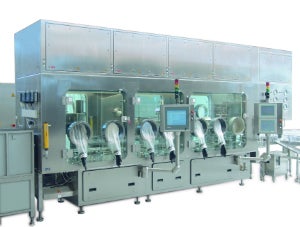 At Interphex, Optima Pharma will exhibit the OPTIMA H4 filling and closing machine. It is a system that covers various diverse applications and combines system flexibility with time and cost advantages.
Optima Pharma will be at Interphex in Javits Center, New York from 26-28 April 2016. The company will be at booth 3103.
The OPTIMA H4 processes nested vials, syringes and cartridges. It can accommodate filling systems based on rotary dosing pumps, peristaltic and time-pressure filling.
High-tech functions have been integrated into the modular type to further enhance the underlying flexibility of the machine.
If necessary, a robot can open the tubs and remove the Tyvek paper. This function has been installed in the filling machine section to save space. Semi-automatic systems can also be integrated.
Whether it is an oRABS, cRABS or isolator, all systems can be cost-effectively fitted to the standardised machine base. A ten-position system is provided for filling.
The transport system in the OPTIMA H4 ensures gentle container handling. It achieves a standard output of up to 24,000 objects an hour, but can be retrofitted to reach 36,000 objects an hour.
The machine can also be upgraded with in-process control (IPC) and vacuum filling / stopper insertion without changing anything on the machine base.
Optima Pharma will inform visitors about its latest MulituseFiller series. The OPTIMA Multiuse series is a highly flexible filling and closing machine for the processing of nested and bulk containers.
The systems can process all types of nested syringe, vial and cartridge formats. It is equipped with an innovative transport system that process vial ranges from 2cc up to 30cc at production rates up to 150 products per minute without any format change parts. Its modular design gives the user the flexibility to quickly respond to all market and production demands.