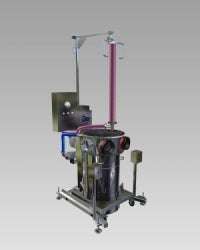 If you are handling any of these:
Waste toxic liquids, Calcium Hypochloride, Benzyl Sulphonyl Chloride, Propionyl Acetyl Chloride, MED, DICI, EMCA, Toluene, CH2CI, HCI, TMCS, Methylenchloride, Acetone, Methylacetate, Pyridine, BSTFA, Methanol, IMS, Dioxane, Acetonitrile, MD, Heptane, Methylchlorformiate
Or other toxic or corrosive liquids you need DCS Liquid.
The DCS Liquid was specifically developed for toxic and corrosive liquids, achieving containment levels of < 1ppm.
The safe, contained emptying and filling of drums using the suction lance housed in a special venting tube with a sealing plug is thus made possible without additional precautions, such as full protective clothing (PPE) or large Laminar Airflow booths. The DCS Liquid can also be equipped with load cells for precision dosing. Drums can be particularly emptied, eliminating the need for inefficient and time consuming pre-dispensing.
The DCS Liquid is particularly recommended for the handling of liquids with strong odors, which are contained and removed by an extraction system. The DCS Liquid is easily cleaned in situ.
Safe handling of toxic and corrosive liquids
Total odor control
Contained drum filling and emptying
Operator, product and environment protection
Inert conditions
Compact and low height system
Mobile
Handles various drum sizes
Dosing possibilities
Ergonomic design
Design
AISI type 316L stainless steel, electro-polished
Other materials available (HC22, internal coating, etc.)
ATEX zone 2/21 compliant
Features
Ideal for toxic and corrosive liquids
Contained charging and evacuation of drums
High containment (< 1μg/m3 )
Load cells for accurate dosing
Partial discharge option
Optimal protection of operator and product
Space saving
Simple to install
Product transfer can be done under inert conditions when required
Easy to clean
GMP compliant
Options
Load Cells for accurate dosing
Trolley for easy drum handling
Inert operation
Multiple lance system for different drum sizes
ATEX zone 1/21