Dec is a global provider of powder handling systems to the pharmaceutical and chemical industries. Its turnkey and custom-designed solutions have been successfully integrated into complex operations in hundreds of companies worldwide, both multi-nationals and specialists.
The Dec range covers every facet of powder handling, including:
Powder transfer systems
Safety, productivity and containment are key considerations, with ease of cleaning also being a priority. The PTS powder transfer system provides safe and contained powder transfer, with a wide range of applications in addition to reactor charging.
Drum containment systems for filling / emptying
The DCS drum containment system provides a safe and contained method of filling and emptying drums, big bags and continuous liners. It also has the capability of emptying process equipment and filling packaging in one step.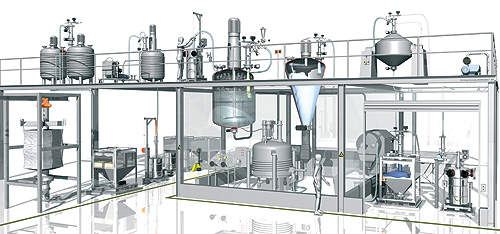 Active charging vs. manual powder handling, innovative production facility design.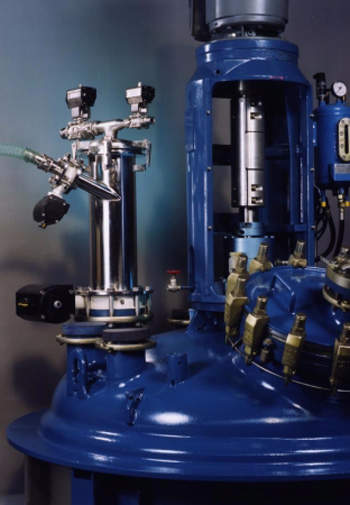 PTS powder transfer system - an effective method of transferring and dispensing both dry and wet powders with unique filtration concept, CIP.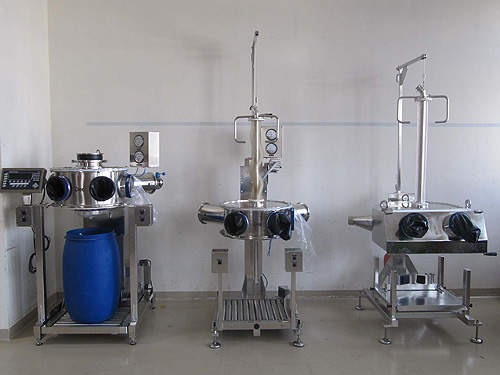 DCS drum containment system: contamination-free filling and emptying of drums, big bags, etc.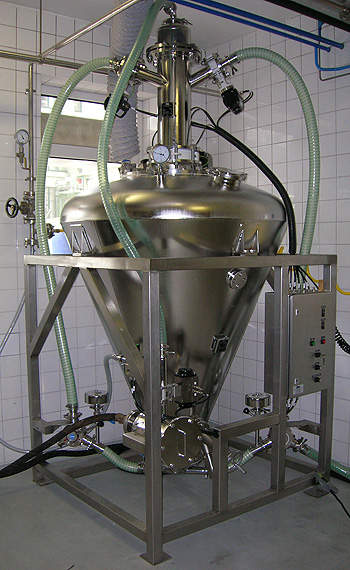 Batchmixer: the ultimate in speed and flexibility, allowing powder with different characteristics to be mixed, with applications from 2l to 5,000l and variable product volumes from 10%-100%.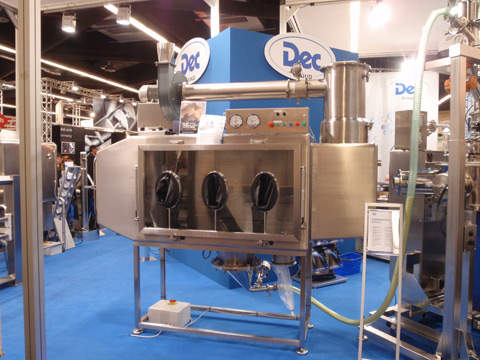 Contained bag station: single or multiple reactor charging from bags.
The DCS Liquid handles liquids which require strict odour control or toxic liquids.
Precise big bag filling / emptying in combination with a PTS feeder is also provided by the DCS system. The PTS feeder provides a single-step solution for filling, emptying and dosing bags, drums and big bags.
The contained bag station combines the advantages of isolation technology with laminar flow technique, providing a high containment solution for emptying multiple bags.
The suction hopper can be connected to various items of equipment. Working in combination with the PTS powder transfer system, it provides easy discharge of poor flowing powders (e.g. lumpy, wet, etc.).
Powder dosing systems
Dosing of powder into a selection of receivers or packaging demands high levels of handling flexibility. The PFL Powderflex system allows continuous and precise dosing of small to medium quantities.
Dec's unique microdosing technology provides high-precision dosing for a wide range of requirements.
The PTS feeder provides a single-step solution for filling, emptying and dosing bags, drums and big bags.
Powder blending systems
Today's processes demand the flexibility to swiftly mix powders with different characteristics, often within a contained environment.
The Batchmixer, which is based on the PTS technology, has been tested in a two-year research study at a Swiss University. The results are revolutionary, providing a machine that is easily integrated.
Micro powder transfer systems for sampling
The MPTS micro powder transfer system, which is based around the PTS technology, allows operators to take representative and homogeneous samples of toxic powders automatically in a contained environment, even in areas where personnel have no access.
Micronizers
Dec's versatile and multi-format micronizers from small-scale to full-size production are available in open and contained arrangements with the ability to handle difficult products, e.g. Triam family, Fluticasone or Orlistat, etc. Systems are provided in sterile, toxic or sterile toxic arrangements in contained or non-contained format. New revolutionary technology achieves a particle size distribution (PSD) below 5µm.
Containment solutions
Dec is specialized in containment; our solutions take account of the operator's optimal protection, cGMP guidelines, the elimination of cross contamination and the reduction of clean-up requirements.
Consultancy, product testing, commissioning and assembly supervision
Dec's services include:
Consultancy, including product analysis, process development, process optimization, process conditions control, etc.
In-house product testing carried out by Dec's specialists for: powder transfer including CIP; charging of equipment or packaging (drums and big bags); discharge of equipment or packaging (drums, big bags and bags); and mixing and dosing
Commissioning and training
Assembly supervision
FAT, HAZOP, validation QI/QO