Metronik is a trusted and innovative provider of digitalisation and automation systems for production in the pharmaceutical and life science industries.
We enable clients to gather crucial operations data, make it available to all relevant stakeholders and exploit it for regulatory compliance, process improvement and production optimization.
Modern data management solutions for production in the life science industries
Metronik provides state-of-the-art solutions in the areas of automation and process control, process data management and analysis, recipe management, and operational excellence, as well as automation and process control.
Our solutions include Manufacturing Execution System (MES), Track & Trace (Serialisation and Aggregation), and other superior software solutions for performance improvement. We also provide cutting-edge Building Management Systems (BMS) and Alarm Monitoring Systems (AMS) for advanced regulatory compliance.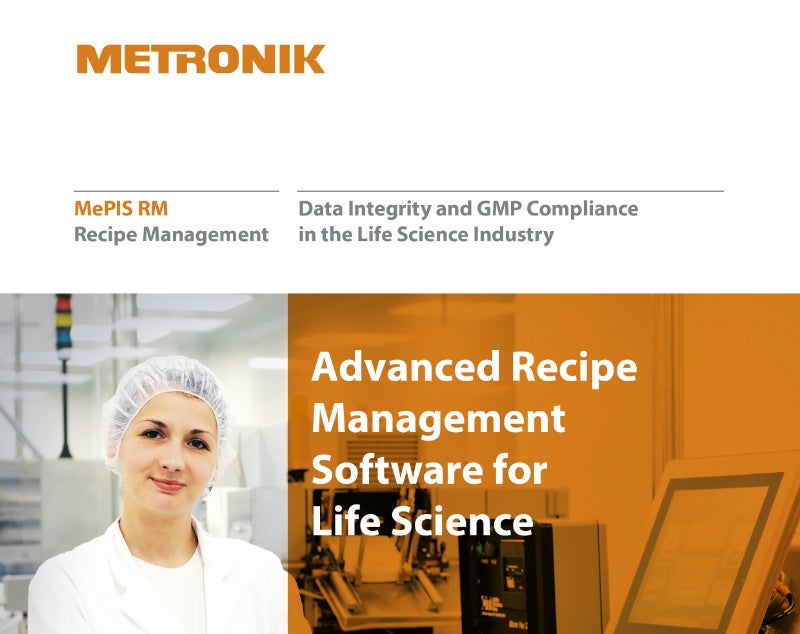 Medtronik offers state-of-the-art solutions in process data analysis, process data acquisition, process historian, operational excellence and recipe management.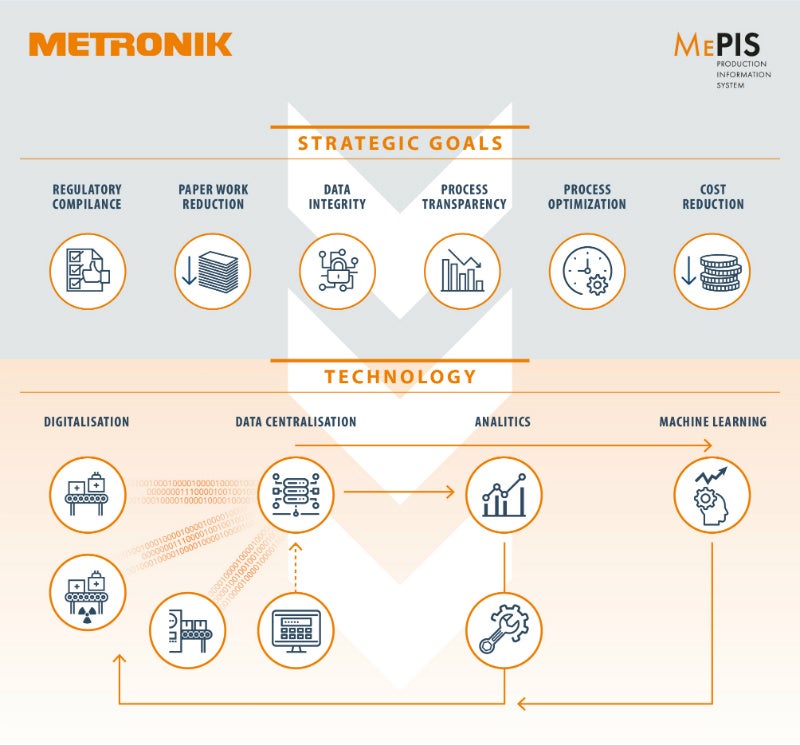 Our systems follow the values of Industry 4.0 and are fully compliant with GMP requirements.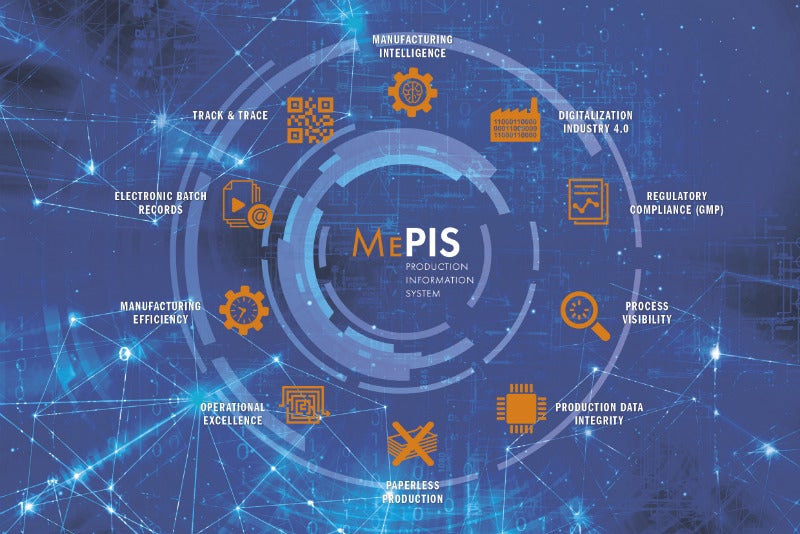 We frequently renovate our software solutions, investing 12-15% of revenues in R&D annually.
Our systems follow the principles of Industry 4.0 and are fully compliant with Good Manufacturing Practice (GMP), as well as other regulatory requirements.
We provide a comprehensive set of services, including software development, implementation and commissioning, full lifecycle and validation support, as well as operational consulting.
Complete solutions for manufacturing intelligence and data integrity
Our MePIS solution focuses on manufacturing intelligence and data integrity. It is developed in close cooperation with our trusted clients, ranging from small entrepreneurial life science companies to large global pharmaceutical corporations.
It consists of several software modules that can help you to fully digitalise and optimise the manufacturing process and improve data integrity, including:
MePIS RM (Recipe Management) – Centrally managing production recipe parameters and the full recipe lifecycle process
MePIS UDG (Unified Data Gateway) – Unlocking access to production data for unlimited usage
MePIS PDM (Process Data Management) – Managing and analysing process data and generating reports for advanced Data Integrity and GMP compliance
MePIS OPEX (Operational Excellence) – Exploiting production data for increased productivity
MePIS MES (Manufacturing Executing System) – Establishing control over production processes and materials
MePIS LB (Electronic Log Book) – Tracking GMP-relevant events in production
MePIS GenCode (Serialisation and Aggregation) – Easily meeting anti-counterfeiting and Track & Trace technical and regulatory requirements
MePIS Energy (Energy Management) – Monitoring and optimising energy consumption
MePIS modules help our partners cope with challenges in the production process, such as process optimisation, increased agility and flexibility, and enhanced product quality and safety. They also reduce costs, production deviations and the need for paper-based documentation while achieving full GMP regulatory compliance and comprehensive process control.
MePIS is a framework that enables access to all required functionalities via web browsers without any additional software on your computer or mobile device.
Trusted business partner focused on client success
Since incorporation in 1990, Metronik has carried out numerous successful automation and digitalisation projects in the life science industry around Europe. We are also a partner of leading global automation and digitalisation innovators, such as GE Digital, Emerson and Honeywell.
We understand the specific needs of our clients in life science production, which enables us to provide focused and flexible software solutions with a high return on investment (ROI) and low total cost of ownership (TCO).
Experts in the fields of production automation and digitalisation
Metronik's team has extensive knowledge and extensive experience in the field of automation and information technologies, as well as domain knowledge of life science production (including regulatory requirements).
At Metronik, we believe business success and high growth can be sustained if we continually innovate our software solutions, investing between 12% and 15% of revenues in R&D every year.
Our intuitive and user-friendly user interfaces facilitate quick learning and deployment. Moreover, advanced systems and project approaches guarantee the shortest possible disruption to production.