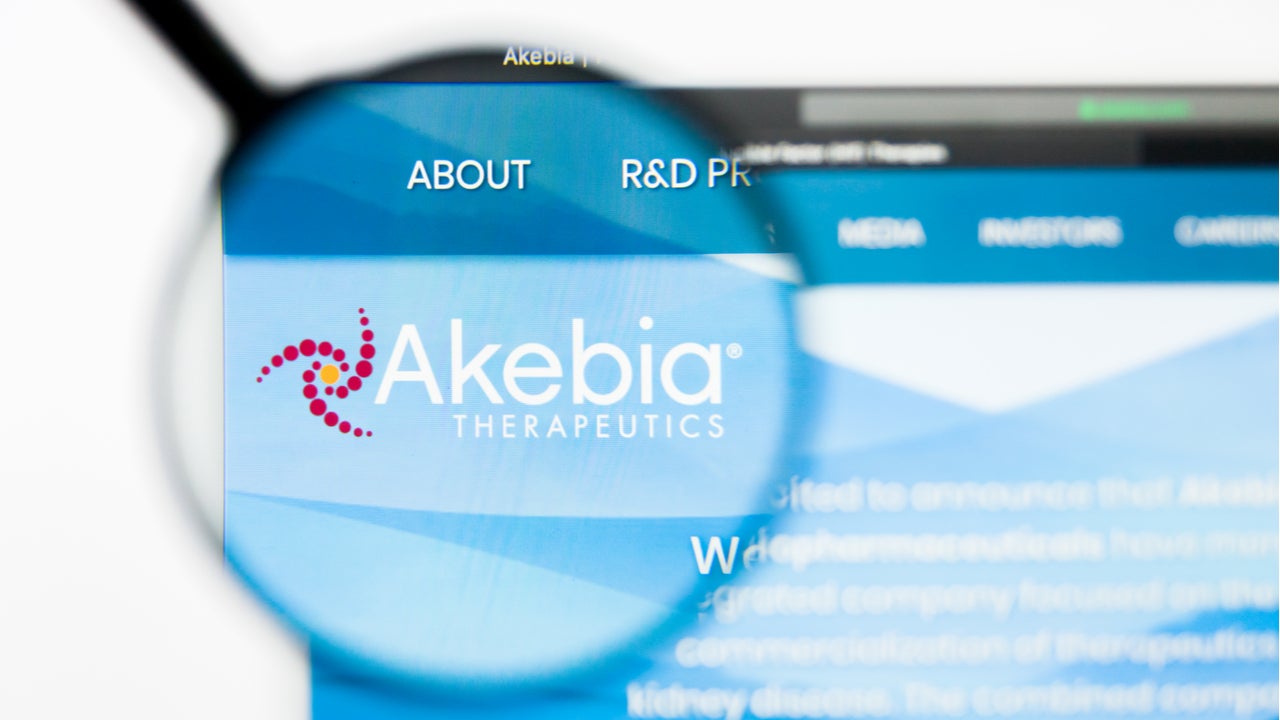 On 23 October  at the 2020 American Society of Nephrology Kidney Week conference, Akebia Therapeutics presented additional data from its Phase III PRO2TECT trial.
The trial evaluated the efficacy and safety of Vadadustat versus erythropoiesis stimulating agent (ESA) Aranesp (darbepoetin alfa) for the treatment of chronic kidney disease (CKD) anemia in adult nondialysis patients.
Akebia Therapeutics' Vadadustat is an oral hypoxia-inducible factor prolyl hydroxylase inhibitor (HIF-PHI). Additional data came following the release of PRO2TECT's top-line results on 3 September, in which Vadadustat met the primary and key secondary efficacy endpoints, but failed to meet the primary safety major adverse cardiovascular events (MACE) endpoint versus Aranesp.
Vadadustat faces uncertainty
Despite the latest additional data, GlobalData believes that Vadadustat's MACE profile remains mixed and its FDA regulatory success in the non-dialysis indication uncertain. As such, in the absence of a clear MACE advantage over ESAs, the company may face an uphill task to capture patient share in the large non-dialysis market and potentially face competition from other HIF-PHIs currently in late-stage development.
A GlobalData high-prescriber survey conducted in October 2020 following PRO2TECT's top-line results demonstrated conflicting opinions among the medical community regarding Vadadustat's approval chances in the non-dialysis population.
In total, 60% surveyed US nephrologists anticipated an FDA approval for Vadadustat while 40% saw a US approval in this patient population as unlikely.
The newly presented data involved pre-specified subgroup analyses in which age was rescaled from dichotomous to a continuous variable and the trial was prospectively designed to examine the effect of regional differences, mainly differences in Hb treatment targets.
FDA assessment is an unknown
As such, when both adjustments were made, Vadadustat was not associated with a clinically meaningful increase in cardiovascular risk compared to darbepoetin alfa in US patients treated to a target Hb range of 10 to 11 g/dL. The results of the pre-specified subgroup analyses will be a positive addition to the dataset submitted for FDA review and could bolster Vadadustat's FDA approval chances.
However, the drug's overall MACE profile remains mixed and the FDA's assessment of the totality of the safety evidence remains unknown.
Akebia Therapeutics plan to submit a NDA
HIF-PHIs are a new class of small molecules activating hypoxia-inducible factor (HIF)-alfa isoforms, the main mediators of the cellular response to hypoxia.
Several investigational drugs that target the HIF-PH pathway are either recently approved or are currently in late-stage development across the 8MM (US, France, UK, Germany, Italy, Spain, Japan, and China) and seen as promising new additions to the treatment of CKD anemia due to several potential benefits they confer against current ESAs.
HIF-PHIs stimulate endogenous production of epoetin, which key opinion leaders (KOLs) interviewed by GlobalData noted could lead to more consistent erythropoietin (EPO) levels in the blood, thus avoiding adverse effects and clinical complications associated with ESAs.
Another major advantage is their oral route of administration, in contrast to current ESAs, which are dosed either subcutaneously or intravenously.
Akebia plans to submit an New Drug Application (NDA) to the FDA for Vadadustat in both the dialysis and non-dialysis CKD populations in early 2021.