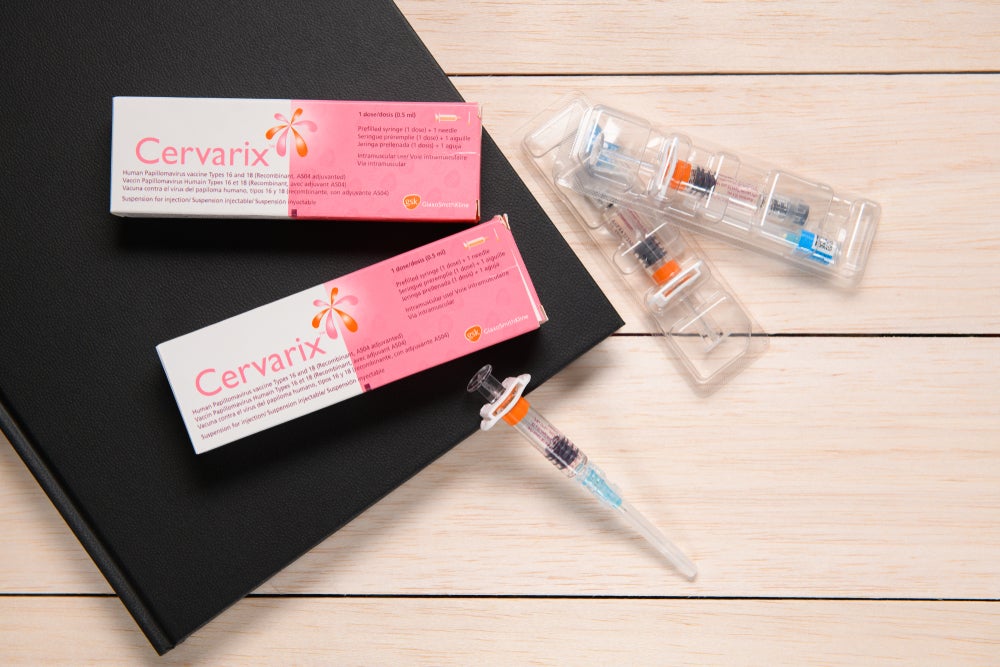 This month, a study funded by Cancer Research UK (CRUK) revealed that the UK's human papillomavirus (HPV) vaccine programme has dramatically reduced cervical cancer rates in those who received the jab when they were younger.
HPV vaccination with GlaxoSmithKline's (GSK) recombinant vaccine Cervarix was introduced in England in 2008 and offered to girls aged 12 to 13 years, with a catch-up programme for those aged 14 to 18 implemented between 2008 and 2010. The two-dose HPV vaccine has also been routinely offered to boys aged 12 to 13 since 2019.
The first-of-its-kind research, published in The Lancet, found that cervical cancer rates were reduced by almost 90% in women in their 20s who were offered the HPV vaccine when they were 12 or 13. The reductions were less dramatic for those vaccinated at an older age – 62% for those jabbed aged 14 to 16 and 34% for those aged 16 to 18 – because these individuals were more likely to be sexually active and therefore to have already come into contact with HPV.
Overall, researchers concluded that the HPV vaccination programme prevented around 450 cancers and 17,200 pre-cancerous conditions over an 11-year period.
HPV and cervical cancer
HPV is the name for a group of viruses that are highly common worldwide. Many types of HPV do not cause health problems and will clear up on their own, but a small number of infections caused by certain strains of sexually transmitted HPV can progress into cervical cancer.
Cervical cancer is the most common HPV-related disease – nearly all cases of cervical cancer are caused by HPV infection – but the viruses can also cause cancers of the anus, vulva, vagina, penis and throat.
At least 14 strains of HPV are considered high-risk, or cancer-causing. The majority of cervical cancers (around 70%) are caused by types 16 and 18. Types 6 and 11 are responsible for most cases of genital warts, which do not cause or lead to cancer.
Which HPV vaccines are available?
Three HPV vaccines are currently approved worldwide: Cervarix, Gardasil and Gardasil 9.
GSK's Cervarix was the first HPV vaccine to be introduced in the UK, and is the vaccine studied in CRUK's recently published research. The jab is bivalent, offering protection against HPV types 16 and 18 – the strains responsible for most cervical cancer cases.
To make Cervarix, cells cultured from the fall armyworm moth are inoculated with viral protein to produce virus-like particles (VLPs), which induce disease-specific immune responses in vaccine recipients.
Merck's quadrivalent vaccine Gardasil protects against types 16 and 18 and types 6 and 11, the latter two of which cause most genital warts. Gardasil is made by inoculating brewer's yeast cells with viral protein to generate VLPs.
A newer version of Merck's jab, Gardasil 9, protects against the above four HPV types, as well as five other high-risk strains: 31, 33, 45, 52 and 58.
The Gardasil vaccines produce a higher concentration of VLPs than Cervarix, but the latter provokes a far longer-lasting immune response against HPV. In terms of safety and the ability to provide an antibody response, however, all three vaccines are considered equal.
In the UK, anyone who missed their HPV vaccination as a child or teenager can access it through the NHS until the age of 25. Men who have sex with men (MSM) are less likely to benefit from the long-running vaccination programme for girls, so may require additional protection against the viruses. The NHS says MSM up to and including 45 years old are eligible for free HPV vaccination on the health service in England.
HPV vaccine market competition
While Cervarix was the first vaccine used in the UK's HPV vaccination programme, it was replaced by Gardasil in 2012. At some point during the 2021 to 2022 academic year, the UK will switch to Gardasil 9, the government has said.
The first-generation Gardasil jab was approved in the US in 2006, followed by Gardasil 9 in 2014. Cervarix received FDA approval back in 2009, but GSK voluntarily pulled the vaccine from the US market in 2016, citing "very low market demand".
GSK made just $3m from US sales of Cervarix in the year before it was pulled; Merck's Gardasil products, now the only approved HPV vaccines available on the US market, raked in $998m in US sales last year.
Despite its failure on the US market and its replacement in the UK, Cervarix has seen success as the first approved HPV vaccine in China, where cervical cancer cases account for 28% of the world's total. Chinese authorities approved Cervarix for those aged 9 to 25 in 2016, before extending the authorised age limit to 45 years in 2018.
Merck's Gardasil was approved in China in 2017, although the vaccine is only authorised for use in those aged 20 to 45.
Cervical cancer: a global burden
Cervical cancer is the fourth most common cancer in women worldwide. Nearly 90% of the 311,000 deaths caused by cervical cancer in 2018 occurred in low- and middle-income countries (LMICs), where HPV vaccines and other preventative measures such as cervical screening are not always widely available.
Additionally, access to treatment once cancer has progressed – such as chemotherapy or surgery – can be limited, resulting in higher death rates in poorer nations.
While HPV vaccines are less accessible in poorer nations, it's not just LMICs that have populations insufficiently vaccinated against the viruses. HPV vaccine uptake is relatively poor in countries like France (less than 20%), the US, Italy and Germany (40-50%), and Japan – where rates have fallen from over 70% to less than 1%.
GlobalData oncology and haematology analyst Avigayil Chalk spoke with key opinion leaders (KOLs) who said the reasons for poor uptake in these countries include inadequate public health campaigns, stigma around sex and sexually transmitted infections, and the growing anti-vaccine movement.
"Typically, students are vaccinated between the ages of nine and 14, with countries trying to go to the lower end of that to catch the students before they become sexually active," Chalk explains. "Parents have been quite resistant to that, saying that this is an age where children should not be sexually active … they think it gives the children consent to engage in sexual activity.
"[French KOLs] say that religious beliefs against vaccination are very strong in France," Chalk adds. "People think that if they're only in a relationship with a single male, that reduces their chance of getting an HPV-related cancer, and therefore they don't opt for the vaccine."
People can become infected with HPV without ever having had sex, so couples who have never had another sexual partner can still be at risk of catching HPV and would benefit from vaccination.
In Japan's case, the KOLs said, the dramatic drop in uptake is attributed to increased vaccine hesitancy after false claims of adverse events were reported in the country's media. The Japanese health ministry suspended proactive recommendations for the HPV vaccine in June 2013, just two months after it had been added to the country's national immunisation programme.
Some countries, like Germany, do not include HPV jabs in their school vaccination programmes.
In 2020, the World Health Organization (WHO)'s World Health Assembly adopted the Global Strategy for cervical cancer elimination, which aims to eliminate cervical cancer as a public health problem.
As part of the strategy, the organisation has set targets for all countries to fully vaccinate 90% of girls against HPV before the age of 15; screen 70% of women using a high-performance test by the age of 35, and again by the age of 45; and ensure 90% of women with pre-cancer are treated, and 90% of women with invasive cancer are managed.
The targets must be met by 2030 to begin eliminating cervical cancer within the next century, the WHO said.