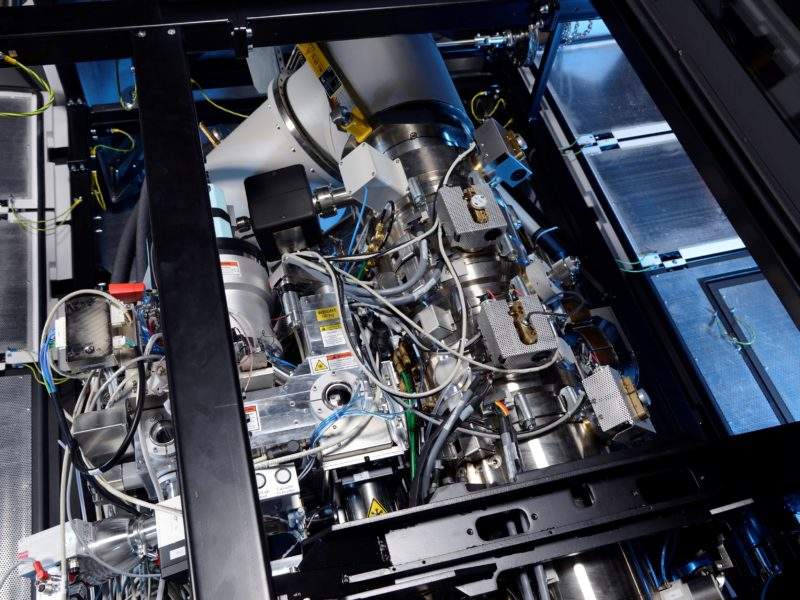 The UK's centralised state-of-the-art cyro-EM facility, the electron Bio-Imaging Centre (eBIC), has been officially opened at Diamond Light Source, the UK's national synchrotron facility. It was funded by a £15.6m grant from the Wellcome Trust, the Medical Research Council and Biotechnology and Biological Sciences Research Council (BBSRC).
Initially eBIC and its microscopes were introduced almost exclusively for academia. However, the facility has expanded beyond this to pharma companies through a collaboration with scientific instrumentation company Thermo Fisher.
Electron Microscopy (EM) involves a special type of microscope that uses a beam of electrons to create a high resolution structural determination of biomolecules in solutions. It is significantly stronger than traditional microscopy techniques, offering better scientific understanding of the atomic structure of macromolecules and proteins that couldn't previously be observed.
Although initially conceived in the 1930s by Ernst Ruta and Maximillion Knoll, the technique began to be further developed later in the twentieth century. The first types of electron microscopes created were the transmission electron microscope and scanning electron microscope.
This led to the creation of cryo-EM, which differs from previous types of EM because the sample being studied is prepared using vitrification, which means it is frozen in liquid ethane so rapidly that water molecules do not have time to crystallise and damage the structure. This means that cryo-EM provides a higher-quality 3D visualisation of the structure of the sample, leading to it being called a 'resolution revolution' for the structural biology field.
The first model based on cryo-EM was developed in 1997, but the technique was honed over time, eventually leading to three scientists, Dr Richard Henderson, Dr Jacques Dubochet and Dr Joachim Frank, winning the Nobel Prize for Chemistry in 2017.
At a press conference preceding the official opening of eBIC, Dr Henderson said: "Diamond is the best organised and the biggest of the efforts to centralise into a national facility so people at small universities and companies can get access to these powerful new technologies."
Diamond Life Sciences director Professor Dave Stuart added: "We have engineers here, we have great office teams and we have the processing techniques. So it seemed the natural thing to open up electron microscopy to the academic and industry community in the same way as that has been done for X-rays here at Diamond."
Expanding eBIC capability to include pharma industry partners
The motivation behind the collaboration was 'the funding agencies at that point restricted the use for industry to about 10% of the infrastructure here. This was a pity in the sense that a lot of pharma companies got interested in the technology during 2017 and this year and then we thought about what can we do to also give them access to cryo-EM', according to Thermo Fisher's senior director of Pharma Raymond Schrijver.
During the press conference, Schrijver also mentioned Diamond's 'close proximity to pharma companies. The southern part of the UK is one of five [pharma] hotspots globally'.
According to the terms of the agreement, Thermo Fisher will provide two new electron microscopes exclusively for use by the pharmaceutical industry: Thermo Scientific Glacios and Thermo Scientific Krios. The Glacios machine will be primarily used to pre-screen samples before moving onto the Krios, which can produce much higher resolution images.
Schrijver explained the responsibility of both parties in the collaboration, saying: "Diamond Light Source makes available space, provides infrastructure in terms of data management processing, sample processing capabilities and we at Thermo Fisher will put the instruments themselves [in the facility] and will also make sure that there is expertise from our side to run the machines."
Thermo Fisher president of materials and structural analysis Mike Shafer agreed, saying: "The combination of expert staff members at eBIC and Diamond, alongside these new Thermo Scientific cyro-EM instruments, ensures these researchers are on the cutting edge of discovery.
"We are excited Diamond will provide joint staff, expertise in swift and effective data collection and analysis, and support with sample preparation."
Professor Stuart added: "The additional advanced instruments made available by Thermo Fisher will position the UK as a global leader in providing large-scale industrial access to cryo-EM for drug discovery research. Our new collaboration provides a step change in our offer for industry users and helps ensure that research and development remains in the UK."
How can pharma use cyro-EM and eBIC?
Dr Henderson noted at the official opening of eBIC that pharmaceutical companies had already expressed significant interest in the use of cryo-EM techniques, with some major companies investing in their own microscopes.
He continued that the technique is useful for the pharma industry since '[previously] intractable problems have been shown to be solvable using the cryo-EM methodology.'
This is because the cryo-EM 'needs very small amounts of material compared to the amount needed to make crystals [for X-ray crystallography]. [Also,] the material that you get doesn't need to be so stable or so pure, and it is quicker'.
Schrijver noted that the technique is useful for proteins that do not crystallise, and therefore cannot be visualised by the usual technique of X-ray crystallography. An example is membrane proteins, which are the target of, according to Schrijver, 'roughly 40 to 50% of marketed drugs currently'.
Schrijver identified three specific ways that eBIC and cryo-EM can help pharma companies with drug discovery.
First, understanding the disease and its mechanism of action. Although Schrijver notes that usually academics focus on this use, it is still useful for pharma companies who 'decide to increase its pipeline and look into a new therapeutic area and, therefore, want to understand everything about the disease, such as what type of protein plays a role in that disease mechanism'.
Second, identifying drug targets by looking at the proteins in the sample, and finally identifying the lead target and optimising it.
Pharma companies have already begun using the cryo-EM facilities at eBIC.
Vertex Pharmaceuticals' Oxford site head and vice president Dr Gillian Burgess commented: "We will be able to image large and complex proteins in a way that has previously not been possible with more traditional techniques. At Vertex we are committed to the development of new precision medicines that can treat serious diseases and we believe that cryo-electron microscopy can accelerate the discovery of such medicines."