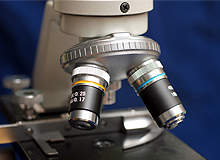 Developing new drugs is a labour-intensive process, and one which carries high costs and high risks. If pharmaceutical and biotechnology companies want to get the most from their in-lab R&D, using leveraging strategies and technologies to optimise lab efficiency is a must.
At the Friedrich Mieschler Institute for Biomedical Research (FMI) in Basel, Switzerland, they're doing just that – with a new system for researchers to book time on lab microscopes.
At present, each research organisation in Switzerland has its own system for reserving use of their microscopes; FMI is installing a system that will allow researchers to book time on any microscope nationwide.
Scoping out the future
When it comes to of integrating and streamlining lab data management processes, success is measured by the efficiency and popularity of a data management system – and according to Dean Flanders, FMI's head of informatics, this concept has been met with enthusiasm from the Swiss imaging community.
"We are working on a Swiss-wide reservation system which everyone can use with an application service provider approach," says Flanders.
"This system helps later on in data integration because there is a very good inventory of all these systems. We control the access to it in order to get the information we want." 
"The most important concept for
the future
will be cloud computing."
Flanders hopes to push the project further to include all lab instruments; his goal is to capture all data on all other lab technology following the Swiss microscope project.
So does this represent the future of laboratory data management? According to Flanders, the most important concept for the future will be cloud computing – where computers can access shared resources, software or information over the internet on-demand.
He believes clouds will become a global reality in the not too distant future, and as a result the mechanics of IT will become more and more focused on business processes. For example, virtualisation technology will allow IT more flexibility. This in turn will mean more cooperation between IT and scientists is necessary to make sure processes are understood.
Innovate to integrate
The annual Laboratory Data Management conference will take place in June. It offers delegates new insights about overcoming the challenges on the road to becoming a fully integrated lab.
"You need to understand your end user, which will also result in better management
of the data."
Flanders is among the speakers at the conference, which he sees as a crucial glimpse into the future of data management and IT processes. His talk will focus on combating silo mentality to achieve cross-functional data integration and developing an efficient R&D process.
To his mind, there is no perfect data integration solution. But to get as close as possible, you need to understand your end user, which will also result in better management of the data.
That's why Flanders' team tries to work as closely as possible with scientists using the technology – to make sure that end users have a functioning and effective product.
"We prefer it when they have the solution and come to us," says Flanders. "We can't possibly know the best solution for everyone, so we are open to ideas."
One of the main goals of the FMI's Facility for Advanced Imaging and Microscopy is to train scientists so that they can use hardware and software at the highest possible level. In the same vein, Flanders believes that it is more effective to manage the people who will manage the data, rather than adhere to a traditional "data silo" strategy.
It's a process, he believes, that is not given enough emphasis across the industry at large.
Arena International's Laboratory Data Management conference will take place on 22 and 23 June in Munich, Germany.