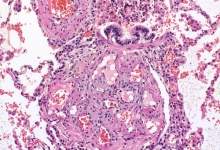 Thanks to the recent approval of a new drug developed by Actelion, patients in England with life-threatening orphan disease pulmonary arterial hypertension (PAH) have got access for the first time to a treatment that has been proven to slow the progression of the condition, rather than just addressing its symptoms.
PAH is a severe, progressive and ultimately fatal disease caused by the tightening of the pulmonary arteries, which connect the right side of the heart to the lungs. As the condition develops, blood flow through the pulmonary arteries is restricted and the right side of the heart becomes enlarged because of the increased strain of pumping blood through the lungs.
The rare condition (in the UK, only 4,000 to 5,000 patients have been diagnosed with PAH) can have a huge impact on quality of life
Complicating matters further, PAH is a difficult disease to diagnose, as its main symptom – breathlessness – often leads physicians to mistake it for chronic respiratory disease or cardiac disease. As a result, it can often take up to three years for patients to receive a diagnosis, during which time the disease can progress rapidly.
Incredible advances over recent years
For those who are correctly diagnosed, however, advances over the past ten to 15 years, which have led to disease targeted therapies, have meant they have been given a new lease of life.
"Prognosis for patients has really improved quite considerably with the advances that have been made in medication," says Robin Bhattacherjee, general manager at Actelion Pharmaceuticals UK.
---
---
An intriguing piece of research has shown that investment in such trials really can pay off.
---
"Previously, if you were diagnosed with PAH, it would be something you were sadly going to die from in the short to medium term, but now – although it is still progressive and ultimately fatal – it's shifted to a long-term chronic condition."
Most patients are currently treated with one of three classes of drugs: prostacyclins, endothelin receptor antagonists (ERA) or phosphodiesterase type-5 inhibitors (PDE-5i). And while these medicines have led to much improved outcomes for patients, they have not been proven to have any impact on actually slowing the progression of PAH.
Enter Opsumit. Developed by Actelion and approved by the NHS as a treatment option for PAH patients in England in May 2014, this latest weapon in the arsenal against PAH may not be revolutionary in terms of the way it acts against the disease, but it does have one extremely important feature – it's the first product on the market that has been proven to reduce overall morbidity and mortality for patients.
Set apart from other drugs in its class
Opsumit is a novel ERA which essentially works by relaxing the blood vessels between the right side of the heart and the lungs, returning the blood flow to normal and thereby ensuring the body is getting the right amount of oxygen. It is the third in its class (the first of these, the groundbreaking Tracleer, which came onto the market in 2003, was also developed by Actelion) and displays several characteristics that set it apart from its predecessors.
The drug is convenient for patients as it only needs to be taken once a day orally, its side effect profile is excellent and it has been developed to be more specific in the action it carries out than previous drugs. "Basically, it's got all the characteristics of a drug that a patient would want to take," says Dr Luke Howard, consultant respiratory physician at Hammersmith Hospital, Imperial College Healthcare NHS Trust in London.
"There may be thousands of people living with the condition undiagnosed."
But, really, this is beside the point. What Howard is most excited about is the fact that, because Opsumit was tested in the landmark SERAPHIN study, the longest and largest clinical trial to date in PAH, he has reassurance that the drug is going to have a significant impact on patients' lives in the long term.
"It's not a drug that's suddenly going to revolutionise PAH; it's another step in the right direction," he notes. "It's been designed to fulfil a function and it does that very well, but the really interesting thing about it is the research strategy."
The goal of the SERAPHIN study was to look specifically at the drug's impact on the combined morbidity and mortality for patients – something that had never been done before for any PAH treatment. And, emphasises Bhattacherjee, the results were significant.
"The results exceeded expectations," he remarks. "Obviously, as a company we were delighted and very proud to have developed Opsumit, but more importantly, patients who have this disease now know that there is a product on the market that is proven to reduce overall morbidity and mortality combined."
It is perhaps equally important that the SERAPHIN study produced evidence that Opsumit also works in combination with other drugs, adds Howard. "That's one of the things that really marks Opsumit apart from many other drugs – it's got solid combination evidence," he says. "With this data, it really is a leap into a new era of treatment."
Modern drug therapy is not enough
It is difficult to predict just how many PAH patients in England will be affected by the approval of Opsumit, admits Bhattacherjee, particularly because there may be thousands of people living with the condition undiagnosed.
---
---
As attitudes towards medical marijuana soften, new investigational paths are opening up.
---
"At the moment there are 3,000 to 3,500 people in England that have been diagnosed with PAH, but there could be as many as 2,000 to 3,000 more that have not been diagnosed," he explains.
In combination with actually developing and testing the drug, Actelion has therefore given significant support to educational initiatives that aim to ensure PAH sufferers are diagnosed as quickly as possible.
Unfortunately, this is easier said than done. Because it is an orphan disease, PAH comes under 'specialised services' within the UK's NHS, and there are currently only seven dedicated PAH centres across the country.
The process for a PAH sufferer therefore tends to go something like this: They visit a GP, who will refer the patient to a lung or respiratory centre (through no fault of their own, a GP is unlikely to be able to diagnose PAH specifically simply because it is so rare, says Bhattacherjee); they visit a specialist lung or respiratory centre, where the physicians are much more likely to recognise the symptoms of PAH and refer the patient to one of the seven specialist PAH centres; finally, the patient receives the correct treatment.
"A lot of what the specialist centres do, and we support them in this, is to produce educational materials and carry out educational events to help the earlier diagnosis and referral of PAH patients to the specialist centres," Bhattacherjee says. "The sooner the patient gets diagnosed, the better."
Combine this with the approval of Opsumit and the outlook for the thousands of PAH patients in the UK is now better than ever.