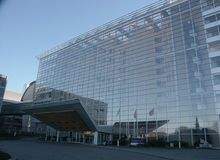 AstraZeneca" class="fullwidth" src="https://www.pharmaceutical-technology.com/wp-content/uploads/image-digitalinsightresearch/Archive/Astrahassleentrance_Top.jpg" />
AstraZeneca received approval from the US Food and Drug Administration (FDA) for a new indication of its Faslodex (fulvestrant) to treat women with hormone receptor-positive (HR+), human epidermal growth factor receptor 2 negative (HER2-) advanced or metastatic breast cancer (MBC).
The approval expands use of Faslodex to include use in combination with Ibrance (palbociclib).
Fulvestrant is indicated in the European Union to treat postmenopausal women with oestrogen receptor positive, locally advanced or MBC for disease relapse on or after adjuvant anti-oestrogen therapy, or disease progression on therapy with an anti-oestrogen.
Teva Pharmaceutical Industries acquired a Mexican pharmaceutical manufacturing and distribution company Representaciones e Investigaciones Médicas (Rimsa) for $2.3bn.
Plans for the deal were announced in October last year, when both parties reached definitive agreements.
The acquisition is in line with Teva's strategy to increase its presence in key emerging markets and it offers a platform for the Israeli pharmaceutical company to grow in Mexico.
British-based respiratory drug specialist Vectura and Skyepharma executed a merger agreement whereby the former will acquire the latter for nearly £441.3m.
The merger will create a speciality pharmaceutical company that will focus on developing pharmaceutical therapies for airways diseases.
Vectura currently develops inhaled products to address unmet needs in airways diseases, while Skyepharma develops inhalation and oral modified release pharmaceutical products.
The European Commission is providing €10m in funding to support research on the Zika virus, which is currently found to be active in several parts of Latin America.
In November last year, preliminary evidence emerged that the Zika virus may be associated with an observed increase in neurological complications in adults, and severe congenital brain malformations in newborns born to mothers infected during pregnancy.
The projects will prove that the Zika virus is responsible for the cause of severe brain malformations reported in newborn children and other neurological complications, and would be eligible to receive the funding.
GlaxoSmithKline (GSK) received approval from the Japanese Ministry of Health, Labour and Welfare (MHLW) for Nucala (mepolizumab) to treat bronchial asthma patients in the country.
The move follows the approval of Nucala in the US, which was a world first for an anti-interleukin-5 (IL-5) treatment.
Nucala is a monoclonal antibody that stops IL-5 from binding to its receptor on the surface of eosinophils. The inhibition of IL-5 binding reduces blood, tissue and sputum eosinophil levels.
Researchers from the University of Southern California (USC) in the US and Nasa's Jet Propulsion Laboratory (JPL) collaborated to launch fungi into space to potentially develop new medicine for use both in space and on earth.
The team of researchers will send specimens of Aspergillus nidulans fungus to the International Space Station (ISS) aboard the SpaceX CRS-8 mission.
The decision to send fungi into space is based on the findings of a study, in which molecules from Aspergillus nidulans were found to have the potential for use in anti-cancer, anti-fungal and Alzheimer's disease studies.
Sun Pharma agreed to acquire 14 established prescription brands from Novartis in Japan in a deal valued at $293m.
As per the agreed terms, the company will acquire products that have combined annualised revenues of around $160m. These products are said to address medical conditions across several therapeutic areas.
With this acquisition, Sun Pharma will enter the Japanese pharmaceutical market estimated at $73bn, accounting for more than 7% of the $1tn global pharmaceutical market.
The European Commission gave its approval for the acquisition of Allergan Generics by Israeli pharmaceutical firm Teva, subject to certain conditions.
The Commission asked the companies to divest certain assets as it is concerned that the proposed $40.5bn deal would reduce competition in the generic pharmaceuticals market.
The companies decided to divest marketed molecules and molecules in development pipeline giving rise to competition concerns in 24 European Economic Area (EEA) countries.