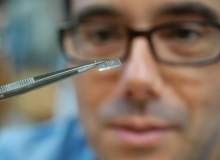 It is estimated that 12 billion injections and 100 million childhood vaccinations are given worldwide annually. Clearly, the use of injections in healthcare cannot be averted, but despite their significance, injections are one reason that some individuals avoid healthcare altogether.
Trypanophobia, or the fear of needles, is a formal medical condition affecting approximately 10% of the world population. Nevertheless, and despite the pain inherent in using the techniques, transcutaneous or transdermal injections and intravenous injections are still widely used methods of drug delivery.
Coming to the aid of trypanophobics, scientists such as Dr Boris Stoeber, the Canada Research Chair in Microfluidics and Sensing Technology at the University of British Columbia, are working on pain-free approaches to drug injections. Stoeber's idea stemmed from a suggestion made by his professor, Dr Dorian Liepmann, at the University of California. They initially envisioned the development of small prefilled syringes with vaccines for use in remote places. Another consideration was the development of syringes that would allow self-administration of drugs by means of pressing them onto the skin. This would make the syringes easier to use, thereby removing the need for trained healthcare personnel to administer vaccines or drugs.
Microneedle arrays for pain-free injections
Over time, Stoeber modified his device and began using an array of microneedles with a reservoir of medication contained underneath. This enabled pain-free injections that could be self-administered. Although they would not replace existing hypodermic needles, he says "microneedles have the potential to enable new types of medical treatment."
---
---
The future of cancer research lies not only in the lab but at the fingertips of the masses.
---
The ideal microneedles are fabricated to have a length of 400 micrometers; and the eight-millimetre-squared patch would consist of about 100 microneedles. However, these parameters can be altered for various purposes in different clinical applications. The needles were initially made using silicon, but Iman Mansoor, one of Stoeber's students, has recently suggested replacing the silicon with an electroplated metal coating. This would lower the cost to ten cents for each patch.
These microneedle patches puncture only the stratum corneum, the outermost layer of the skin, reducing the chances of pain or infection as fine nerve endings and capillaries are located deeper. Due to the extremely small size of the needles, you would simply feel pressure on the skin rather than the pain associated with traditional injections. Additionally, with nearly invisible micro-sized needles, trypanophobics would never 'see' a needle when being injected.
Benefits for healthcare
Microneedles could also be used by diabetics who must frequently check their blood glucose levels by using relatively painful finger-pricking devices. California-based start-up ArKal has already put microneedles to use in part of its continuous glucose monitoring system, which compares favourably to other currently available devices.
"We also think microneedles are a good application for vaccines," says Stoeber. The arrays could be easily distributed and used to administer vaccines in remote regions with fewer trained healthcare personnel. As the arrays could be prefilled with the appropriate drug dosages, overdoses would be an issue of the past. One salient observation resulting from research is that some drugs are more effective when they are injected into the skin rather than into the bloodstream.
"Trypanophobia, or the fear of needles, is a formal medical condition affecting approximately ten percent of the world population."
The microneedle patches, however, are limited by the amount of drug they can administer. which means they may not be an effective solution in emergencies such as acute allergic reactions requiring the injection of epinephrine. Moreover, as the patches cannot deliver the drug directly into the bloodstream, it would only be logical to use it for drugs that could be absorbed through the skin.
Continued research to improve efficacy
Despite the limited setbacks, many potential clinical uses for microneedles have been suggested. Recently Yeu-Chun Kim, assistant professor at the Georgia Institute of Technology in the US, and colleagues have optimised microneedle patches coated with influenza vaccine to attain better vaccine efficacy by retaining the antigen activity. The researchers achieved this by using carboxymethylcellulose, a derivate of cellulose, which increased the viscosity of the coated influenza vaccine formulation and significantly reduced the loss of vaccine activity.
A group in Japan, headed by Zhihua Yang of the National Institute of Advanced Industrial Science and Technology (AIST), directly fabricated electrodes over a microneedle that was able to detect glucose. This technology is promising as each needle in the array is equipped with the ability to detect glucose, making the array an efficient sensor.
Microneedle arrays have also been fabricated using relatively inexpensive materials such as chitin, a non-toxic substance isolated from crustacean shells. These chitin arrays have been successfully used to administer purified protein derivative for an easy-to-use tuberculosis skin test.
Taking the concept of microneedles yet further, Jeong Lee and colleagues at the Georgia Institute of Technology presented a design that encapsulates drugs within microneedles that dissolve within the skin after being injected. Unlike Stoeber's metal-coated silicon needles, these dissolvable needles are made from carboxymethylcellulose and amylopectin (a molecule of glucose found in plants), resulting in a viscous hydrogel. This innovative design would not leave behind any biohazardous or sharp medical wastes.
---
---
Cancer Research UK wants to tap into the power of the crowd with a pioneering new mobile game that feeds genetic data back to researchers.
---
The future of pain-free injections
"Our multidisciplinary team has planned a lot of work to demonstrate the usefulness of microneedles in several application areas," says Stoeber. His team has been collaborating with various other groups in clinical trials, during one of which the microneedle arrays were used to administer doses of vasodilators. This effectively increased blood flow in the subjects, showing that the method of delivery was successful.
Having succeeded in showing the clinical effectiveness of the microneedles, Stoeber and his colleagues have also managed to overcome the hurdle of scaling up the fabrication process, reducing the cost of crafting microneedle arrays. It is now anticipated that these devices will be affordable and available for commercial use by 2018.