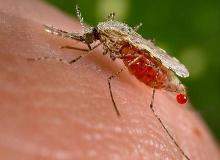 The UK Government announced a £1bn scheme called the Ross Fund, aimed at supporting the global fight against malaria and other infectious diseases.
Backed by the Bill and Melinda Gates Foundation, the Ross Fund will also focus on diseases with epidemic potential such as Ebola.
The fund is named after Sir Ronald Ross who became the UK's first Nobel Prize winner for his discovery that malaria is transmitted by mosquitoes.
Baxalta received marketing approval from the European Commission for its Obizur (Antihaemophilic Factor [ecombinant], Porcine Sequence) to treat adult patients with haemophilia A.
Acquired haemophilia A is a rare haemorrhagic disease where auto-antibodies against coagulation factor VIII, FVIII-neutralising antibodies (inhibitors), weaken the inherent coagulation system.
The approval was granted for Obizur to treat bleeding episodes in adult patients with acquired haemophilia caused by antibodies to Factor VIII (FVIII), a very rare and potentially life-threatening acute bleeding disorder.
US drug manufacturer Pfizer signed an agreement to buy Irish Botox maker Allergan for $160bn, which will create the world's largest pharmaceutical company.
Allergan's parent firm will be the parent of the combined business and its shareholders will receive 11.3 shares of the new firm for each of their existing shares.
The deal will see Pfizer stockholders get one share of the new company for each of their shares or a portion of payment in cash from $6bn to $12bn.
The US Food and Drug Administration (FDA) issued a complete response letter for Bristol-Myers Squibb's (BMS's) supplemental biologics licence application (sBLA) for Opdivo (nivolumab) as a single agent to treat previously untreated patients, specifically those with BRAF V600 mutation positive unresectable or metastatic melanoma.
In the letter, the FDA requested the company to provide additional data in the BRAF mutated patient population.
The company said it is working to evaluate the request outlined by the FDA and will continue to work closely with the agency to determine whether additional data, currently under review, adequately addresses these comments.
Boehringer Ingelheim received approval from the European Commission for Praxbind (idarucizumab), a treatment designed to quickly reverse the anticoagulant effects of Pradaxa (dabigatran etexilate) in cases of emergency surgery or in situations of uncontrolled bleeding.
Idarucizumab is the first specific reversal agent for a non-vitamin K antagonist oral anticoagulant (NOAC) to receive European approval.
Approval follows the positive opinion issued by the European Medicines Agency's Committee for Medicinal Products for Human Use for idarucizumab in September.
Israel-based Teva Pharmaceutical Industries and University College London (UCL) started a brain-imaging study (PADMMA) to discover new treatments for neurodegenerative diseases such as Alzheimer's.
The study will combine brain imaging with key biomarkers to build a better understanding of the role of inflammation in neurodegenerative disease and potentially a new approach in its early diagnosis and treatment.
The two-year pilot longitudinal study in Alzheimer's disease of central markers of microglial activation (PADMMA) study will be carried out in 20 patients and use PET imaging to look at microglia cells in the central nervous system (CNS) in people with certain symptoms of neurodegenerative disease.
UK-based specialty pharma firm Sinclair IS Pharma agreed to sell its non-aesthetics business to Alliance Pharma for £132m.
According to Sinclair IS Pharma, the sale of this business creates an aesthetics firm, with high gross margins recorded in the full year 2015.
Currently, the company has pro-forma net cash of £82m, which will be used to invest in future growth opportunities and cover milestone payments from acquisitions.
Roche subsidiary Genentech exercised its right to participate in the financial arrangements relating to Novartis's rights in its deal with Ophthotech for Fovista (pegpleranib), designed to treat wet age-related macular degeneration (wet AMD).
The option stems from a pre-existing deal between Roche and Novartis.
According to Ophthotech, its agreement with Novartis signed in May last year remains in effect. Currently, Ophthotech retains exclusive rights to Fovista in the US, while Novartis owns exclusive rights of the product outside the country.