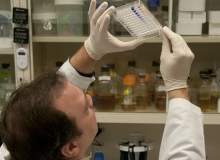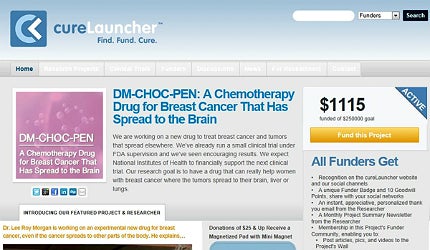 As the global economic slump continues to clamp down on official sources of financial backing, a new funding model has emerged that seeks to sidestep the limitations of traditional channels and harness the collective power of thousands of ordinary donors.
Driven by the ability to easily donate relatively small amounts of money through websites, 'crowdfunding' has become increasingly popular as a means to fund any number of activities, from bands funding their latest albums through their fans to entrepreneurs raising the cash needed to develop their products.
Leading crowdfunding platform Kickstarter has played host to more than £380m in crowdfunded pledges since its launch in April 2009, and the website has now spread from the US to the UK.
"Donors select exactly where their money is used, and 91% of that goes directly to the research."
Furthermore, the JOBS (Jumpstart Our Business Startups) Act, signed into US law by President Barack Obama in April 2012, has loosened restrictions on crowdfunding methods by for-profit companies.
So far, crowdfunding's niche has primarily been in funding creative projects like music, films and video games, where the passion of fans can prompt huge surges in mass donation to bankroll new projects. But as this grass-roots funding method gains traction, other options are being explored. In an era of shrinking government budgets and major funding cuts, could crowdfunding unlock a new source of financial support for early-stage medical research?
How well do you really know your competitors?
Access the most comprehensive Company Profiles on the market, powered by GlobalData. Save hours of research. Gain competitive edge.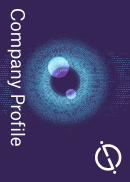 Company Profile – free sample
Thank you!
Your download email will arrive shortly
Not ready to buy yet? Download a free sample
We are confident about the unique quality of our Company Profiles. However, we want you to make the most beneficial decision for your business, so we offer a free sample that you can download by submitting the below form
By GlobalData
Although Kickstarter explicitly excludes health and medical technologies from its fundable projects, other companies are now beginning to catch on. MedStartr, a new crowdfunding platform launched this summer, got the ball rolling with a site dedicated to crowdfunding healthcare-related projects such as physician videoconferencing, cancer support programmes and therapeutic exercise equipment. But another start-up has taken the concept a step further.
CureLauncher: crowdfunding new treatments
CureLauncher, a website dedicated to crowdfunding early-stage clinical development as well as connecting patients and their families to the cutting edge of medical research, went live in October 2012. The site aims to provide alternative funding for important research projects and clinical trials in the US through large numbers of small contributions, which could be used as primary funding or as bridge funding so projects can continue to develop their processes while they wait for federal grants.
The site's founder and president Stephen J. Goldner, a forensic toxicologist and lawyer who has spent 40 years working with the US Food and Drug Administration (FDA) and the National Institutes of Health (NIH) to bring treatments and medical devices to market, was inspired to start the company as a response to two major issues.
"Of all the people at FDA who I interface with, their reply is usually just short of 'Dear god, thank you'."
The first is America's impending 'fiscal cliff', which has serious ramifications for future clinical research funding. The NIH is likely to be hit by $2.5bn in funding cuts for 2013, effectively wiping out more than 2,000 research grants from its budget, so alternative sources of funding are becoming more and more necessary.
"I'm the FDA consultant to the National Institutes of Health here in the United States," he says. "I saw that one of our clients after another, hundreds of them, weren't able to obtain funding, and we really wanted to help them. These are wonderful, wonderful cures that are going by the wayside."
Goldner's second motivation for starting CureLauncher is more personal, prompted by a chance encounter at a funeral. "Someone came up to me from the family with his son, who's a healthy, happy 29 year-old fellow but who has a disease and he's going to be blind in ten years," he says.
"I whipped out my phone and showed him about clinical trials, and within ten seconds I told him about three clinical trials he could get into. He told me, 'I would give the money directly to the researchers, if I just knew how to find them and who they were.'"
With the idea to create an online space to fund research and connect the American public to in-development treatments, Goldner then teamed up with product development and innovation specialist David Fuehrer, who has launched products for the likes of Pfizer, GE and Dow Chemical, to make the concept a reality.
"As a two-time cancer survivor myself – I've gone through testicular cancer twice now – I know the feeling of bringing new products to market, as well as that feeling of, 'Oh my god, I'm sick – what do I do now and how do I start the process of curing myself?'" says Fuehrer, now CureLauncher's vice president.
"So I told Steve that this is the joining of both my personal and professional lives – I had to be involved. With the amount of money that's being cut from new drug and device research, there needs to be a new solution to continue this valuable research. Our vision is to make CureLauncher synonymous with funding new cures.
"We really view what we're doing as increasing science flow and giving people direct engagement in the rate of progress of science. So they get to see exactly where their money is going, they get to watch on CureLauncher how the research is developing, and that window has not really existed before, ever."
Making CureLauncher work
Incredibly, CureLauncher's October launch came just three months after Goldner originally came up with his idea. That seems an astonishingly short lead-in time for a project that aims to fundamentally alter clinical funding and the relationship between researchers and the general public. But even at its outset, CureLauncher has been designed with a solid, scalable for-profit business model.
"Typically with traditional charitable donations, 60-70% of the money goes somewhere, but you don't know exactly where it's used," says Fuehrer. "On CureLauncher, the donors select exactly where their money is being used, and then 91% of that money goes directly to the research." The remaining money goes towards transaction costs (three percent) and to CureLauncher itself (six percent).
Fuehrer is also keen to allay any fears about democratising a traditionally ponderous and bureaucratic funding process. The company's decision to work only with NIH-level projects is a safety net against flawed or hopeless research.
"The reason we're working with NIH-calibre researchers is because they've already been government-vetted," Fuehrer says. "These researchers have gotten Phase I and sometimes Phase II government funding, so they've already gone through a vetting round to prove it's real science. From that point, once we've already pre-selected companies that are at that level, then Steve and our team have assembled a medical expert review board. We want to make sure the projects that get on to the site have passed through our own review board."
"These are wonderful, wonderful cures that are going by the wayside."
The site also lists hundreds of enrolling clinical trials and explains these trials in simple language, with the hope that more people will gain access to potentially life-saving early treatments. "We've got 500 enrolling breast cancer trials on our website right now," says Fuehrer.
"Anybody can log in, so people can find clinical trials and connect to them through CureLauncher. That way, we help the clinical trials increase enrolment, which is a big part of the process, as well as connect people much more easily to clinical trials to help them find treatment and cures."
Despite CureLauncher's potentially disruptive effect on the research funding landscape, Goldner has found that his contacts in government institutions have been overwhelmingly positive. "Of all the people at FDA who I interface with regularly, as well as NIH, their reply is usually something just short of 'Dear god, thank you'", he says.
"The NIH in particular realises that it takes two years from the time [researchers] make an application for a grant before they get funded. That is two years wasted out of patent life, and two years of people going on suffering. [CureLauncher] puts the money in the hands of the researchers in 30-45 days."
Building a community
Naturally, the crowdfunding model only really comes into its own when it taps into a large community of funders, allowing for exponential growth as the audience of active contributors expands. To this end, CureLauncher is making a major push to increase its visibility through SEO marketing and social media, as well as setting itself up as a hub for people to connect with leading research.
The website has discussion boards, funder profiles and an online concierge service to encourage visitors to engage with each other, and donors can get in touch with the research teams they are helping to fund to get a better idea of the progress being made. For Goldner, the potential disadvantage of tying up researchers in correspondence is far outweighed by the broader advantages.
"Where [researchers] are really bogged down is spending months either writing grants or travelling around, searching for funds," he says.
"It takes them out of the laboratory, it's incredibly disruptive to their lives, and frankly, they don't do it well. They don't want to be there. So the idea that they could actually stay in their lab or their medical clinic, continue to do their work and just have these issues presented before them – they have described it as a joyous liberation that they're looking forward to."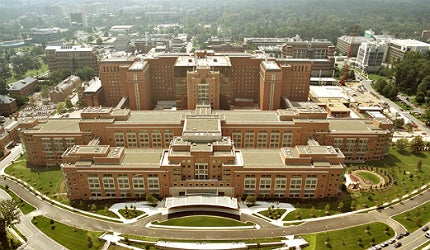 With impending cuts to the National Institutes of Health, crowdfunding could be a much-needed new source of backing
---
CureLauncher's initial funding thrust is placing a heavy emphasis on cancer research – the site's current featured project is Dekk-Tec's research into a new treatment for metastatic breast cancer, led by the company's CEO, Dr Lee Roy Morgan. On top of the need for more cancer research funding in light of upcoming cuts, this emphasis also aims to engage the millions of Americans who have been affected by the disease.
"We felt that [cancer] is the place we need to start immediately and really get it right so that we can then spread into illnesses and other chronic diseases," says Fuehrer. "But we really have to get cancer research right first, because it affects so many people and we want to connect with those folks."
With its basic business model and objectives set, CureLauncher must now start the long task of building awareness and cultivating a thriving community to capitalise on its grand vision. Goldner and Fuehrer are looking to engage with investors to expand the business further, even outside the US.
"I look at this as a global problem," says Goldner. "Many of these NIH research projects have branches everywhere around the world, and we are happy to consider great scientists from the United Kingdom and Germany or anywhere else at all, and add them to the roster, because they are all looking to help people. This will actually bring, I think, much greater funding to researchers everywhere, and immediately, even as they watch each of their own governments ratchet down on the funding that's available. So I think we are a global entity, and this is just the beginning."
---
Related content
---
President Obama has been carried back into the Oval Office on another wave of optimism, but is there reason to doubt his promise to tackle the global AIDS epidemic?
As patents expire, big pharmaceutical firms are lacking economic impetus to provide a constant supply of drugs to the market. But, a lower margin in generic manufacturing also means the production of off-patent drugs is becoming more difficult.
Widespread drug shortages have been rippling through the United States for more than a decade, but the driest of the drug spells has been seen during the past two years.
---