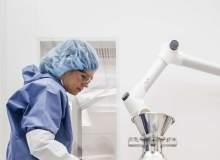 By most metrics, the UK's pharmaceutical sector is thriving. Employing around 73,000 people directly in the UK, the sector remains one of the linchpins of British industry. It accounts for around a tenth of the country's manufacturing exports, and generates more value per employee than any comparable manufacturing industry, standing at £128,000 per head in 2013.
That said, while employment figures have remained largely stable in recent years, the numbers in highly skilled research and development roles fell from 32,000 to 23,000 between 2007 and 2013. What is more, as the global industry becomes more competitive, the UK is slipping down the rankings, falling from fifth or sixth between 2003 and 2007 to tenth place in 2013.
These statistics, from the trade body the Association of the British Pharmaceutical Industry (ABPI), tell a broadly encouraging story. But they suggest that a certain vigilance is needed if UK biopharma is to continue to attract the right talent and retain its importance on the world stage.
Bucking the trend
Sue Rossiter, managing partner and European practice lead for DHR International's Global Life Sciences Practice, feels there are definite grounds for optimism.
"A lot of industry sectors have seen a general global slowdown, but actually the pharma and life sciences sectors overall have held up pretty well," she says. "It's a pretty resilient industry sector in a downturn, and our executive practice in life sciences grew through the recession. There are some challenges to the competitive nature of the British pharma industry, but it hasn't suffered anything like how many other industries have suffered."
"A lot of industry sectors have seen a general global slowdown, but actually the pharma and life sciences sectors overall have held up pretty well."
Rossiter has more than 20 years' experience in life sciences executive search, with particular expertise in board and senior executive level appointments for clients within the pharma and biotech sectors. Based in London, she works with clients around the world, which has allowed her to gain a wide-ranging insight into global trends.
"If you look historically at what the UK has contributed in terms of technology in biopharmaceuticals, it's huge, second only to the US in terms of the origination of compounds on the market," she says. "But we can't rest on our laurels and past successes. If you look at the global industry environment, we are increasingly part of a global pool of talent. Our talent will get pinched from outside if we're not careful to retain it and keep those people stimulated."
Bridging the gap
She feels this effort needs to start right from the earliest stages. The so-called STEM skills gap has been widely discussed, with a 2013 YouGov survey indicating that 59% of businesses and 79% of universities think there aren't enough skilled candidates leaving education to meet the industry's requirements. Additionally, 83% of employers and 89% of academics believe this gap needs to be bridged if the UK is to be competitive in the world economy.
Unfortunately, a more recent report by the Chartered Institute of Management Accountants (CIMA) suggested this gap is actually widening, labeling UK school leavers the worst in Europe for essential skills.
For the pharma industry, a potential shortage of recruits is an abiding concern. With only a certain number of STEM-specialised applicants to go round, pharma companies are competing for employees not only amongst themselves, but also with other industry sectors. From this premise, two conclusions become evident: more talent is sorely needed, and the pharmaceutical industry needs to do more to promote its opportunities within schools.
At the ABPI, efforts are underway to create an environment to support and develop the UK's STEM skills base, such as by establishing a Science Industry Partnership to hone emerging science talent, and by providing resources for schools. Rossiter, however, feels that the most concerted efforts need to come right from the top.
"If we don't have the right talent to progress our roles in the industry, that will just encourage that expertise and the investment to go elsewhere."
"There are lots of statistics about the rise of Asia in terms of their investments in the STEM subjects, and I think we need to take clear account of that in terms of education policy," she says. "If we don't have the right talent to progress our roles in the industry, that will just encourage that expertise and the investment to go elsewhere."
Looking outside
It's also important to ensure that pharma companies offer their applicants a suitably competitive proposition. After all, UK pharma companies are not confined to UK-educated applicants; the industry is becoming increasingly mobile, and should a company employ the right strategies it will have scope to hire recruits from all over the world.
"Companies need to make sure they are competitive internationally for talent, which means having competitive remuneration packages and being flexible in terms of how to hire and appoint people," says Rossiter. "I think the more flexibility companies can build into their work patterns, the more they will be able to attract and retain talent."
For applicants at the highest echelons of the industry (the level at which Rossiter helps recruit), the most important factor is not so much STEM talent as leadership and management capabilities, with industry experience mattering less than than soft skills. In fact, an applicant from outside pharmaceuticals may well be able to stimulate new thinking and keep the industry as dynamic as it needs to be.
As Rossiter sees it, the industry needs to remain open-minded. This means working to hone UK talent for sure, but also doing all it can to hire the best people no matter what their background or country of origin.
"More so now than at any time in the past our business as an executive search firm is international so we very rarely will only look in the UK for roles based in the UK or indeed anywhere else – it's very much a global talent pool," she says. "And I think that tells us something about the changing shape of the industry. It's important that the UK can compete in the global market for the best people in order to retain and develop its position in the biopharma industry across the world."