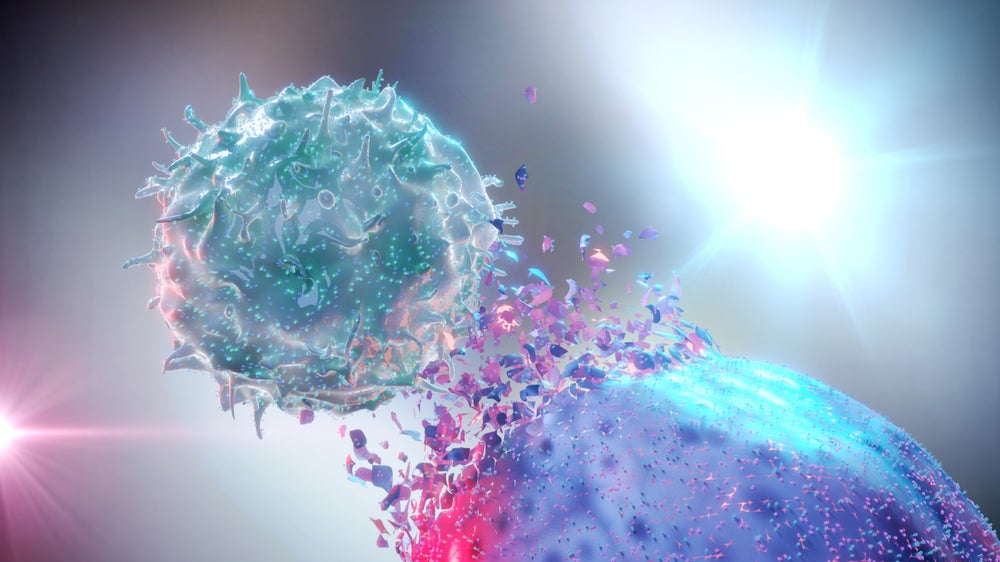 Immunotherapy, a treatment method that uses the patient's own immune system to fight cancer cells, is used widely to combat a range of tumour types.
There are several forms of immunotherapy for cancer, and one particularly promising approach involves using natural killer (NK) cells, lymphocytes of the innate immune system that are effective at identifying and killing tumour cells. This is where France-based biotech Innate Pharma comes in.
As the company's name suggests, Innate aims to "harness the function of the cells of the innate immune system, in order to launch protective immune responses against cancer" – and it has developed an innovative technology platform to achieve this.
The advantages of NK cells
Eric Vivier, a professor of immunology and Innate's chief scientific officer, says when it comes to using the body's natural defences against cancer, NK cells have the edge.
"We know that T cells can indeed control cancer, but we also know – and this is where the NK cells come in – that T cells are not autonomous in what they do," he explains.
Unlike the T cell, a lymphocyte commonly used as the basis for cancer immunotherapy, NK cells can target and kill cancer without the need for priming or prior activation.
"We focused on natural killer cells for a number of reasons," Vivier says. "First of all, NK cells are known, since their discovery 40-plus years ago, for being able to recognise a variety of tumour cells, irrespective of the tumour type, which is very important.
"Second is that NK cells, once they recognise these tumour cells, can kill them, which is of obvious interest. And thirdly, they can also produce, in situ, the cocktail of cytokines and chemokines that are so important to contributing to the long chain of multicellular immune response against cancer.
"So, the interest in harnessing the function of NK cells is actually to recapitulate or to initiate a full response against tumour cells."
The ANKET platform
ANKET (Antibody-based NK cell Engager Therapeutics) is Innate's proprietary technology for developing a new class of molecules, built from fragments of monoclonal antibodies, that induce synthetic immunity against certain types of cancers.
A key feature of ANKET is that it binds to NKp46, a major NK cell-activating receptor that plays a significant role in the eradication of tumour cells.
The company's first ANKET innovation was a single, tri-specific molecule that engages with NKp46, CD16 (another activating receptor) and a tumour antigen, providing "an unprecedented activation of NK cells in terms of cytotoxicity, but also in terms of cytokine and chemokine secretion", Vivier says.
Building on this technology is Innate's latest development with the ANKET platform: a tetra-specific molecule that can anchor itself not just to NKp46, CD16 and a tumour antigen, but also a cytokine-signalling molecule known as IL-2 variant.
In preclinical studies, tetra-specific ANKET demonstrated in vitro the ability to induce human NK cell proliferation, cytokine production and cytolytic activity against cancer cells expressing the targeted antigen. The molecule has also been shown to completely eradicate tumours in animal models.
Vivier, who has been working on NK cells for over two decades, says the ANKET molecules' efficacy in controlling tumour growth is unlike anything he has ever seen.
"When mice are treated with the tetra-specific ANKET, there is a total control of the tumour," he says. "We have seen that in models of solid tumours, in models of lung metastasis, and in immunodeficient mice, as well as in immunocompetent mice – so it's really exciting to us."
Big pharma endorses ANKET
It's not just Innate that believes its technology holds promise for the future of immunotherapy – pharma giants Sanofi and AstraZeneca have both expressed interest in developing novel antibodies using the ANKET platform.
The company's deal with Sanofi, announced in January, will see the partners develop ANKET antibodies for two currently undisclosed tumour targets.
Under an multi-term agreement between Innate and AstraZeneca, the latter has full rights to Innate's anti-NKG2A antibody monalizumab. AstraZeneca also has an option to exclusively license four pre-clinical molecules, including one multi-specific antibody using the ANKET platform, to advance them towards the clinic and evaluate them in different indications and therapeutic combinations.
"It shows that we are not the only ones to be excited about the efficacy of this platform," Vivier says.