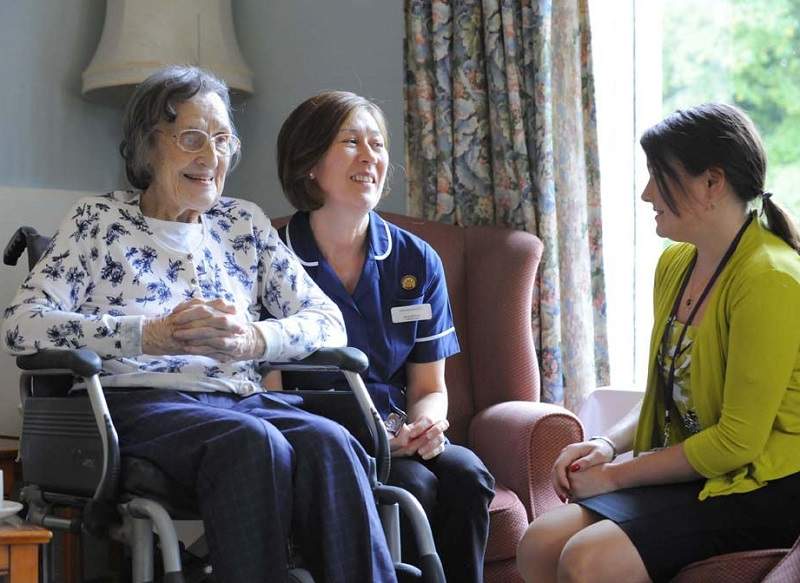 Nursing homes accounted for 40% of the US Covid-related mortalities towards the end of August, highlighting the urgent need to cut SARS-CoV-2 transmission routes in these facilities. Direct connections between nursing homes bridges other clusters of homes, potentially importing or exporting SARS-CoV-2 infection across different subnetworks.
Frolian Ederer
Frolian Ederer, an economist, re-tweeted on how nursing home workers shifting across facilities were forming a Covid transmission network according to the Proceedings of the National Academy of Sciences (PNAS) of the United States of America, a scientific journal.
Experts suggest that even in non-pandemic times, understaffing at long-term care facilities and nursing homes leads to poor services and regulatory violations. As a result, care facilities rely on staffing agencies to employ nurses and nurse aides on an on-call basis. This, as a result, leads to some of the cross movement of workers between facilities, the paper noted.
Researchers found that a major challenge of nursing homes was that every connection was a possible link to other connections and to the SARS-CoV2 transmission. For instance, the Alabama subnetwork reported eight Covid cases among its residents and 30 confirmed or suspected coronavirus cases among its staff.
This facility is directly connected to another nursing home in Alabama, which reported 68 residents and 48 staff members to have contracted the Covid-19 infection. Again, both of these facilities are connected to other nursing homes.
My paper with @MKeithChen and Elisa Long on nursing home workers moving across facilities & forming a COVID transmission network, in @PNASNews. A lot of workers in this industry are employed by staffing agencies, leading to some of the cross-movement. 1/3https://t.co/7yFObgnlri

— Judy Chevalier (@judy_chevalier) December 15, 2020
Konstantina Beleli
Konstantina Beleli, an economist and journalist, re-tweeted a CNBC article on how the Covid relief bill will cushion 19 million Americans against unemployment. The Bipartisan Covid-19 Emergency Relief Act of 2020 will provide extra benefits to the long-term unemployed, and to some self-employed and gig workers, the article detailed.
According to lawmakers and unemployment experts, these are temporary measures and more support maybe needed in the near future. The Covid relief bill, if passed, will be the first after the CARES Act in March, and is expected to extend expiring aid programmes and increase the weekly benefits by $300.
In another significant move, the bill allows states to waive off the requirement that self-employed, gig workers, contractors, and freelancers repay the benefits in certain situations, the article noted. The bill will also amend rules pertaining to workers who lost their jobs during the start of the pandemic and protect them against losing their benefits after an year.
Almost 19 million people are getting unemployment benefits. Here's how the Covid relief bill would help them https://t.co/9GVW0TMhKG

— CNBC (@CNBC) December 15, 2020
Peter Orszag
Peter Orszag, the CEO of Financial Advisory at Lazard and columnist, re-tweeted about approximately 300,000 people having died in the US because of the Covid-19 disease. He further adds that an additional 40,000 have died due to other complications and health care faulters. As hospitals turn their entire attention towards Covid-19 patients, their non-Covid utilisation rates have dropped swiftly.
Orszag also questions if that much healthcare utilisation just disappears without it harming health outcomes. He also adds that one theory did suggest that this could happen, as there are lots of inefficiencies in healthcare; therefore, it is possible to reduce spending without harming outcomes. However, it was not clear what kinds of spending to avert outside of Covid or the kinds to cut back on to eliminate harm.
In his views, Covid is hurting people in more ways than one, and therefore, a fiscal relief is important to support healthcare needs of low-income Americans and higher education in the long run.
Looking past the health crisis, he states that 2021 could be a strong economic year because of the built-up savings or the demand among US households. In addition, the arrival and distribution of vaccines could boost economic activities, thereby adding trillions to the economy.
300,000 people have died in the U.S. from Covid-19. But an estimated 40,000 more have died from other complications as health care falters.

Obama's former budget chief & Bloomberg Opinion columnist Peter Orszag looks past the damage https://t.co/utyO1otNQh pic.twitter.com/EpWSprUHpC

— Bloomberg TV (@BloombergTV) December 15, 2020