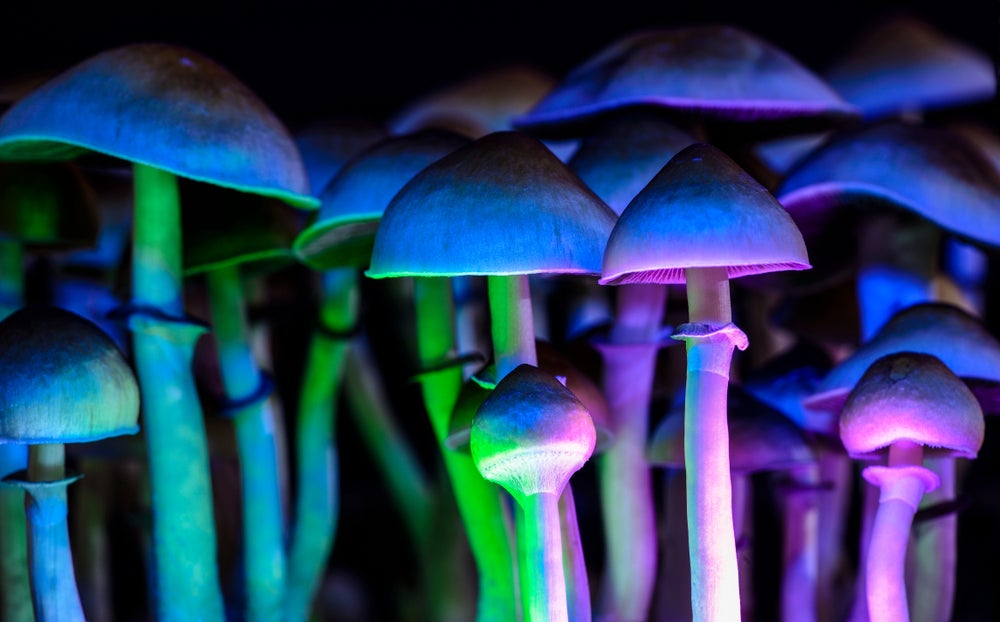 In 2018, countries around the world saw a dramatic change in attitudes towards medical cannabis. In the US, 33 states and the federal district of Washington, DC legalised the use of medical cannabis, and across the pond, the UK Government moved many cannabis products from Schedule 1 drugs to Schedule 2, allowing them to be prescribed by specialists to those who might benefit from its therapeutic potential in childhood epilepsy, amongst others.
This medical cannabis breakthrough was followed in early 2019 by the approval of esketamine nasal spray for supervised administration to adults suffering with treatment-resistant depression. This breakthrough marked the first major advance in the treatment of depression since the late 1980s.
In this context of more open-mindedness towards once stigmatised illegal and recreational drugs as medicines, another Schedule 1 drug, 'mind manifesting' psychedelics, such as psilocybin from magic mushrooms, LSD and mescaline, are also beginning to be greeted with optimism by the clinical community, regulators and investors.
These positive attitudes are due to how, like ketamine, psychedelics have the potential to be a game-changing treatment in mental health. Not only have mental health disorders proven incredibly challenging to treat, but the incidence and impact of these conditions is only growing; the world is undoubtedly living in an escalating mental health crisis.
To find out if their promise can become a reality, a healthy competitive landscape of pharma companies have begun working on developing and trialling psychedelic drugs, including Champignon Brands, ATAI Life Sciences, Field Trip Psychedelics and Eleusis.
Explaining the current renaissance
Despite being used as medicines for thousands of years, psychedelics didn't become commonplace in mainstream Western culture until the 1940s and 1950s. Initially this was focused in academic settings, but over time "psychedelics moved out of these settings into the hippie movement and counterculture," explains Field Trip Psychedelics founder and executive chairman Ronan Levy. This prompted political backlash and their designation as Schedule 1 products in the 1960s and 1970s.
This made research incredibly challenging, but non-profit organisations such as the nary Association for Psychedelic Studies (MAPS) and the Beckley Foundation were undeterred. Over the next three decades or so, scientists "amassed data that suggested there was something quite intriguing about psychedelics from a mental health perspective," notes ATAI chief scientific officer Srinivas Rao.
Due to the hard, clinically rigorous work of the non-profits and academic researchers, including Roland Griffiths at John Hopkins University and David Nutt at Imperial College London, by the 2000s and 2010s psychedelics had begun to experience a resurgence.
Data showing psychedelics' promise in mental health caught the eye of the FDA, leading the regulator to declare the psychedelic psilocybin as a possible breakthrough drug and giving it "unmatched credibility," explains Champignon CEO Dr Roger McIntyre. To date, two psilocybin-based drugs have received FDA breakthrough designation – ATAI's investment portfolio company COMPASS Pathways for treatment-resistant depression and the Usona Institute's for major depressive disorder. The European Medicines Agency has taken a similar approach to psychedelics in the past few years.
Regulators' embrace of psychedelics has encouraged investors to see "this is a mainstream legitimate pathway for drug discovery and development," notes McIntyre. Changing investor attitudes have also significantly supported pharma companies with their work on psychedelics.
Unmet needs in mental health
This renaissance of psychedelics also takes place in a context where "there is a recognition that existing therapies [for mental health] are limited," notes Rao. "They work well for a decent subset of the population, but there's a recognition that there's a subset that really do not benefit."
Levy explains this is linked to selective serotonin reuptake inhibitors (SSRIs) and other commonly use drugs having "high relapse rates; a lot of people stop using them shortly after they start because side effects tend to be severe."
Multiple different therapeutic approaches have been studied in depression and other mental health disorders with limited success. This has contributed to an existing and ongoing mental health crisis; research by World Health Organization published in late 2019 found that one in four people will be affected by a mental or neurological disorder in their lifetime, and one in 20 will be severe cases.
Eleusis' co-founder and chairman Shlomi Raz says that clinical trials to date have shown that, as well as having a rapid onset.
"Psychedelics have robust and long-lasting anti-depressant effects," notes Raz. There is also evidence that psychedelics could be effective in post-traumatic stress disorder (PTSD) and anxiety.
The reason behind their efficacy is many mental health conditions seem to be mediated by serotonin signalling and the serotonin 5-HT2A receptor is the primary target for psychedelics.
To add to this, they seem to be safe and well tolerated; they are not associated with the negative side effects of SSRIs or other anti-depressants currently in use. Rao concludes: "Psychedelics are bringing these long-term benefits and essentially no side effects; that's the promise."
Turning theory into reality
With all this research suggesting their clear promise in mental health, the world is probably within five years of seeing the first psychedelic therapy gain regulatory approval.
At the front of the pack is ATAI's investment portfolio company COMPASS. Its psilocybin drug COMP360 is being studied in Phase IIb studies for treatment-resistant depression; Rao notes results will read out at some point next year, at which point COMPASS will be need to go to the regulatory authorities to plan a Phase III trial – hence why it is unlikely to be approved until 2025.
Other companies under ATAI's umbrella are focusing on other psychedelics, such as ibogaine, which is believed to have promise against opioid use disorders – another health crisis in the US and Canada in particular.
Rao notes this programme is roughly a year behind COMP360, and therefore approval is likely in 2026 or 2027.
Coupling psychedelics with clinics
A few years behind COMPASS is McIntyre's Champignon – its programmes focus on the promise of psychedelics in depression, PTSD, and abuse disorders.
Currently, Champignon's candidates are in pre-clinical development, but McIntyre notes: "Our runway to take a product from early animal work to Phase II is two years, whereas the usual timeline is four to five years.
"At that point, the product will go to Phase III with a large pharma companies; those studies usually take two to three years."
The reason why Champignon can progress so rapidly into clinical trials is because it is doing research and development in its own clinic; the company's US and Canadian clinics are already being used to administer ketamine for mental health disorders in line with its regulatory approval requirements.
McIntyre believes that ketamine has set a precedent and example for how psychedelics will be implemented into medical ecosystems in a controlled, supervised manner, and that, because of its experience operating ketamine clinics, Champignon is well set up for safely delivering approved psychedelic therapies.
Psychedelic assisted psychotherapy with Field Trip
Levy believes that Field Trip sees psychedelics in a different, more integrated way to its competitors. The company believes that the efficacy of psychedelics really shines through when they are combined with psychotherapy.
"Psychedelics have an immediate antidepressant effect, so you get a lift that helps people break out their mental health conditions on a neurobiological experience, explains Levy. "But they also seem to open up a period of neuroplasticity where the parts of the brain that tend to resist ideas are subdued, which really opens people up to being more responsive to the effects of psychotherapy."
To realise this combined dream, Field Trip has clinics in Toronto, New York and Los Angeles, and is working on next generation psychedelic molecules in its newly launched drug discovery division.
Levy notes Field Trip is hoping to initiate Phase I clinical trials next year and then hopefully have a product on the market by 2026.
Beyond mental health: psychedelics in inflammation
The serotonin 5-HT2A receptor central to psychedelics' efficacy in mental health is also "linked to a variety of chronic inflammatory diseases, like asthma, cardiovascular disease and Alzheimer's," notes Raz.
Therefore, Eleusis wants to break what Raz calls a "false dichotomy" that limits the promise of psychedelics to mental health by minimising the psychoactive properties of psychedelics to evaluate them in inflammatory conditions.
Eleusis has three candidates in its pipeline. The most advanced is for diabetic retinopathy, an inflammatory condition, which is a leading cause of vision loss in adults. This topical psychedelic drug is currently in pre-clinical development, but Raz is hopeful it will enter Phase I trials by the end of 2022. Next in the pipeline is research on micro dosing LSD to prevent Alzheimer's, which will follow a year later in 2023.
Like Champignon, Eleusis is planning to "create a network infrastructure to allow a diverse ecosystem of providers to psychoactive drug therapy", once approved. Raz explains this will help to ensure psychedelic drugs are administered safely, effectively and cost-efficiently.