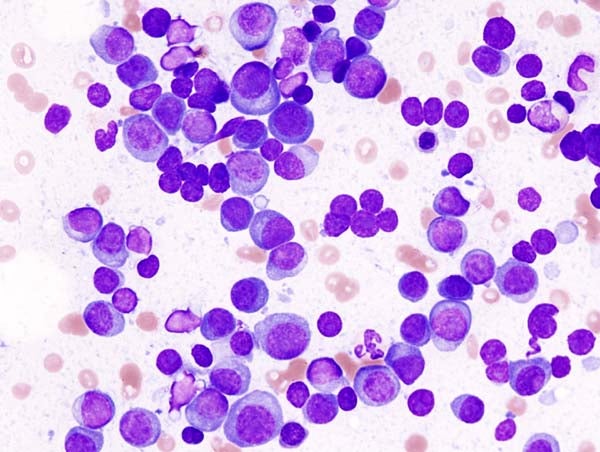 AbbVie has announced the US Food and Drug Administration (FDA) has placed a partial clinical hold on all clinical trials evaluating venetoclax for multiple myeloma.
Venetoclax is being jointly developed by AbbVie and Roche and commercialised in the US by both Roche subsidiary Genentech and AbbVie.
The decision to halt the trial follows a review of data from the Phase III Bellini trial, which revealed a higher proportion of deaths in the venetoclax arm, compared to the placebo group.
There were 41 deaths in out of a total 194 participants in the venetoclax group. Of these 13 were determined to be treatment emergent, which means they occurred less than 30 days after the last dose of the drug. Eight deaths were attributed by the investigator to an infection and more than 50% were in a refractory disease setting.
The placebo group had 11 deaths from the 97 participants, of which one was treatment emergent.
Incidences of severe and serious adverse events, as well as infection, were similar between the two arms.
The clinical hold means no new patients can be enrolled into the multiple myeloma clinical trials, but patients currently enrolled should consult their doctors about whether to continue with the therapy.
It will not affect the other indications venetoclax is approved for, which include chronic lymphocytic leukaemia or acute myeloid leukaemia. AbbVie noted its optimism that the drug was beneficial for these leukaemia patients.
AbbVie president and vice-chairman Michael Severino said: "We are committed to patient safety and are thoroughly analysing the results observed in the Bellini trial.
"We will continue working with the FDA and worldwide regulatory agencies to determine appropriate next steps for the multiple myeloma program.
"We will continue to further the research and development of venetoclax and other therapies with the potential to transform the standards of care in blood cancers."
The Bellini trial was a multi-centre, randomised, double-blind study of bortezomib and dexamethasone either in combination with venetoclax or placebo. The participants had relapsed or refractory multiple myeloma and had experienced between one and three lines of prior therapy.
Venetoclax met the primary and second endpoints in the trial. The drug group experienced a higher progression-free survival rate of 22.4 months, compared to 11.5 months for the placebo group, as well as statistically significant improvements in overall response rate of 82% and better partial response rate of 59%, compared to 68% and 36% respectively for the control arm.