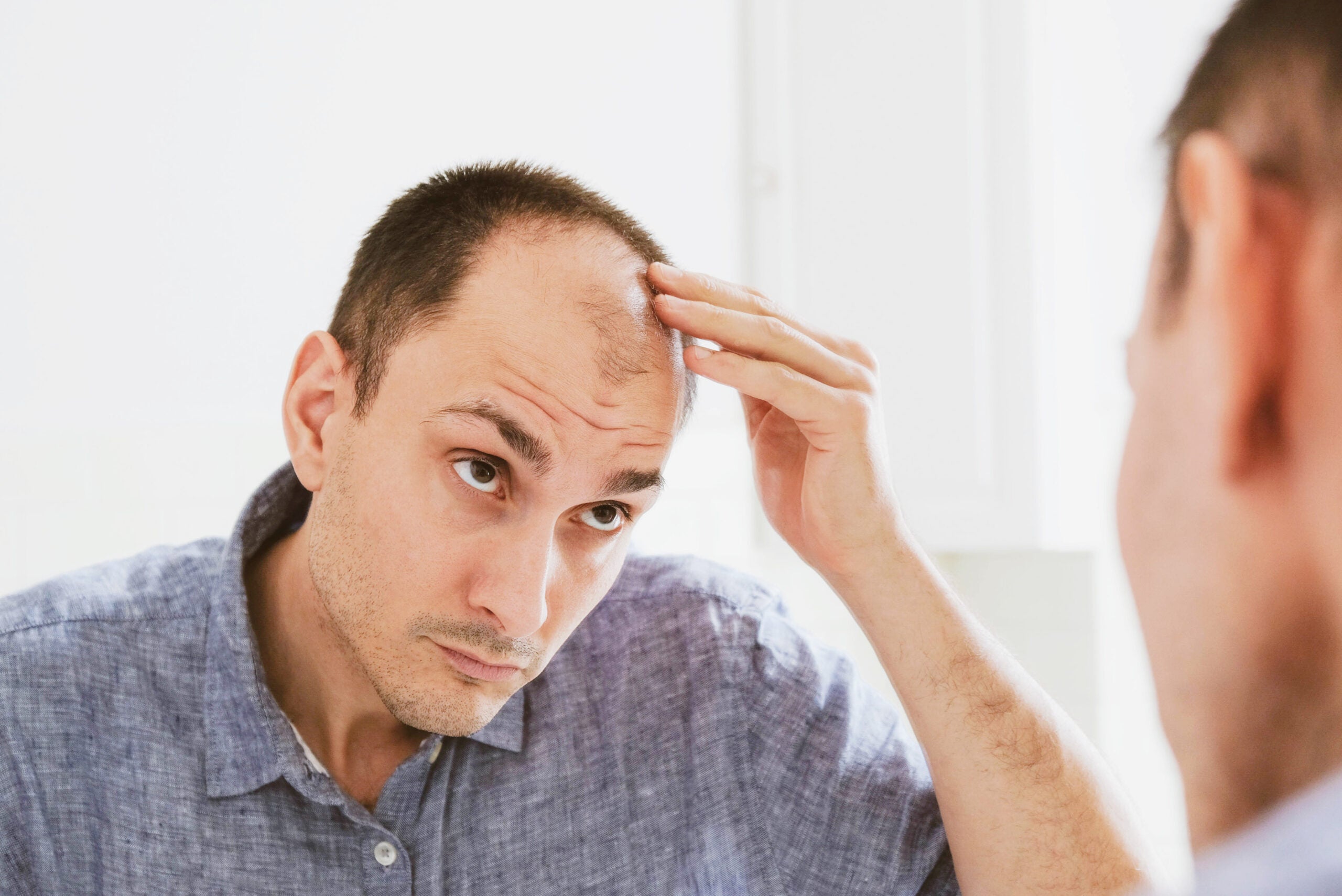 Last Friday, the US FDA decided to keep the popular anti-baldness drug finasteride on the market, but is now requiring its makers to add suicidal ideation to a list of potential side effects.
Relatedly, on 13 June, the FDA also approved Eli Lilly's and Incyte's Olumiant (baricitinib), the first treatment for alopecia areata, another form of baldness, which also has a positive Committee for Medicinal Products for Human Use (CHMP) recommendation for an EMA approval. Alopecia areata is an autoimmune disorder when the body's immune cells attack the hair follicles, while androgenic alopecia is a genetically determined pattern of hair loss.
These recent regulatory actions have brought attention to the hair loss space which has ample demand for treatments, but relatively few unique assets in development.
"Though we are seeing new developments in the treatment of androgenetic alopecia (AGA) emerge in recent years, such as low dose oral minoxidil and bicalutamide, effective management remains challenging," writes Dr Dmitri Wall, consultant dermatologist at Hair Restoration Blackrock in Dublin, via email.
Two established treatments, but space for more remains
Marketed by Organon, a Merck spinoff, finasteride sold as Propecia had global sales of $292 million in 2005, as per GlobalData. The first generic was introduced in 2006. The FDA's most recent action came in response to a petition launched by a non-profit group called the Post-Finasteride Syndrome Foundation.
In 1988, the FDA approved minoxidil, a 2% topical solution then marketed by the company Upjohn under names such as Rogaine, for male use, before receiving approval for women in 1991. Several years later, a stronger 5% formula was approved for men in 1997, with a female version receiving the green light in 2014. Upjohn merged with the Swedish company Pharmacia AB in 1995, before being acquired by Pfizer in 2002.
Almost a decade after the initial approval of minoxidil, the FDA authorized the use of 1mg finasteride tablets in 1997, a dihydrotestosterone (DHT) blocker.
Finasteride is currently not approved for use by women and is contraindicated for pregnancy, as based on Propecia's FDA label. However, there are cases of advised off-label use amongst postmenopausal and occasionally premenopausal women, says Eva Proudman, consultant trichologist and chair of the Institute of Trichologists.
Finasteride and minoxidil are used with roughly 80% of patients, in Proudman's estimates, seeing a very positive result. While side effects do exist, she says her practice always discusses any safety concerns.
This isn't the first time finasteride's potential side effects have received attention. In 2012, the FDA requested an update of the drug's label to include mention of risks of potential sexual dysfunction. According to Merck's label for Propecia, decreased libido and erectile dysfunction were reported in 1.8% and 1.3% of 945 treated subjects respectively. The latest suicidal ideation warning comes after internal records from Merck showed the company was aware of over 200 cases of depression since 2009, as described in a Reuters exclusive last February.
At the same time, it is important to note that hair loss can prove as a very emotional process for some and there are more factors surrounding potential depression or suicidal ideation than just in case of finasteride use, says Proudman. As such, understanding what these treatments can potentially do is needed, she adds.
Moreover, some studies show that the topical treatment minoxidil is also potentially not for everyone. In a Pfizer-sponsored one-year observational study of minoxidil's 5% solution from 2004, the treatment shrunk the targeted hair-loss area in 62% of subjects, but it remained unchanged in 35.1%. In the same study, 15.9% of the subjects rated the treatment as very effective, but 20.6% found it only moderately effective and 15.7% found no effects. The topical solution is intended for use in the crown and is not aimed for the treatment of frontal baldness or a receding hairline, as based on Rogaine's label.
Dutasteride, another DHT blocker sold by GSK under the name Avodart, has also displayed efficacy in reducing hair loss. But the treatment has not yet been approved by the FDA for the treatment of androgenic alopecia, despite off label use.
Outside of these two established treatments, cosmetic procedures such as scalp micropigmentation, scalp reduction or hair transplantation are becoming increasingly prominent. "We continue to await the delivery of safe and effective stem-cell therapy that has promised much, while limited evidence regarding adjuvant therapies such as platelet rich plasma (PRP) and low-level laser therapy (LLLT) is yet to convincingly prove their benefit," says Wall, who is also an assistant professor at the Charles Institute of Dermatology at University College Dublin.
New treatments in the pipeline, but not in the near future
According to GlobalData's Pharma Intelligence Centre, there are currently 20 assets in development for androgenic alopecia. This ranges from minoxidil that is in pre-registration in Taiwan, to IVL3001, a month-lasting injection of finasteride made by the South Korean company Inventage Lab, and treatments previously unused within the space such as Cosmo Pharmaceuticals' topical solution Breezula (clascosterone).
Other approaches include antiandrogens such as GT-20029 or KX-826 (pyrilutamide), developed by the Chinese pharma company Kintor Pharmaceuticals. Pyrilutamide is currently in two Phase II studies, with one for male androgenic alopecia subjects in the US, and the other for female subjects in China.
At the same time, Proudman stresses the need for efficacious products, rather than those with promises. In June 2021, the Swedish company Follicum announced its discontinuing a Phase IIa hair loss treatment FOL-005 after an independent review led to revised data showing no significant improvement.
In this sense, Proudman says it is likely that upcoming treatments will be similar to those in the available armamentarium.
"Even with the emergence of novel therapies, it remains most likely that optimal, sustained responses will require combination therapy that should be chosen after consideration of individual factors," notes Wall.
Note: This article has been updated to correctly reflect the year in which minoxidil was approved for women.