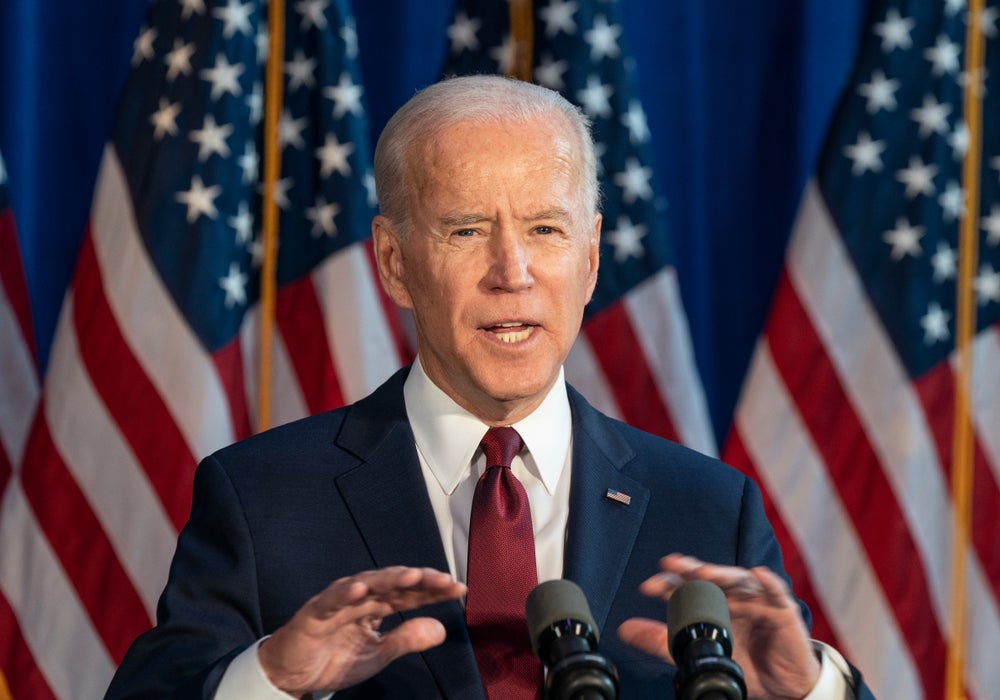 US president Joe Biden announced plans to cut deaths from cancer by at least 50% over the next 25 years, as part of efforts to relaunch his Cancer Moonshot initiative this week.
The programme, launched in 2016, was led by then-vice president Biden under the Obama administration. Along with halving cancer deaths in the US by 2047, the revamped initiative aims to improve the experiences of people and families affected by cancer, Biden said in a White House speech on Wednesday.
"We can end cancer as we know it. I committed to this fight when I was vice-president," he told the crowd. "Let there be no doubt, now that I am president, this is a presidential White House priority."
The president also announced a call to action on cancer screening that will address the millions of appointments missed due to Covid-19 – screenings for some cancers fell by as much as 90% during the pandemic – and help provide equitable access to cancer prevention, detection, and diagnosis for all Americans.
Kelly McCain, head of healthcare initiatives at the World Economic Forum, told Pharmaceutical Technology that Covid-19 has shown that "swift, safe breakthroughs" in disease care and treatment are possible.
Biden noted that in addition to the 800,000 deaths seen in the US due to coronavirus, 1.2 million Americans lost their lives to cancer in the same period. The American Cancer Society predicts that more than 600,000 cancer deaths will occur in the US in 2022.
"Building on the progress made during the previous Moonshot initiative, the new programme's focus on increasing equitable access to screening, driving innovation in cancer prevention, diagnostics and treatment, and working together with patients and caregivers to inform progress will aid in efforts to reduce mortality and improve patient outcomes," said McCain.
The Moonshot announcement came just days before World Cancer Day, observed on 4 February, where several organisations have reemphasised the need to push for improved cancer screening, diagnostics and treatment.
This is not Biden's first impassioned call for improved cancer care and treatment. Just last year, the president proposed a new government agency, the Advanced Research Projects Agency for Health (ARPA-H), that would use federal funding to accelerate the development of treatments for cancer and other serious diseases.
Funding for ARPA-H has already been included in "appropriation and authorisation bills pending in Congress", Biden said.
Renewed efforts
In a statement, the president outlined key steps that must be taken to achieve Moonshot's new national goals, which include earlier diagnosis, cancer prevention by pursuing vaccine research and tackling environmental factors such as pollution, addressing health inequity, and advancing personalised cancer therapies.
Emerging research is definitively mapping the ways in which economic and racial inequity influences cancer care. This extends throughout diagnosis and treatment, with Hispanic individuals more likely to be diagnosed with advanced stages of cancer leading to worse outcomes, and Black women being 40% more likely than white women to die of breast cancer, according to the American Cancer Society. The Moonshot programme's focus on equity, diversity, and inclusion and the subsequent "heightened attention can propel us to invest even more of our time, energy and resources in closing the remaining gaps", chief medical officer of the American Society of Clinical Oncology Dr Julie Gralow said.
The president also proposed specific actions that will be taken by the Biden-Harris administration as part of Moonshot's revival and the mission to eradicate cancer. He plans to appoint a White House Cancer Moonshot coordinator, form a cancer cabinet comprised of several government agencies and departments, and improve access to cancer screening and early detection.
The White House will also host a summit to bring stakeholders together, build on roundtable discussions that have been held by the government over the last six months. There are also plans to introduce a website inviting Americans to "share perspectives and ideas" and organisations, companies, and institutions to share the steps they will take to achieve Moonshot's new goals.