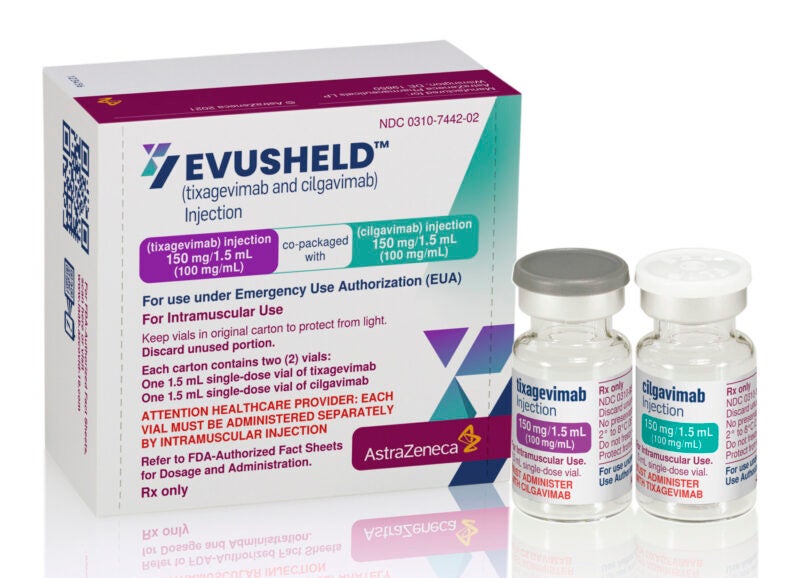 The Government of Canada has entered a new conditional agreement to procure 100,000 doses of AstraZeneca's antibody therapy, Evusheld, for Covid-19 pre-exposure prophylaxis.
Evusheld is a cocktail of two long-acting antibodies, tixagevimab and cilgavimab, obtained from B-cells of convalescent patients with Covid-19.
The Canadian Public Services and Procurement Minister Filomena Tassi made the announcement on the latest deal.
Currently, Evusheld is being reviewed by Health Canada for usage in specific high-risk patient populations, such as immunocompromised individuals.
All Covid-19 vaccines and therapies are being prioritised for review by Health Canada.
On Evusheld obtaining regulatory approval, preliminary shipments are anticipated to reach the country following a month of authorisation.
Subsequent to these shipments, the Public Health Agency of Canada would then manage the supply and delivery schedules with officials of the provinces and territories.
The government is working on having a wide portfolio of treatments to keep people safe, including those who are immunocompromised.
Tassi said: "We are pleased to announce yet another important procurement in Canada's fight against Covid-19. Securing antibody therapies such as Evusheld will enhance our robust toolkit of therapeutics to protect the health and safety of everyone in Canada."
The regulatory agency started receiving data for the submission from AstraZeneca to authorise the Covid-19 therapy in November last year.
Earlier, Canada obtained access to Pfizer's Paxlovid and Merck's molnupiravir, two oral antiviral Covid-19 treatments.
Last month, Health Canada granted authorisation to Paxlovid, and the molnupiravir submission is being reviewed.
In December, AstraZeneca reported that Evusheld retained neutralisation activity against the Omicron variant of the SARS-CoV-2 virus in studies.