US-based biotech company Gatehouse Bio is extending its collaboration with AstraZeneca for developing RNA therapeutics to treat heart failure with preserved ejection fraction (HFpEF).
Initially, the companies partnered to identify new targets for respiratory and cardiovascular diseases using Gatehouse Bio's artificial intelligence (AI)-powered platform in December 2019.
The expanded partnership will combine the scientific expertise and investment of AstraZeneca in RNA therapeutics with Gatehouse Bio's capabilities in developing disease-modifying small RNA compounds.
It is expected to expedite the development of a wide range of new therapeutics using the small non-coding area of the genome that is not explored.
AstraZeneca Oligonucleotide Discovery vice-president Dr Shalini Andersson said: "Gatehouse Bio's expertise and platform in small RNA together with our own scientific expertise presents a significant opportunity for targeting the drivers of disease in heart failure.
"Together, we are steadily closing the gap between RNA modality, AI, and disease biology with the shared goal of discovering and developing novel treatments in heart failure."
Gatehouse Bio is engaged in developing small RNA-based therapeutics using AI technology.
Using its platform, the company has discovered mutations that are associated with disease and also designs therapeutics for counteracting their effect.
Gatehouse Bio chief business officer Neal Foster said: "Our ability to identify small RNA mutations opens a novel class of targetable biology and an opportunity for a portfolio of oligonucleotide therapeutics that target specific groups of patients."
The company discovered mutations in small RNA genes that are connected to microvascular dysfunction in a previous study.
The mutations were expected to regulate biological pathways that are related to a clinical syndrome.
Cell & Gene Therapy coverage on Pharmaceutical Technology is supported by Cytiva.
Editorial content is independently produced and follows the highest standards of journalistic integrity. Topic sponsors are not involved in the creation of editorial content.
Free Whitepaper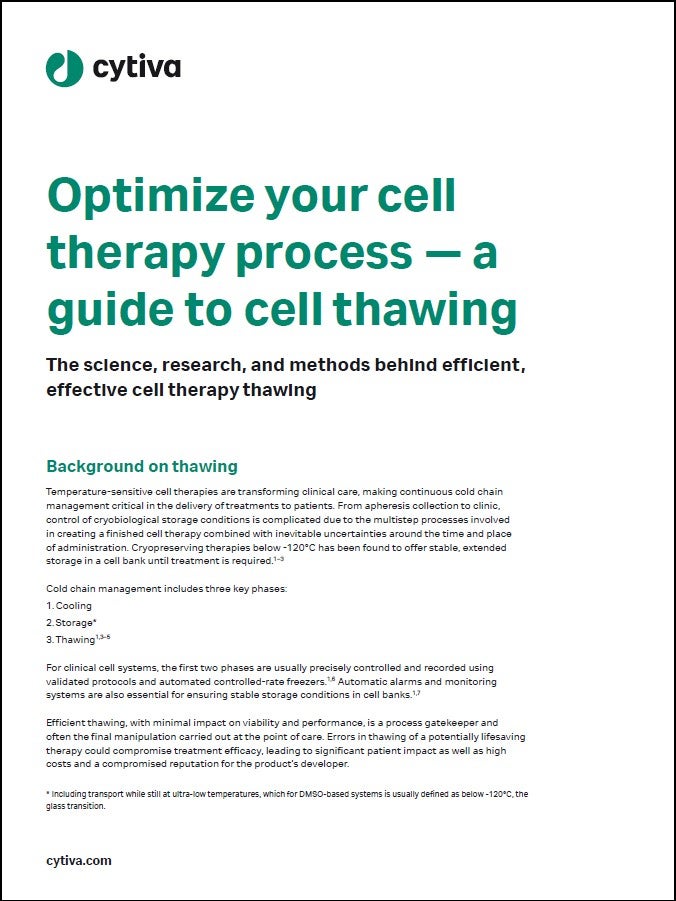 Optimise your cell therapy process: a guide to cell thawing
Typically carried out at the point of care, errors in cell therapy thawing could compromise treatment efficacy, leading to significant patient impact as well as high costs and a compromised reputation for the product's developer. This guide addresses how cell thawing has historically developed into the new techniques used today, along with the physical and biological implications of key metrics and components such as warming rate and ice structure. Also included are reviews of key studies from scientific literature and a consideration of the interactions between cooling and warming rates, as applicable to cell and gene therapies.
by Cytiva Thematic
By clicking the Download Free Whitepaper button, you accept the terms and conditions and acknowledge that your data will be used as described in the Cytiva Thematic privacy policy By downloading this Whitepaper, you acknowledge that we may share your information with our white paper partners/sponsors who may contact you directly with information on their products and services.

Visit our privacy policy for more information about our services, how we may use, process and share your personal data, including information on your rights in respect of your personal data and how you can unsubscribe from future marketing communications. Our services are intended for corporate subscribers and you warrant that the email address submitted is your corporate email address.