In the midst of an emerging monkeypox outbreak, the US government has started releasing vaccines that provide protection against monkeypox, from its Strategic National Stockpile for use in high-risk adults.
Although vaccines that protect against smallpox and monkeypox are not utilized in the general population, the US government has signed numerous multi-year contracts with companies for their procurement and supply in the last few decades. As the numbers of confirmed and suspected monkeypox cases continue to rise, we outline the key supply contracts for treatments and vaccines, and the US government's preparedness against this emerging monkeypox outbreak.
Procurement of smallpox and monkeypox vaccines
Due to travel, high contact between humans and animal hosts in deforested areas, and waning herd immunity following the termination of routine smallpox vaccination, the monkeypox virus is no longer confined to Western African regions. Since the eradication of smallpox, the monkeypox virus is now considered the most pathogenic poxvirus which can be transmitted through two routes; animal-human (zoonotic) transmission or human-human transmission.
Bavarian Nordic's JYNNEOS vaccine is a licensed smallpox vaccine in the US, which also confers 85% protection against the monkeypox virus. Jynneos, also known as Imvamune or Imvanex, received FDA approval as a preventive vaccine against monkeypox for adults over 18 years of age and high-risk individuals, in September 2019. However, the US initiated supply contracts with Bavarian Nordic long before that.
Bavarian Nordic has supplied approximately 30 million liquid-frozen vaccine doses to date. In November 2009, Biomedical Advanced Research and Development Authority (BARDA) enlisted the company to replace the liquid-frozen version of the Jynneos vaccine stockpile with a freeze-dried version that has a longer shelf-life and would consequently reduce the lifecycle costs of the vaccine.
Eight years later, BARDA awarded a $539 million contract to Bavarian Nordic for the supply of freeze-dried vaccines. In light of the rising monkeypox cases, on 18 May, BARDA exercised a $119 million value option of the existing contract to convert previously manufactured bulk vaccines for the manufacture and supply of freeze-dried vaccine doses that will be invoiced and delivered in 2023 and 2024. On the same day, a traveler from Canada was confirmed as the first case of monkeypox in the US. Another option worth $180 million of the contract that supports the supply of 13 million freeze-dried vaccines in 2024 and 2025, still remains unexercised.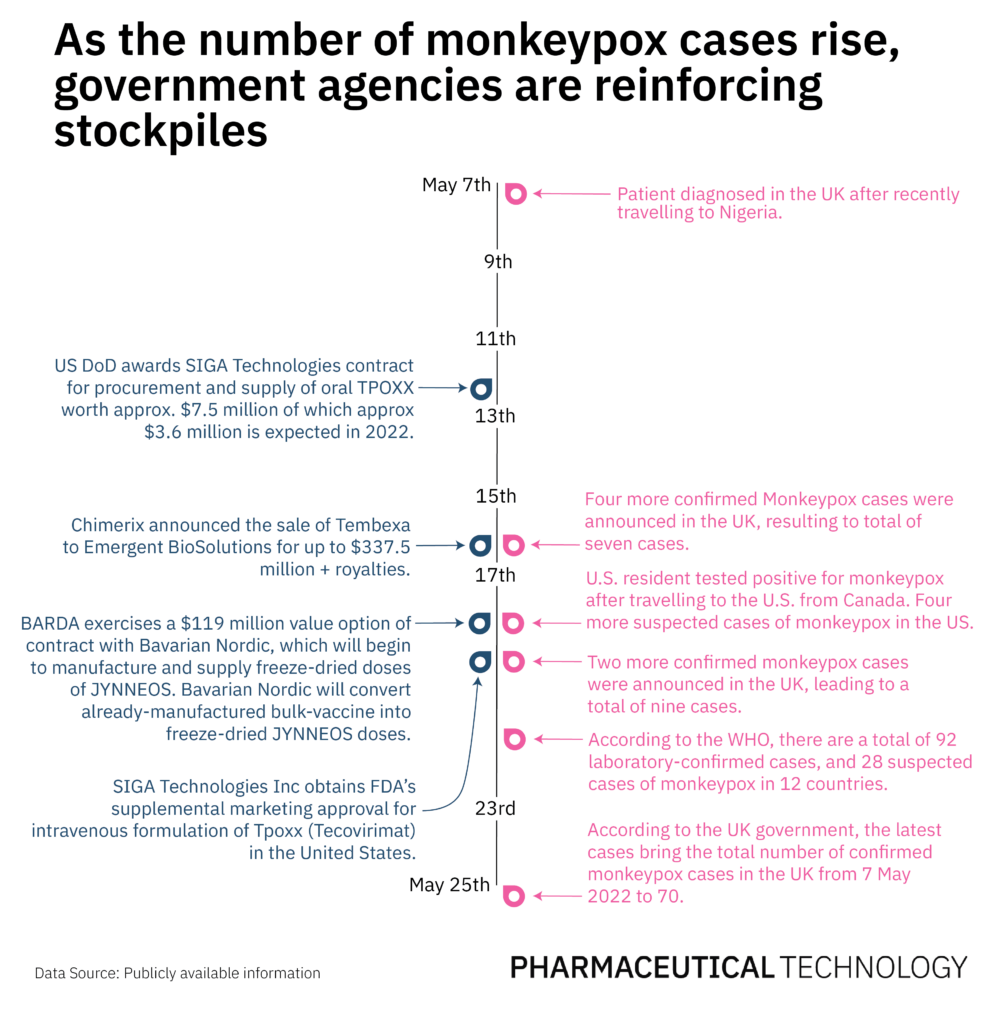 Antivirals against smallpox and monkeypox
TPOXX (tecovirimat) and Tembexa (cidofovir) are two antivirals used to treat smallpox, which are also effective in the treatment of monkeypox. SIGA Technologies' Tpoxx was the first drug approved to treat smallpox in July 2018, and a few months later, the company was awarded a multi-year contract for the supply of oral and intravenous forms of the drug for the US's Strategic National Stockpile. This contract is valued at $629 million and was designed to maintain a stockpile of 1.7 million treatment courses of the drug.
Tpoxx acts by inhibiting the formation and release of intracellular envelopes containing the orthopoxviruses. Both the monkeypox and smallpox viruses belong to the genus of orthopoxviruses.
In the last two years, BARDA has exercised options valued at $213.8m for the delivery of Tpoxx. More recently, the US Department of Defense (DoD) awarded SIGA a new contract of approximately $7.5 million, of which oral TPOXX worth approximately $3.6 million is expected to be delivered in 2022. The supply and procurement of the remaining $3.9 million worth of oral TPOXX depends on the DoD's decision to exercise the outstanding options. On 19 May, SIGA received supplemental approval for the intravenous version of the antiviral in the US.
Tembexa, manufactured by Chimerix, received the FDA's orphan drug designation for smallpox in June 2018 and an approval three years later in June 2021. To date, the US government has not signed supply contracts with Chimerix for Tembexa, but on 16 May Chimerix announced the sale of Tembexa to Emergent BioSolutions and said it will continue to lead ongoing negotiations with BARDA to procure a supply deal.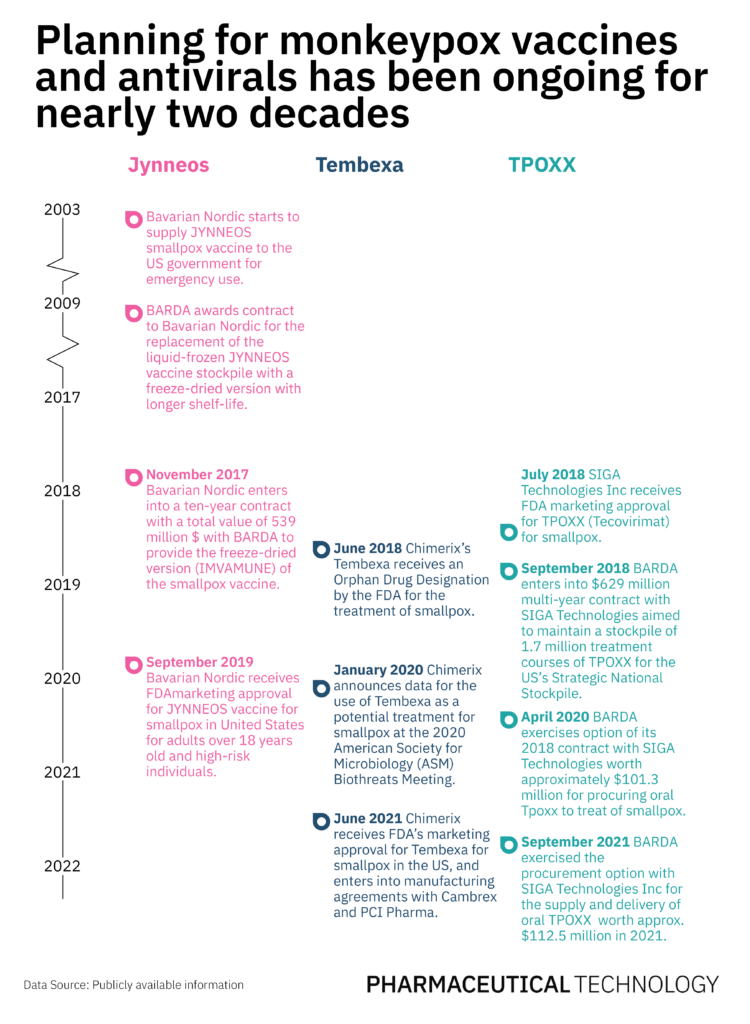 Limiting the monkeypox outbreak with current stockpiles
The professional judgement estimates for the National Stockpile of 2022 listed in the Department of Health and Human Services Emergency Fund, show that activities for procurement of treatments against smallpox have the maximum budget of $363.2 million. As smallpox and monkeypox remain a high concern at the domestic and global level, a Public Health and Social Services Emergency Fund document states that BARDA aims to ensure sufficient vaccine supply for all Americans. However, while cases of monkeypox continue to rise—a total of 92 laboratory confirmed cases and 28 suspected cases according to the WHO as of 21 May—it is important to consider that in addition to maintaining a stockpile of existing therapies for smallpox and monkeypox is crucial, the development of specific curative treatments for monkeypox is also necessary.
According to GlobalData, there are only two active pipeline prophylactic vaccines at preclinical stage of development for smallpox and monkeypox; TNX-1200 and TNX-801 both by Tonix Pharmaceuticals.
Monkeypox is currently managed through supportive care and treatment that only applies to symptomatic patients. Moreover, since routine vaccination of the general population against smallpox was stopped after its eradication in 1980, currently available treatments do not prevent the spread of the monkeypox virus from asymptomatic individuals to others.
With visualizations by Andrew Hillman