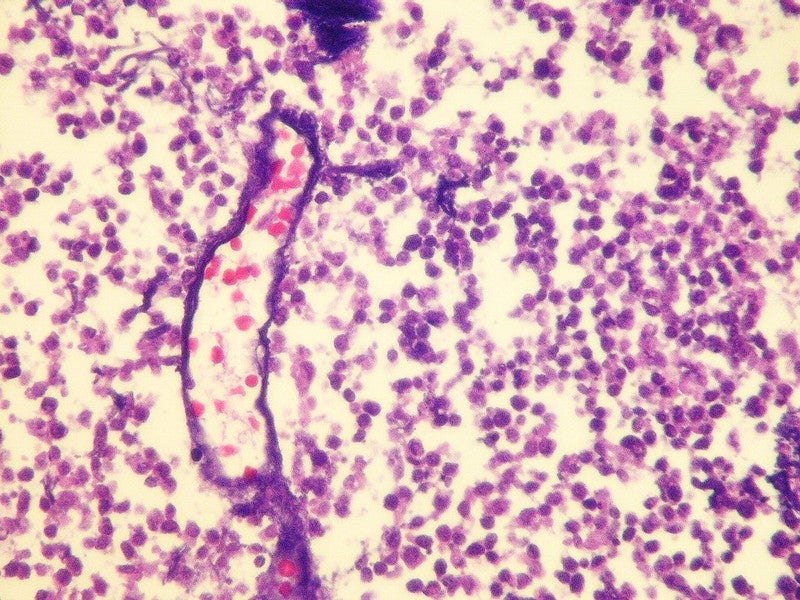 AstraZeneca's Imfinzi (durvalumab) plus standard of care (SoC) chemotherapies caused a sustained, clinically meaningful overall survival (OS) benefit in first line treatment of extensive-stage small cell lung cancer (ES-SCLC), according to a final analysis of the Phase III CASPIAN trial.
However, a second arm in the CASPIAN study where Imfinzi and SoC was combined with tremelimumab did not meet its primary endpoint of statistically significant improvement in OS, compared to chemotherapy alone.
Imfinzi is an anti-programmed cell death-ligand 1 (PD-L1) monoclonal antibody, while tremelimumab is an anti-cytotoxic T-lymphocyte–associated antigen 4 (CTLA4) monoclonal antibody. AstraZeneca is trialling these two antibodies in combination in a range of cancers, including non-SCLC, bladder cancer, and head and neck cancer.
The safety data of Imfinzi plus SoC and tremelimumab was consistent with the known profiles of these medicines.
AstraZeneca is currently awaiting approval for Imfinzi plus SoC chemotherapies etoposide and either carboplatin or cisplatin in the first line setting for ES-SCLC in the US, the European Union and Japan. The company recently received approval in this treatment group in Singapore. The drug was also granted priority review by the US Food and Drug Administration in December last year.
These approvals are based upon the final OS results announced today, as well as interim analysis published in June 2019.
AstraZeneca Oncology R&D executive vice-president José Baselga said: "We are pleased to see the sustained and meaningful survival benefit of Imfinzi for patients with small cell lung cancer after more than two years median follow up.
"We have already received the first global regulatory approval for Imfinzi with etoposide plus either carboplatin or cisplatin and remain on track for more approvals soon as we provide patients an important new 1st-line treatment option."
Imfinzi is also being studied following concurrent chemoradiation in patients with limited-stage SCLC; results of the Phase III ADRIATIC study are expected in 2021.