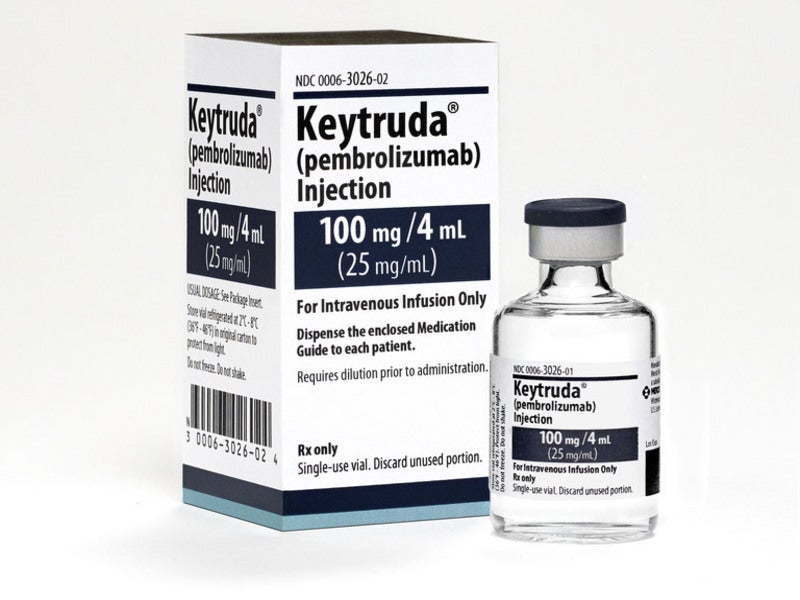 Merck's Keytruda (pembrolizumab) anti-PD-1 therapy has secured approval in China for first-line treatment of metastatic squamous non-small cell lung cancer (NSCLC) in combination with chemotherapy.
China's National Medical Products Administration (NMPA) approved the combination of Keytruda plus carboplatin and paclitaxel from overall survival findings of Phase 3 Keynote-407 trial, as well as interim data that were part of an extension of the global study in Chinese patients.
Results demonstrated that the Keytruda / chemotherapy combination led to a 36% reduction in the risk of death compared with chemotherapy alone. In Chinese patients, the immunotherapy regimen led to a 56% reduction in the risk of death versus chemotherapy alone.
The China extension study also showed an improvement in progression-free survival, with a 68% reduction in the risk of progression or death compared to chemotherapy alone.
Merck, known as MSD outside the US and Canada, said the approval is the third for first-line NSCLC in China in less than one year.
Merck research laboratories vice-president for oncology clinical research Jonathan Cheng said: "This approval expands our current lung cancer indications in China to include Keytruda in combination with chemotherapy in patients with squamous cell carcinoma, a particularly difficult-to-treat type of lung cancer.
"Importantly, Keytruda provides a foundation for the treatment of lung cancer in China and now more patients with non-small cell lung cancer may have the opportunity to benefit from combination therapy with Keytruda."
More than 787,000 cases of lung cancer are diagnosed in China every year, with over 631,000 deaths. NSCLC accounts for nearly 85% of all cases.
Keytruda is a humanised monoclonal antibody, which increases the ability of the body's immune system to help identify and fight tumour cells.
At present, more than 1,000 trials are studying Keytruda across several cancers and treatment settings.