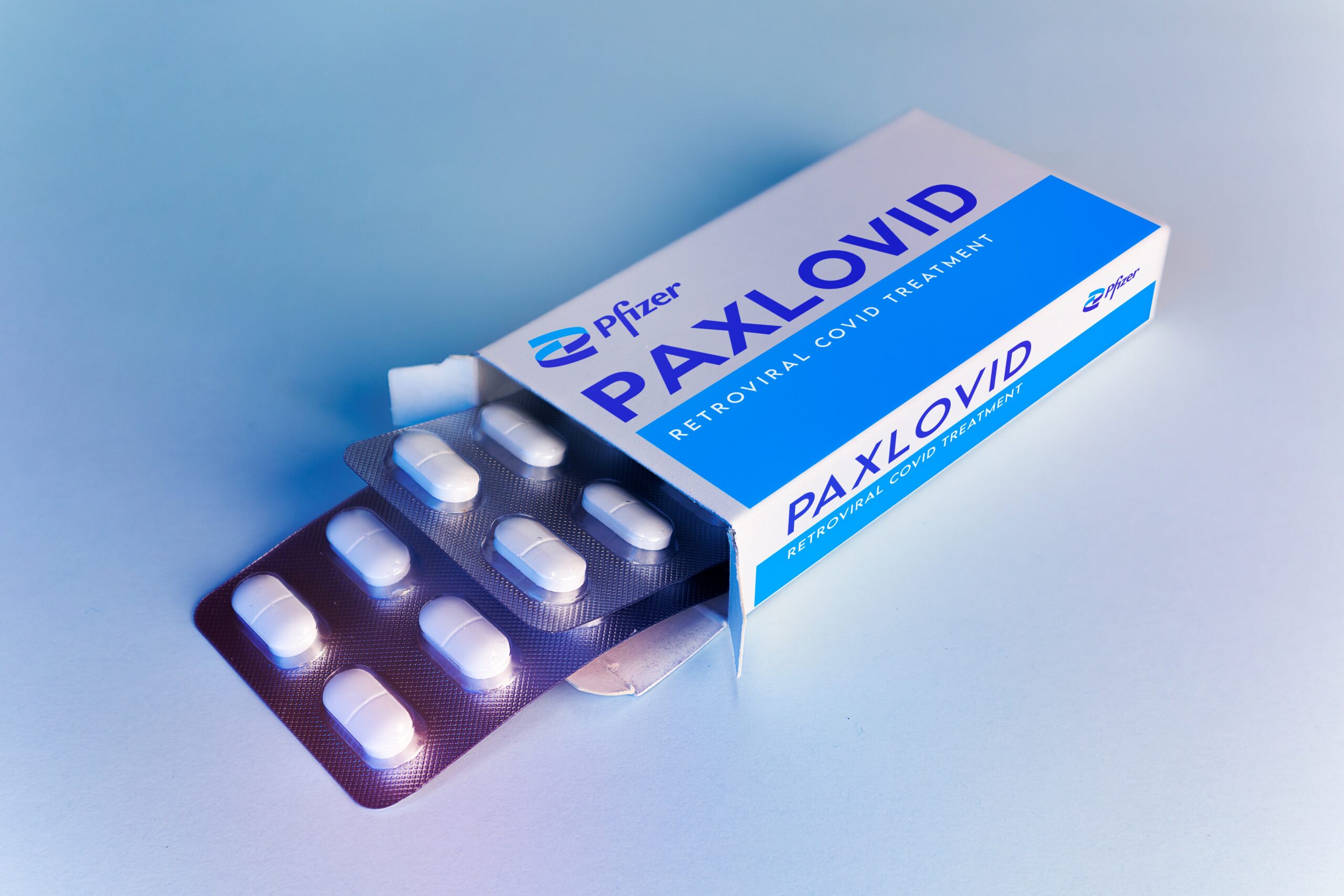 Two weeks ago, the US Centers for Disease Control and Prevention (CDC) director Rochelle Walensky became the latest high-profile individual to report a case of Paxlovid rebound. Similar cases have been in the news for several months as the antiviral's use increases, but the cause of such effects has remained mostly unknown. However, a recent study in the Journal of American Medical Association suggests that Paxlovid may not be the sole cause for this relapse in Covid-19 symptoms.
Pfizer's Paxlovid (nirmatrelvir and ritonavir) treatment comprises a twice-daily three-pill antiviral regimen for five days designed to treat adult patients with Covid-19 by preventing the virus from spreading within the body. Paxlovid first hit the shelves in the US last December after the Food and Drug Administration (FDA) granted the treatment an emergency use authorisation (EUA).
Data from Pfizer's clinical and real-world evidence studies of Paxlovid showed that the antiviral treatment reduced Covid-19 hospitalisations by 86% in the clinical study and reduced the need for oxygen support by 82% in the real world evidence study. Also, in the clinical study, the treatment reduced the duration of symptoms by 2-3 days compared to placebo. In Q3 Pfizer earned $7.5 billion in global revenues from Paxlovid, bolstering the success of their Covid-19 pipeline.
However, reports of Covid-19 rebound have become increasingly common following Paxlovid treatment. The CDC defines Paxlovid rebound as when a patient, after receiving a full five-day course of treatment, either has a resurgence of Covid-19 symptoms or tests positive after a previous negative test.
Within Pfizer's Covid-19 pipeline, Pfizer and BioNtech's vaccine Comirnaty is also being used to fight the pandemic. While bivalent formulations of Comirnaty and Moderna's Spikevax vaccine have both been authorised for use as boosters in the UK and US, their uptake has remained slow. Thus, governments are simultaneously tackling issues surrounding Paxlovid rebound and aiming to increase booster uptake in their continued Covid-19 prevention efforts.
Paxlovid rebound study
A relapse of symptoms following a period of improvement after treatment with Paxlovid has been described in several papers over the last few months. In May 2022, the CDC held a Health Alert Network (HAN) Health Advisory to update healthcare providers, public health departments, and the public on the potential for the recurrence of Covid-19 or "Covid-19 rebound." These symptoms tend to remain mild and resolve themselves without the need for additional treatment.
In the recent JAMA publication, Covid-19 symptoms were assessed for 29 days in untreated participants who received a placebo in the ACTIV-2/A5401 trial between August and November 2020. ACTIV-2/A5401 (NCT04518410) is a Phase II/III clinical trial evaluating investigational agents to treat nonhospitalised adults with Covid-19. All the participants had a documented Covid-19 infection and had experienced symptoms for ten or fewer days before the study began. The frequency of targeted symptom recurrence after symptom resolution was assessed. In this case, resolution was defined as symptoms being reported absent for two consecutive days.
The cohort study found that out of 158 evaluable patients, 108 or 68% of participants achieved Covid-19 symptom resolution at some point within the 28 days of follow-up. In this group, 48 participants had a recurrence of their Covid-19 symptoms, after they had initially recovered within the 28 days. Participants who had relapsing symptoms commonly reported coughs and headaches. As none of these patients had been treated with Paxlovid, the study authors concluded that independent of Paxlovid treatment, rebound in Covid-19 symptoms is still highly possible.
In its guidance, the CDC made it clear that there is currently no evidence that additional treatment is needed with Paxlovid or other anti-SARS-CoV-2 therapies in cases where Covid-19 rebound is suspected.
Covid-19 booster rollout plan
Amidst Paxlovid rebound reports, health authorities have also raised concern about the slow uptake of the second Covid-19 booster vaccines. On August 31, the FDA amended the Emergency Use Authorisations (EUAs) for the Spikevax and Comirnaty vaccines to authorise their bivalent formulations for use as a single booster dose at least two months following primary or booster vaccination. Following in these footsteps, on November 9 the UK's Medicines and Health Regulatory Agency (MHRA) granted approval for Pfizer and BioNTech's bivalent Covid-19 vaccine. The bivalent vaccines are comprised of two components of SARS-CoV-2 virus; the original strain of SARS-CoV-2 (Alpha (B. 1.1. 7)) and the other one in common between the BA.4 and BA.5 lineages of the Omicron variant of SARS-CoV-2.
As of November 7, the CDC reported that 905 million Covid-19 vaccines have been distributed and 646 million doses have been administered in the US.
Amongst those vaccinated, only 23% of the US population over 65 years of age and 9.9% of patients between 18 and 64 years have taken at least one bivalent vaccine. According to GlobalData, a few months since its launch, the number of bivalent Pfizer/BioNTech boosters administered is less than a third of the number of first Pfizer/BioNtech booster doses given to people. While 63.7 million doses of the first booster were administered, only 19.5 million second boosters have been used so far. This trend is similar for all brands of the vaccine with Moderna's Spikevax uptake reaching 47 million recipients of their first booster to only 15 million recipients of the second booster.
In late July, the US government placed an order for 105 million doses of Pfizer's Covid-19 vaccine as part of a $3.2 billion dollar contract. In the following days, the government also bought 66 million doses of Moderna's vaccine. However, with evidence of the slow pace of booster uptake, many worry that the US government may have overestimated the population's appetite for taking the vaccine.
A PLoS study has suggested that substantial incentives may be necessary for increased vaccine uptake. Results showed that emphasising the threat and harm of lack of vaccination may be the way to go moving forward with 17.9% of participants increasing their willingness upon hearing about the potential risk of future highly transmissible variants.